It's Time to Rethink Black History Month
What is often lost in Black History Month are the contributions of Black women and the present-day concerns of all Black people in the United States.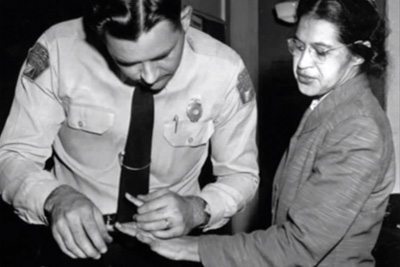 Rosa Parks (above on right) did not simply sit on a bus, she also fought long and hard against a rape culture that left the sexual assault of young black women around the country. Alice Pennington / YouTube
This piece is published in collaboration with Echoing Ida, a Strong Families project.
Growing up, every year during Black History Month it seemed like the same three people were always discussed in school: Martin Luther King Jr., Malcolm X, and W. E. B. Du Bois. If my friends and I were lucky, sometimes we heard about George Washington Carver, who invented peanut butter, or the Tuskegee Airmen. But one thing was constant: The people we heard about were almost always male, and the people and events we were encouraged to reflect on existed in a time and place I did not feel connected to.
Black History Month began back in 1926, when Carter G. Woodson, along with his organization, the Association for the Study of Negro Life, started encouraging the nation to celebrate "Negro History Week." Woodson hoped that the week in February would encourage organizations and teachers to spread and popularize the information uncovered during their studies of Black life and history. In the late 1960s, at the outset of the Black power movement, interest in Black-American history increased, and the nomenclature changed. As a result, in 1976 the Association for the Study of Negro Life officially expanded the celebration to Black History Month. In 1986, Congress officially designated February as Black History Month, which remains with us today as a celebration of the contributions Blacks throughout the diaspora have made to world history.
But what is often lost in Black History Month are the contributions of Black women and the present-day concerns of all Black people in the United States. It is with that in mind that I think it's time to change how we, as a nation, in classrooms and in the public sphere, approach Black History Month.
Why not retool our February celebrations to honor the civil rights efforts of the past while supporting and honoring the social justice work being done today? By focusing on the work that activists all over the country are currently doing, we can bring attention to the struggles that Black communities continue to face, as well as lend our support to their understaffed and under-resourced work. By ignoring the marginalization of Black communities throughout the diaspora, we are ultimately all accountable for the perpetuation of that oppression. The only way to end the domination of marginalized groups around the world is to consider ourselves responsible. This is especially true when it comes to the oppression of Black women and girls all over the country, who are victimized in some of the most reprehensible ways one can imagine. Yet and still, the suffering of Black women and girls is rendered unimportant by national civil rights organizations, which will bring attention to the tragic death of a young Black boy but ignore an equally tragic death of a young Black girl months later. It is also rendered unimportant by all of us who would rather perpetuate patriarchy by turning our heads to the continued abuse of sex workers by the state, because sex workers do not fit our desire to be understood as a respectable Black community. If we truly hope to liberate the Black community, and all marginalized communities across the United States and around the world, then we are mandated to begin with those whose suffering is often most ignored.
It is for this reason that the reproductive justice work being done by Justice Now activists in California is so critically important. Last year, their explosive report went viral after they informed the media that, between 2006 and 2010, 116 illegal tubal ligations were performed on pregnant people shortly after labor and delivery. Courtney Hooks, the Justice Now campaign and communications director, described the moving testimony of Kimberly Jeffrey, who spoke about being on the operating table about to give birth by cesarean section while in prison. After being put under anesthesia, the doctor asked Jeffrey about a tubal ligation; when she said no to the sterilization, the doctor brought her a number of forms to sign. To this day, Jeffrey isn't sure what the forms said, and she has been unable to confirm whether or not she had been sterilized.
During my talk with Hooks, she told me story after story about people in women's prisons who were sterilized without their consent. There were also quite a few people who felt coerced and pressured into receiving various forms of sterilizations. Hooks told me that multiple people were told that they had cervical cancer and that they had to be sterilized in order to save their lives. Later on, these individuals discovered that they'd never had cervical cancer in the first place, and they were left unable to conceive for the rest of their lives.
Since 2004, Justice Now has been collecting these stories of illegal and coerced sterilizations. Led by people within women's prisons, they have collected surveys and interviews, which has allowed them to gather information on who is being targeted by this form of reproductive oppression. According to Hooks, the people most often targeted for sterilizations by prison doctors are Black and Latina people as well as the indigent. The class and racial dimensions of this kind of cruelty only adds to the troubling nature of this crisis.
This year, as we celebrate Black History Month, it is critical that we consider the true legacy of our ancestors. Rosa Parks did not simply sit on a bus; she also fought long and hard against a rape culture that left the sexual assault of young Black women around the country, ignored by the government, civil rights organizations, and churches. Today, I suggest that we follow in Parks' legacy, and fight for those who are abused by the state and ignored by an ugly courtship between patriarchy and the politics of respectability.
CORRECTION: An earlier version of this article noted that Justice Now has been documenting sterilization abuse for 13 years. The organization has been doing this work for ten years. The article also said that Kimberly Jeffrey found out she had been sterilized, but Jeffrey, to the writer and her source's knowledge, never found out. We regret these errors.