Made in Cambodia: Garment Workers Fight Gap, H&M and Others for a Minimum Wage
Cambodian garment workers are fighting for a livable wage. Of the half-million garment workers in the county, 90 percent are women living on about $3 a day, not enough to eat much less afford housing. The majority of textiles exported are destined for brands like Gap and Wal-Mart, as Cambodia enjoys "most favored nation" status with the United States under the World Trade Organization's free trade agreement.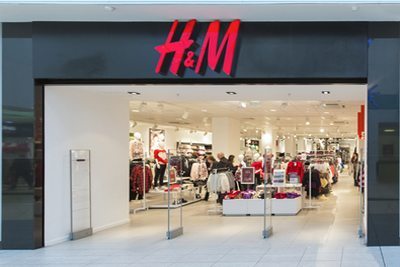 H&M is one popular western brand that supplies many of its garments from factories in Cambodia. Martin Good / Shutterstock.com
As 2013 drew to a close, Cambodian garment factory workers began striking in Phnom Penh for a livable wage. Recently, the Ministry of Labor had approved a $95-a-month wage, and while this was more than the $80 a month workers had been living on, they held out for $160, which was the bottom end of a "living wage" for Cambodia, according to labor research.
Another $5 a month was offered, but workers rejected it. By January 3, the non-violent strikes ended in a military crackdown and riots. Four garment workers were shot dead, another was shot in the chest and is missing, and more than 30 were injured. A ban on public assembly was put in place, and 23 labor leaders were arrested.
International media coverage showed Cambodian youth clad in skinny jeans, covered in blood and running from the military.
Lost in coverage of the social unrest were the women behind the movement.
The Life of a Cambodian Garment Worker
Of the half-million garment workers in the county, 90 percent are women living on about $3 a day. The garment industry accounts for about 80 percent of Cambodia's exports. The majority of textiles exported (70 percent) are destined for popular brands in the United States, like Gap and Wal-Mart, as Cambodia enjoys "most favored nation" status with the United States under the World Trade Organization's free trade agreement. Supplying the U.S. brands are factories based in Cambodia but owned by East Asian businessmen who contract with western brands. Cambodian women fill unskilled labor positions, sewing the clothes.
Hailing from remote regions in the countryside, factory workers typically cram into the back of a truck once a month in order to visit their families, who they help support. About 80 percent of the country still lives as subsistence farmers with young garment workers providing a vital link, sending money home to aging parents and siblings in school.
Not only is the garment industry the lifeblood of the country, it is a lifeline to impoverished families.
Sothary Kun, a former garment worker turned singer-activist who supported the recent strike with her five bandmates (also former garment workers), said workers spend about $10 to $25 each month traveling to their villages. Fuel in Cambodia costs more than it does in the United States, and workers pack into trucks that are dangerously full so they can afford to travel.
While families eke out a living as subsistence farmers, their daughters try to make a life in the city. The scenario might have exciting implications for young women living away from home for the first time, but rising costs of living have not kept pace with wages.
"Usually a worker has to spend approximately $15 to $20 for a rented room per month, shared between two to seven people," explained Kun. These tiny rooms, located in Phnom Penh's garment district, are built to house two people, but most take on roommates to cut costs. "This is not including the utility cost, such as water, electricity, and sanitation." Garment workers pay for electricity prices that are among the highest in the world—four to five times more than in neighboring Vietnam, as Cambodia imports much of its electricity. Only 25 percent of the country is supplied by the government grid, according to the World Bank.
Tola Moeun, head of the Community Legal Education Center (CLEC), an organization that advocates for labor rights, explained a typical work day for garment workers is ten to 12 hours long, six days a week. "Most garment workers are in debt $50 each, able to pay just the interest rates on their loans each month."
Workers take out loans because they depend on overtime to meet their monthly expenses, which are "unpredictable," according to Thida Khus, executive director of SILAKA, an organization that trains women for leadership.
"Workers commonly spend about $1.25 to $2.50 [a day] for three meals," said Kun. They often use rice to stretch their food, buying one meal consisting of vegetables and protein to share between four or more workers.
CLEC is trying to get popular brands like H&M and Gap, the largest companies sourcing from Cambodia to U.S. markets, to implement a free meal program in the factories, as malnutrition is common among workers. Mass faintings have affected up to 4,000 of the estimated 600,000 workers, caused by hunger, the long working hours, poor ventilation and heat, and the chemicals used to treat fabric, according to labor research.

Wages have been kept low to keep Cambodia competitive in the industry. The current free trade agreement under the World Trade Organization began after the previous Multi-Fiber Agreement phased out in 2004. Hailed as a benefit to development, unit prices for garments sold to western countries instead dropped, though overall the orders increased. Flexibility in contracts is preferred by western brands sourcing from Cambodia, so short-term contracts have replaced longer ones. This has contributed to the worsening of working conditions, as documented by a 2012 World Bank report.
Moeun called the low wages and short-term contracts "two hand-cuffs" that ensnare garment workers. He found in his labor research that many female workers get unsafe abortions from unlicensed medical personnel out of fear of not getting re-hired when their contract ends; factories prefer workers who take no sick leave when new contracts come up. What's more, the International Labor Organization noted the "low fertility rates" of garment workers, finding many cease menstruation from malnutrition.
The Popular, Profitable Companies Behind the Garment Factories
On January 3, a special military unit was called in by South Korean factory owners to break the strike and get workers back on the job, according to a translation by South Korean trade unions of the Facebook page of their embassy in Cambodia. The post said:
We are cooperating closely with the military and police authorities for the protection of Korean companies. As a result of this, the military [has] taken special measures specifically to protect Korean companies in the Kanadi [Canadia] industrial park.
The crackdown took place in front of Yakjin factory, a Korean business, which reportedly supplies Gap, Old Navy, American Eagle, and Wal-Mart. (South Korean trade unions also point out that Yakjin Trading Corp., owner of the subsidiary factory in Cambodia, was acquired by the U.S.-based Carlyle Group, a private equity firm, on December 24.)
After news of this broke, a demonstration supported by the Korean Confederation of Trade Unions and Cambodian migrants in South Korea was staged on January 10. South Korean trade unions were also embroiled in their own battle over the privatization of railroads at the time, which increased the sense of solidarity with Cambodian garment factory workers.
"The Korean government miscalculated the response from civil society and trade unions, which are quite strong in Korea," said Dennis Arnold, a researcher specializing in labor, migration, and citizenship in Southeast Asia, who has written several reports on Cambodia's garment industry.
(When calls and emails were made to the Carlyle Group about the military intervention, the press office in Hong Kong deferred to South Korean Yakjin Trading Corp, which did not respond to inquiries.)
Rights activists and trade unions are hoping the outrage South Koreans and Cambodians feel reaches U.S. consumers. Cambodia is one of the top-ten suppliers of garments and textiles flowing into the United States from developing countries, according to Arnold.
As Sophea Chrek, interim coordinator for the Workers Information Center (WIC) and a former garment worker, noted, "There are many famous brands, U.S. based corporations such as the Wal-Mart, Abercrombie and Fitch, Hollister [subsidiary of Abercrombie] … and Gap, which make a lot of profit from Cambodia."
In 2013, Wal-Mart's sales revenue was $469 billion, with a net income of $17 billion, up from the previous year. For the same year, Gap Inc. reported revenue of $15.65 billion, with profits listed at $1.14 billion.
Despite the profits, Gap Inc. won the intentionally shaming "Public Eye" award at Davos for having the worst business practices in the garment industry. Wal-Mart also has been criticized for its poor business practices. Both corporations refused to sign an agreement with Bangladesh unions to improve working conditions for factories they contract with.
"How much do Cambodian workers earn in total per year, compared to a Wal-Mart or Abercrombie's' CEO salary a month?" asked Chrek. "Workers' demands in the past weeks were to have a better and dignified living. They did not demand for a standard living [comparable to] those companies' CEOs."

Wal-Mart CEO Michael Duke reportedly earned a salary of $1.3 million in 2011, not including bonuses; his total compensation for that year was $17.6 million.
Garment workers' salary will increase to $100 a month, or $1,200 a year before overtime, in February. (Though the garment workers rejected the extra $5-per-month hike, pushing for a more significant increase, with the strike broken up and a ban on public assembly, they have few options but to accept it.)

Prior to the 1950s, the United States and Europe manufactured their own clothes but moved production to Japan in the late 1950s and early '60s. Production shifted again in the 1970s and '80s to Singapore, Hong Kong, South Korea, and Taiwan, which then dominated the manufacturing market as newly industrialized economies. As their own economies grew, they outsourced production in the '90s to lower-income countries, but continued to supply western buyers, retaining ownership of factories. To date, these East Asian countries own 93 percent of the factories in Cambodia and supply western markets.
Gap Inc., founded in 1969 in San Francisco, now produces 98 percent of its merchandise outside of the United States, in 40 countries, through undisclosed venders, according to its annual report. H&M, based in Sweden but popular in the United States, contracts with factories in a number of countries, including 37 facilities in Cambodia.
Because of the nation's poor infrastructure and high electricity prices, foreign factory owners claim Cambodia is "not competitive," compared to production costs in neighboring Vietnam, and they keep wages artificially low so western buyers won't flee.
However, as garment work researcher Dennis Arnold explains, the situation is more complicated than that. "There are other costs that aren't so easily factored in such as the 'BBCs,' or bribes, bureaucracy and corruption," he said. "In the U.S., there are corporate contributions to political campaigns for instance. China [and] Vietnam too [have] this problem, but it takes a more parasitic form in Cambodia. [The government] invests nothing in [the industry] and seems to take the view of getting as much money out of it as they can."
While there are an estimated 400 garment factories in Cambodia, the country only has a 7 percent domestic ownership stake in the industry, owing to its slow recovery from decades of conflict and the Khmer Rouge years, when an estimated one-third of the population died.
Viable Solutions
Arnold sees a three-pronged compromise from the Cambodian government, U.S. brands, and East Asian factory owners to address the needs of garment workers.
"Reduce the 'BBCs,'" which drain profits that should go back to the garment worker, said Arnold. "A structural reform in the Cambodian government needs to take place for this to change, but it appears the CPP [Cambodia's ruling party] lacks political will."
"[Clothing brands] should give a higher price. Just 1 cent extra paid per t-shirt for instance would help. And factory owners could take a smaller share of the profits," he said.
H&M, a publicly traded company, had a revenue of $18.13 billion and net profit of $2.58 billion last year. To date, the company has been one of the more responsive brands following the conflict.
When pressed about labor advocates' concerns, H&M spokesperson Elin Hallerby responded in an email: "Like with all our suppliers' workers making clothes for H&M, the Cambodian workers' health and nutrition is also concern for H&M. We are aware of the issue about lunch that CLEC brings up, we have a good dialogue with them and this is an important question for us."
H&M said it envisions the creation of model factories, "two factories in Bangladesh and one in Cambodia," where human rights are highlighted, implementing a living wage by 2018. The model factory scheme suggests that the company will be involved at all stages of production to determine "best practices," with Hallerby noting rather diplomatically (and possibly alluding to corruption) that production costs are not solely determined by wages.
To immediately address human rights issues, H&M has announced a "partnership" with Sweden-based Civil Rights Defenders (CRD), but did not specify the details, deferring to the group to explain their plans. CRD responded in an email that while the details are still being determined, they call "for the release of human rights defenders and garment workers detained for their participation in the peaceful protests. We urge the authorities to lift the ban on public gatherings and to initiate an investigation into the violence, holding those responsible to account."
When asked his thoughts on the initiative, CLEC's Tola Moeun said, "I'm not aware of that project [Civil Rights Defenders] and don't understand how [it] would help workers. H&M should just work with its suppliers to pay $160 per month as a minimum wage if they have a real commitment. No law prohibits businesses to pay workers higher than national minimum wage."
Meanwhile, since the strike, activists are being watched by the authorities. "We were informed by the [garment] workers that some people asked who we are and how many of us there are," said Sothary Kun when asked about her and her bandmates's well-being.
WIC's Sophea Chrek said, "Some of [the leaders of the strike] reported that they were threatened to either be dismissed or sued in court if they are involved in the next action by [showing them] that they have the video of their previous action," alluding to the authority's use of plain-clothes police who video record activists. Mostly, however, she worries about the workers who have lived in fear since the crackdown.
"I felt so upset about the dead," said Soung Vannak, a 31-year-old garment worker from a factory in Phnom Penh who demonstrated peacefully with her colleagues during the strike. "We just demanded our wage to improve our life."
"Why did they kill them?" asked Vannak of the workers who died.
Chrek has no easy answers, but she has suggestions for consumers. "Question the brand companies about the current, serious violations and intimidation happening to workers producing your clothes," she said. She suggests doing research on the companies consumers buy their clothes from and choosing those that favor "fairness" in their treatment of workers.
While a military intervention might mean stability for foreign interests, it has created fear for Cambodia's garment workers.