Reproductive Justice Through the Eyes of an Abortion Doula
A doula with knowledge of the institutionalized oppressions that make it difficult to find support for many reproductive health decisions is able to provide care regardless of the decision an individual makes while pregnant.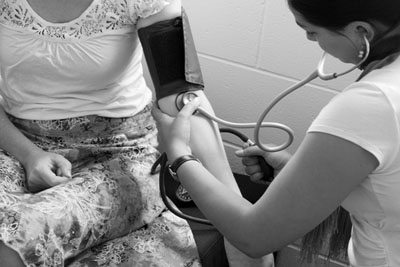 A doula with knowledge of the institutionalized oppressions that make it difficult to find support for many reproductive health decisions is able to provide care regardless of the decision an individual makes while pregnant. ChameleonsEye / Shutterstock.com
Last month I completed the first abortion doula training offered by the newly launched Boston Doula Project. Hearing the words abortion and doula together has left many of my friends a bit perplexed, but it's become clear to me that the work doulas provide in abortion support is some of the most radical available for those interested in reproductive justice.
An abortion doula provides non-medical support to an individual choosing to terminate a pregnancy, having a miscarriage, or experiencing fetal loss of some other kind. Similar to birth doula work, abortion doula support may be emotional, informational, or physical (such as massage and pain management). At the heart of any doula work is bearing witness to the client's experience while also serving as a personal advocate for the client.
In a piece published on Rewire last year, Miriam Zoila Pérez argues that while in the past the goal of the doula movement may have been to have a doula at every birth, this is no longer the case. Now, the goal is to bring the radical doula model of care—patient-centered and non-interventionist—to the current health-care system.
Participating in abortion doula work offers a way for people who may not have the ability to commit more fully to full-spectrum or birth doula work to still make an impact on the health-care system in a hands-on way. The central role of a doula is to be a personal care giver who can support a pregnant person's transition out of pregnancy. This care may involve helping the pregnant individual self-advocate in a clinic environment, holding a hand in the waiting room, or simply being there to witness an experience and listen.
Currently, abortion doula work doesn't have any official certification process, and abortion doula projects are largely volunteer-run. Some argue that keeping abortion doula care free from any official certification process makes it more accessible for new doulas to bring these services to their local communities. This is important for many in the movement who recognize that some aspects of reproductive health care have become too expensive for many marginalized individuals to access.
The growing network of U.S. abortion doula projects began in New York City with The Doula Project (formerly the Abortion Doula Project) in 2007. Through the project, doulas partner with clinics and hospitals to provide full-spectrum doula services to those who need them most and have been traditionally unable to access or afford such services. This model has been replicated across the country with the support of The Doula Project trainers.
In 2012, The Doula Project served in the New York City area approximately 3,500 people who were choosing abortion or experiencing fetal loss as well as 60 birth clients.
One of the Bay Area Doula Project trainers, co-director Poonam Dreyfus-Pai, says she was drawn to this work because she found that even progressive doula trainings lacked any incorporation of pregnancy loss and miscarriage; they really only prepared pregnant people for live birth. While certainly live birth is the desired outcome for many individuals seeking a doula, that's not always the case. "It could be the same person having the birth experience, the miscarriage, abortion, or several of those, over the course of one reproductive lifetime," she said. In Dreyfus-Pai's view, a doula with knowledge of the institutionalized oppressions that make it difficult to find support for these reproductive health decisions is able to provide care regardless of the decision an individual makes while pregnant. "Reproductive justice really forces us to look at all the different intersecting oppressions that are coercing people into making decisions that don't feel best for them, and really thinking about the ways that we can intervene at an intersectional level," she said.
As exemplified by those who attended the recent Boston training, abortion doula work draws people from diverse backgrounds. Represented in the room during the training were parents, midwives, nurses, students, birth doulas, people who shared their own experiences with abortion, and many who fit several of these labels.
Prior to her experience with the Bay Area Doula Project, Dreyfus-Pai worked in policy and sees the individualized, supportive care doulas provide as a valuable shift in perspective. "I think that when you're working with people directly you can really see all those intersections at work, and you can really see how forces really shape someone's experience, which means that you have really valuable insight to contribute to the movement."
"You get to see a lot of the nuanced complexities of their lives, and I think the rights and the policy conversations sometimes focus to the point of not being able to see that," she said.
Because abortion is such a highly contested issue in today's political climate, as part of the training, Celia Segel, organizing and political director at NARAL Pro-Choice Massachusetts, discussed Massachusetts' abortion laws and NARAL's Certified Truth Campaign, which responds to the intentionally deceptive advertising of crisis pregnancy centers. Crisis pregnancy centers outnumber freestanding clinics that provide abortion services in Massachusetts three to one. Providing sound information about the reproductive health care and funding options available to our clients is a fundamental role of an abortion doula.
Another important resource we learned about is ACCESS Women's Health Justice, a health and justice nonprofit based in California that runs a free hotline people can call for confidential, nonjudgmental information about reproductive health services. "A lot of our callers say this is the first time somebody has actually listened to them or been nice to them, and I think that's a really important component of this," said ACCESS Women's Health Justice Executive Director Samara Azam.
In addition, many abortion projects work with abortion funds such as the New York Abortion Access Fund to provide doula support for those who may have to travel hundreds of miles or across state lines to find the abortion care they need.
During my abortion doula training, it became clear to me that as doulas we're part of a much larger network of people working to provide the many different types of care and support necessary during any individual's pregnancy experience. And perhaps the most important work of a doula is simply being there. As Azam noted, "For somebody to have a support person that's truly just there for them, and has no other vested interest other than to make sure this person is able to do what they want to do, I think that's just really incredible."
CORRECTION: An earlier version of this article misspelled the name of Celia Segel. We regret the error.