Americans United for Life's Efforts to Eliminate Insurance Coverage for Abortion Get Help From ALEC Members
Twenty-three states have passed laws barring abortion coverage from insurance plans within state health exchanges. What has largely gone unnoticed is that many of these policies emanate from Americans United for Life, a little-known group that regularly has access to conservative lawmakers at the annual ALEC conferences.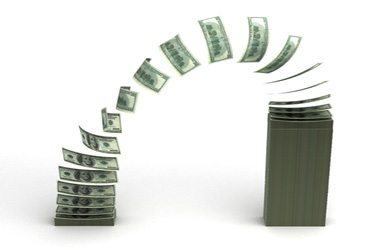 The confluence of ALEC and AUL is further evidence of a new trend on the political right. Money transfer via Shutterstock
Among the most prevalent weapons in the multi-pronged assault on the Affordable Care Act (ACA) is the attempt to eliminate access to insurance coverage of safe abortion care. Twenty-three states have now passed laws barring abortion coverage from insurance plans within state health exchanges (some with limited exceptions), according to the Guttmacher Institute.
What has largely gone unnoticed, however, is that many of these new state policies emanate from one little-known group that regularly has access to conservative lawmakers at the annual conferences of the American Legislative Exchange Council (ALEC).
In August 2010, some five months after President Barack Obama signed his signature bill into law, right-wing and corporate forces gathered at the Manchester Grand Hyatt hotel in downtown San Diego for ALEC's 37th annual meeting, in part to discuss strategies to cripple what was then—and still is—seen by the political right as the incarnation of Democratic evil. Several scheduled sessions centered on how to undermine and obliterate the ACA.
One such group was Americans United for Life (AUL), which frequently hosts an exhibitor's booth at ALEC meetings offering conference-goers an assortment of model bills designed in various ways to diminish access to legal reproductive health services. Embedded within AUL's annual compendium of anti-choice models, Defending Life, was a new blueprint on how states can deny insurance coverage of abortion in their health-insurance exchanges created as part of the ACA.
Abortion Coverage Ban Sponsors With ALEC Ties
At least 23 states have passed bans on insurance coverage of abortion within their health exchanges. Bills that are similar to Americans United for Life's "Federal Abortion Mandate Opt-Out Act " have been sponsored by several legislatures with previous ties to the American Legislative Exchange Council. With the exception of Louisiana Rep. Frank Hoffmann, none of the following current state lawmakers returned requests for comment on their motivations for sponsoring these bills or whether they used AUL's model. According to AUL spokesperson Kristi Hamrick, eight states have passed these abortion insurance bans using AUL model legislation, and four more have passed similar legislation with the group's assistance. Cited ALEC connections come from information published by the liberal nonprofit advocacy groups Common Cause and the Center for Media and Democracy.
Several state lawmakers—who were listed as ALEC members—went on to introduce similar legislation that has become part of the national strategy to undermine the ACA.
Eight states have passed their bills based on AUL's model legislation, "The Federal Abortion Mandate Opt-Out Act," and four others passed similar bills with the group's assistance, said AUL spokesperson Kristi Hamrick.
The confluence of groups pushing to restrict access to reproductive health care and those more generally recognized as attacking environmental regulations and labor rights is further evidence of a new trend on the political right. Abortion politics have taken center stage in the political fights of recent campaigns and legislative sessions, as formerly disparate threads of the conservative movement—free-marketeers, big business, and fundamentalist Christians—have come together over the sole remaining "moral" on which they believe they can rouse the public.
An even more deliberate example of this type of alliance exists in shared funding streams between limited-government and anti-choice groups. Rewire reported in November that so-called free market groups connected to billionaire brothers Charles and David Koch funneled large donations to anti-choice groups through a pass-through group launched to oppose the Affordable Care Act. Among the recipients were AUL and its 501(c)(4) affiliate, Americans United for Life Action.
"There Was a Real Excitement at ALEC"
From its inception, fear that the health-care reform law would legitimize abortion—by making it a valid insurance claim—has been chief among AUL's motivations for pushing bans on insurance coverage of abortion in state exchanges everywhere.
"The law fattens the pockets of abortion providers, but most critically, advances an objective less tangible but more significant to their long-term goals—legitimacy," wrote AUL staff counsel Mary Harned of the Affordable Care Act in a Washington Examiner op-ed last September. "Abortion-rights advocates believe that, if abortion is recognized as 'legitimate healthcare,' it will become less controversial and will be viewed simply as one of many available gynecological services."
Though these concerns related specifically to "moral" issues, AUL's model bills had a broader appeal. Many conservative lawmakers at ALEC's 2010 annual meeting were looking for opportunities to weaken the health-reform law and recognized that by eliminating access to abortion coverage, AUL's model laws could pack a one-two punch: undermining insurance systems, as well as reducing access to abortion.
"There was a real excitement at ALEC over our model bill—I think you'll see this type of legislation moving forward in several states during their coming legislative sessions," said Dan McConchie, AUL's vice president of government affairs, according to a 2010 AUL newsletter. "Five states have enacted opt-out laws so far, and this is just the beginning."
Indeed, in quick succession, ten of ALEC's state legislative members sponsored versions of this type of legislation (see sidebar, at left).
For instance, Louisiana Rep. Frank A. Hoffmann—listed as a former ALEC Education Task Force member in a San Diego meeting memo published by Common Cause, which advocates for transparency and accountability in government—sponsored a 2010 state bill that, like AUL's model, bars insurance coverage of abortion within Louisiana's health exchange.
Despite having been an ALEC member, Hoffman said he did not acquire the model bill through ALEC and its association with AUL.
"I am aware that ALEC is supportive of these things," he said. "But, again, this didn't come directly from that as far as my support and getting help and the background and all of this."
Rather, local anti-abortion groups—namely, Louisiana Right to Life and the Bioethics Defense Fund in New Orleans—helped Hoffman draft the law, he said. He said did not know whether those groups had used AUL's model.
Indeed, ALEC does not formally endorse AUL's opt-out model legislation, said ALEC Senior Director of Public Affairs Bill Meierling.
"[T]he policy identified by AUL is not consistent with the current direction and policy focus on the American Legislative Exchange Council," Meierling said in an email, emphasizing that ALEC is currently dedicated to "limited government, free markets and federalism alone."
Neither Meierling nor AUL's Hamrick would explain the nature of AUL's attendance at the meeting or the group's presentation of their model legislation. Hamrick told Rewire that AUL has "sometimes had a booth" at ALEC meetings.
But in addition to exhibiting at ALEC's 2010 conference, the Madison, Wisconsin-based Center for Media and Democracy has through its projects ALECExposed and SourceWatch published evidence that AUL was an exhibitor at ALEC's 38th annual meeting in New Orleans in August 2011. And in a firsthand account of attending an ALEC conference in December 2007 published in the March 2008 issue of The Progressive, Rep. Mark Pocan (D-WI), who at the time was a Wisconsin state representative, wrote that AUL was an exhibitor, among other anti-choice groups such as the Family Research Council and the Pro-Family Legislative Network.
Whether ALEC formally endorses AUL or not, it is clear that AUL is having a significant impact on the legislators that are affiliated with ALEC, and that a merging of free-market, big business, Beltway politics and fundamentalist Christian views is well underway via, among other vectors, bills that undermine women's access to abortion services.
Reducing Access
Shortly after the Affordable Care Act was signed into law, Americans United for Life seized on a little-noticed wrinkle in law—language that made it possible for states to ban health insurance plans that offer abortion coverage from the exchanges.
On its website, AUL describes its Federal Abortion Mandate Opt-Out Act as the "primary strategic effort" of its "strategy to respond to the anti-life provisions" in Obama's health-care reform bill. The organization has argued—in the media and on a specially created website—that allowing plans that cover abortion to participate in health exchanges amounts to a major breach of conscience rights.
AUL spokesperson Kristi Hamrick went as far as to claim that, without this Opt-Out-Act, the health-care law would force Americans to subsidize the "deadly business" of abortion.
By passing "opt-out" legislation, states can refuse to allow insurance plans available through the state's health insurance marketplace from covering "elective" abortions. Some states have offered varying exceptions within these coverage bans.
"This type of bill is vital, as the abortion industry has moved from Choice to Coercion," Hamrick told Rewire in an email, referring to AUL's model legislation. "No longer content to work for 'choice,' the abortion industry works to force Americans to comply with and subsidize their deadly business. … An opt-out is necessary to protect Americans from being forced to subsidize abortions, against their First Amendment Constitutional Rights of Conscience."
The claim that the federal government is subsidizing abortion through the ACA is a familiar trope of the anti-choice movement. In fact, this claim is false, as the Obama administration has noted several times.
Obamacare as Common Foe for Anti-Labor, Anti-Regulation, Anti-Choice Communities
ALEC's historic meddling in areas of sensitive social policy has come back to sting the organization. For instance, ALEC faced backlash—and lost corporate membership—in the wake of the shooting of Trayvon Martin, when news broke in the spring of 2012 that the group had advanced "stand your ground" laws across the United States.
ALEC has also been subject to belated criticism over its past work campaigning against divestment from apartheid South Africa, crafting model bills with anti-gay animus, and disseminating anti-abortion model bills, such as parental-consent legislation.
As a result, ALEC makes a habit of insisting to the press that it no longer engages in social policy, a claim that activists like Lisa Graves—who runs the Center for Media and Democracy, which has been trailing ALEC's activities for years—simply don't believe.
"This notion that they're just focused on limited government is simply not true," Graves said of ALEC. "Their bills have a lot of implications. … I guess you could call those limiting government, but in fact those are in some ways eviscerating longstanding public institutions that have made our country strong."
Graves said she was not surprised at the idea of AUL seizing the opportunity to spread around its model bills at ALEC conferences, by purchasing an exhibitor's booth.
"Clearly AUL sees that as a really important forum for—spending money, giving money to ALEC—in order to have a place at the table in their convention to reach hundreds of state lawmakers and get their bills in the hands of those lawmakers."
But, Graves said, this raises concerns.
"In a political democracy, you shouldn't have unelected corporate officials, unelected special-interest group representatives actually voting as equals with your lawmaker on bills before they're introduced in your state house," she said. "And the activity of those special interests pushing their bills to be introduced and passed ought to count as lobbying, and it ought to be disclosed as such."
The reality is that very few abortions are paid for with federal Medicaid dollars. As a result of a law known as the Hyde Amendment, federal dollars cannot be used to pay for abortions, except for pregnancies resulting from rape, incest, and life-endangerment. Indeed, in fiscal year 2012, just 150 abortions nationwide were funded using federal Medicaid dollars under the restrictive policies of Hyde, according to an official from the Centers for Medicare & Medicaid Services.
In fact, many women who technically qualify for Medicaid coverage of abortion care never receive it. Studies conducted by researchers at Ibis Reproductive Health from 2007 to 2011 found that many women seeking abortions in the case of rape, incest, or life endangerment face "systematic barriers" accessing Medicaid coverage of abortion, such as convoluted eligibility requirements, complicated enrollment procedures, and difficulty proving the pregnancy resulted in rape or was life threatening. One of the studies found that in 13 out of 15 states where abortion providers were interviewed, 64 percent of the qualifying claims for abortion were ultimately rejected, as noted in a research paper published by the Center for Women Policy Studies in January 2012.
"Because of the challenges abortion providers and women face in working with Medicaid, most Medicaid-eligible women do not have the option to use their insurance for abortion care," the Ibis researchers wrote. "In our interviews with women, many reported turning to drastic measures to pay for their procedures. Women described taking out payday loans, delaying bill payments, pawning jewelry, selling drugs, performing sex work, and borrowing money from friends and family in order to raise money for abortion."
President Obama's health-reform law left it up to the states to decide whether or not to offer coverage for abortion beyond those allowed by the Hyde Amendment. The law stipulated that exchanges should include at least one qualified health plan that covers abortions beyond those covered by Hyde and at least one plan that does not. However, states were also given the option to opt out of offering plans that cover abortions. When plans do include abortion coverage beyond those allowed by Hyde, the law requires a separate premium for the abortion coverage, to be paid for by the policyholder.
Nevertheless, AUL hasn't let up on its attempt to cast the health-reform laws as something of a blank check for abortion providers in order to bolster its argument that its Opt-Out Act is necessary, lest states be accused of promoting federally subsidized abortion. In this vein, AUL has discouraged states from expanding their Medicaid coverage, arguing it will lead to more money going to Planned Parenthood.
AUL's overall strategy—in addition to preventing increased access to abortion coverage, especially among lower-income women—also works toward chipping holes in Obamacare, whose primary intention originally was to expand insurance coverage to the country's many uninsured.
Recent statistics suggest that it is actually difficult for many women to obtain abortion coverage through their private insurance plans. While many private plans do offer abortion coverage, the extent to which women use insurance to pay for abortion—or are aware that their plans cover abortion—is unclear. In its 2010 Employer Health Benefits Annual Survey, for example, the Kaiser Family Foundation, a nonpartisan health care-focused research nonprofit, found that 71 percent of all firms surveyed said they did not know whether they covered "elective abortions." In contrast, 19 percent of "large firms" (those with 200 or more workers) and 9 percent "small firms" (those with between three and 199 workers) said they did offer abortion coverage in their plans.
The push to excise abortion from health insurance coverage is part of a significant strategy of the anti-choice movement, which has realized in recent years that activists do not have to topple Roe v. Wade to end access to safe abortions. Rather, anti-choice proponents have understood that making abortion unobtainable, even though it is legal, can in some cases have the same effect. One effective strategy has been to shut down abortion providers by passing onerous regulations, as has been clearly demonstrated in Texas. But another equally effective method at reducing access to abortion is to make it unaffordable.
And AUL is hip to this strategy.
In the legislative findings of AUL's model bill, which has become law in eight states, according to the group, the organization repeats unfounded claims that providing insurance coverage through subsidized or private insurance plans increases the demand and therefore the incidence of abortion.
"Given that more women have abortions when they are covered by public programs, and public or private insurance coverage of a procedure generally leads to increased usage of that procedure, the State of [Insert name of State] concludes that the incidence of abortion would increase with the subsidization of private insurance plans that cover abortion," the model bill reads.
The Guttmacher Institute disputes these claims, citing as one example a New England Journal of Medicine analysis from 2010, which reported that after Massachusetts began providing abortion coverage for people using subsidized private plans and those on Medicaid—through the state's 2006 universal health-care law—abortion rates actually declined, by 1.5 percent between 2006 and 2008.
And AUL has not stopped at trying to ban insurance coverage of abortion in only health exchanges. The organization has also been pushing model bills that bar private insurance plans from covering abortion, models that bar state employees from receiving abortion coverage, and models that combine both bans.
Megan Peterson, deputy director of the National Network of Abortion Funds (NNAF), a Boston-based nonprofit that helps low-income women pay for their abortions, told Rewire that these exchange bans will likely make it even harder for women to access abortion.
"There are women who would have had coverage who now won't," Peterson said. "And for a lot of those women, coming up with the money to pay for an abortion out of pocket will be a real hardship for themselves and their family."
NNAF is a partner in All Above All, a multi-year campaign focused on eliminating bans on federal funding of abortion coverage, including the Hyde Amendment. Peterson said she thinks these "opt-out" laws will potentially delay the campaign's goal.
"I think that this is just the latest page in the same old playbook that was originally was written by Henry Hyde, which was using whatever vehicle is available to try to prevent anyone from being able to have an abortion," Peterson said of the exchange bans, adding that this type of law is "further entrenching this insane idea that it's acceptable for politicians to interfere in people's personal, private decisions by keeping them from having the coverage they need to make access real."