Appeals Court Upholds Decision Blocking Wisconsin Admitting Privileges Law
A decision Friday marked another significant victory in the fight over state-level restrictions on abortion access.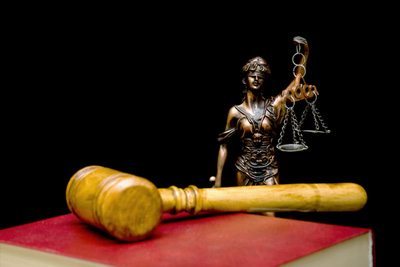 A decision Friday marked another significant victory in the fight over state-level restrictions on abortion access. Law and order via Shutterstock
On Friday, a federal appeals court upheld a decision blocking a Wisconsin law that requires abortion providers to obtain admitting privileges at a nearby hospital.
Shortly after anti-choice lawmakers in the state introduced and passed the measure, the American Civil Liberties Union (ACLU), the ACLU of Wisconsin, the Planned Parenthood Federation of America (PPFA), and Planned Parenthood of Wisconsin sued, arguing the law violated constitutional equal protection guarantees by singling out abortion providers and their patients for restrictions not imposed on other medical practices. A federal judge agreed and blocked the law from taking effect. Friday's decision by the U.S. Seventh Circuit Court of Appeals affirms that lower court decision.
"We're glad that the court has prevented this law from taking effect," said Larry Dupuis, legal director of the ACLU of Wisconsin in a statement. "These kinds of decisions should only be made by a woman, her family and her doctor. Politicians should have no place in the complicated and personal decision about whether or not to end a pregnancy."
To date, federal courts have blocked similar laws in Alabama and Mississippi, while state courts in North Dakota and Kansas blocked similar measures in those states. Texas' admitting privileges law remains in effect.
"Across the country, extremist politicians are trying to shut down women's health centers and make it more and more difficult for women to access abortion care," said Talcott Camp, deputy director of the ACLU Reproductive Freedom Project, in a statement following the decision. "These laws have nothing to do with women's health and are designed to unfairly target medical professionals who provide safe and legal abortions."
The Seventh Circuit Court of Appeals judges who heard Wisconsin's appeal included Judge Richard Posner, a Reagan appointee; Judge Daniel Manion, also a Reagan appointee; and Judge David Hamilton, an Obama appointee.
During oral arguments, the justices expressed skepticism at claims made by attorneys for the state that the law was designed to protect patient safety, questioning why if patient safety was the priority providers were given a very short window of time to comply. Friday's opinion reflects that skepticism. "Is there such urgency to implementing the law, because Wisconsin is rife with serious complications from abortion and requiring admitting privileges to hospitals within short distances of abortion clinics is essential to preventing such complications?" the court asked. "As noted earlier, the state has presented no evidence."
"Today's ruling marks a major victory for Wisconsin women and sends a message to lawmakers across the country: it is unconstitutional for politicians to pass laws under a false guise of women's safety in order to interfere in a woman's personal medical decisions," said Cecile Richards, president of PPFA, in a statement following the decision. "Far from protecting women's health, the effect of this law if it took effect would be to force an abortion later in pregnancy or cut off access to safe and legal abortion."
Friday's decision means the law, which threatened to close at least two clinics in the state and severely curtail access and services at another, will remain blocked while a trial on the constitutionality of the admitting privileges portion of the law proceeds.