Federal Court Blocks Indiana Law Targeting Planned Parenthood Clinic
An Indiana law that places special restrictions on facilities that perform medication abortions is likely unconstitutional, a judge ruled Tuesday. The law would affect one facility in the state: the Planned Parenthood clinic in Lafayette.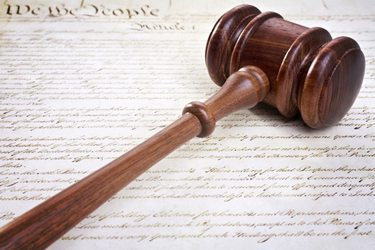 Judges from York, Monroe, and Lancaster counties have now all written opinions stating that the law fails to take juveniles' greater capacity for reform into account. Gavel and American Constitution via Shutterstock
On Tuesday, a federal court blocked an Indiana targeted regulation of abortion providers (TRAP) law that was designed to make medication abortion more difficult and expensive to access, and which targeted a Planned Parenthood health center for closure.
Unlike other laws that regulate the use and dosage of the drugs involved in a medication abortion, SEA 371, passed in the 2013 legislative session, changed the definition of "abortion clinic" to include facilities that provide only the abortion pill mifepristone to terminate a pregnancy. The law also requires facilities that offer non-surgical abortions to meet the same licensing standards as facilities that perform surgical abortions. That includes requirements that the facility have separate procedure, recovery, and scrub rooms. The law exempts physicians' offices from the requirements.
There's only one health-care center in the state that performs medication abortions but does not offer surgical abortions: the Planned Parenthood clinic in Lafayette. Had the law gone into effect, it would have required the facility to renovate by January 1, or else it would have been forced to close by state health officials.
In blocking the law from taking effect, U.S. District Judge Jane Magnus-Stinson ruled that Planned Parenthood, which challenged the law after it was passed, was likely to win its argument that the law violated its equal protection rights by singling it out for regulation and closure. But the judge rejected the rest of Planned Parenthood's arguments that the law was unconstitutional because it was not rationally related to patient safety or care.
The narrow ruling means the Lafayette clinic can stay open for now, but anti-choice advocates in the state, including Attorney General Greg Zoeller, have promised the fight is not over. "This new law reflects the policy judgment of Indiana legislators elected by our citizens," Zoeller said in statement. "The Court's decision faulting the law for treating nonsurgical abortion clinics different from physicians' offices must be thoroughly reviewed."
The state has 30 days to decide if it will appeal the judge's ruling to the Seventh Circuit Court of Appeals.