Stoking Fire: Meet the Men Behind 'Six Reasons to Not Send Your Daughter to College'
Raylan Alleman and William Gil are ultra-conservative Louisiana Catholics, have 16 children between them, and champion a male supremacist worldview that finds support in a literal reading of scripture.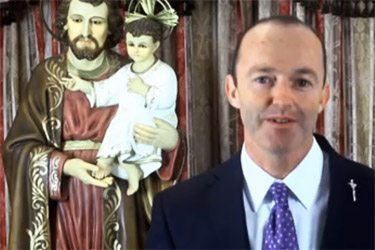 Rayland Alleman discusses men being the designated heads of families, in his video series entitled "Just Dads." Fix the Family / YouTube
Late last summer, two ultra-conservative Louisiana Catholics, Raylan Alleman and William Gil, got their 15 minutes of fame when they published a blog post entitled "Six Reasons to Not Send Your Daughter to College." The essay charged that, among other things, institutions of higher education foster experimentation and openness to both new ideas and new behaviors, many of them "sinful." Worse, they argued, college denigrates the most important female role—that of wife and mother.
The rant put both Alleman and Gil on the map and introduced to the world their three-year-old organization, Citadel Catholic Media, and a Citadel-produced video series called Fix the Family. Forty-five-year-old Alleman, a certified public accountant, is the face of Fix the Family; Gil, a realtor, building inspector, and videographer, serves as cameraman and editor. Together, they have 16 children and champion a male supremacist worldview that finds support in a literal reading of scripture. First there is Timothy 2:11-12: "Let a woman learn in silence with all submissiveness. I permit no woman to teach or to have authority over men; she is to keep silent." Then there is Ephesians 5:22: "Wives, be submissive to your husbands as to the Lord. For the husband is head of the wife as Christ is the head of the Church."
While many conservative religious groups use these words to reinforce their belief systems, Alleman's lectures are particularly impassioned. Fix the Family's women's auxiliary, Citabelles, is a showcase for Alleman's wife, Missy. Not surprisingly, she echoes her spouse in asserting the need for female obedience and deference.
Their own words speak volumes. My request for a telephone interview with the Allemans was declined ("We have a lot of projects in the works, and I don't feel compelled to commit the time to this that it would require," Raylan Alleman wrote in an email. "I pray that you will continue watching us so that you will have a change of heart toward the philosophies you support."), but here are a few examples illustrating the ideology they promote from his Fix the Family videos:
The family is strengthened under the headship of the father. He is to be revered by all in the home. … When the father takes care of his job as head of the home, the mother is free to love without worry or concern. When the husband and wife are each following their God-given roles, the children observe good masculine and feminine role models, each equal in dignity yet different in rank and responsibility.
He then goes on to explain that:
God places the wife with her husband as a help-meet, to support him, encourage him in his responsibilities, and be his cheerleader, his biggest fan. She has the ability to build her husband up to be a great servant of God and society. She must not show disrespect or undermine his authority with sarcasm or criticism, nagging or complaining. She must not manipulate him by withholding intimacy. These evil acts will only serve to discourage him and destroy his confidence.
Alleman is fervently anti-abortion and anti-contraception and rails against pornography, divorce, metrosexuality, homosexuality, and anything to the left of absolute monogamy. His point is hammered relentlessly: Patriarchy, a.k.a. macho manhood, is missing from today's families and needs to make a comeback. Likewise, he harkens back to the days before 1962's Vatican II liberalization and attends a thrice-weekly Tridentine Latin mass that replicates the liturgy used in the late 1500s. His Facebook page notes his inspirations: Pope Benedict XVI, Pope John Paul II, and St. Joseph. Other "likes" include running, basketball, Newt Gingrich, Mel Gibson, Ronald Reagan, and a group called Conservatives Against Sarah Palin, a woman considered uppity, sexually provocative, and anti-family.
For her part, Missy's Citabelles video blog smilingly—some might say Stepford Wife chillingly—underscores her husband's message:
Sometimes I get out of line and say things that I should not. It's like Satan stirring up some pet peeve to irritate me. Sometimes it's hard to hear the truth. It takes a great deal of humility to look at my husband and thank him for putting things in perspective and showing me how I have gotten out of line.
Dressing stylishly while simultaneously remaining modest poses a constant challenge, Missy adds:
My husband is very attentive to my clothing and also our daughters'. He will comment when something looks pretty or if he feels it is not appropriate. When women are shopping and find just the right color and size, we are excited and do not always see things as a man does. We have returned items and even lost money because we were not attentive enough to think about all of that.
Missy further explains that her goals are always two-fold. Although she does not want to look "frumpy," she also does not want to appear overtly sexual. "We do not want to be caught up in fashion and cause someone to sin," she explains.
Ah yes, woman as temptress and man as out-of-control, lustful horn dog.
These notions have been promoted by evangelical Christians and secular right-wingers since time immemorial. According to attorney Frank Cocozzelli, author of numerous articles on Catholic conservatism for the Public Eye, a newsletter of the watchdog group Political Research Associates, "Catholic conservatives want a world where things are certain and roles are clear. They fear doubt." He calls the agenda of the Allemans and Fix the Family "pay, pray, and obey Catholics," and sees their efforts as rooted in nostalgia. "Alleman and Gil want to go back to the past, to live in a church that no longer exists and that is not going to come back," he told Rewire. "They are operating out of a sense of panic about gender roles and family formations and want a traditional church that looks down on women."
A lot of their ideas, adds Frederick Clarkson, author of Eternal Hostility: The Struggle Between Theocracy and Democracy and a co-founder of the Talk to Action blog, "come directly from the conservative homeschooling movement headquartered in Front Royal, Virginia. If you believe that the church should rule the world, not using contraception and having lots of children aids the cause. You then homeschool these children to protect them from the culture." Citadel Catholic Media, he continues, has positioned itself to promote Catholic conservatism online—to parents like themselves who are homeschooling their children and to other like-minded souls—since, as they see it, "the more messengers the better."
Clarkson also notes that many of Alleman and Gil's ideas mirror those of the Quiverfull movement and signify what he calls "the cross-fertilization of ideas between conservative evangelicals and Catholics," groups that once operated with little overlap. Their common agenda—denouncing the ascendance of women and LGBTQ individuals in politics, religious communities, and public life—has given them reason to set aside differences and work in tandem.
Nonetheless, Clarkson and Cocozzelli remind us that despite cooperative ventures, these groups will likely face an uphill struggle since even Pope Francis has argued in favor of expanding women's roles within and outside of the church. Indeed, the pontiff has gone so far as to consider appointing women to the all-male College of Cardinals, something that Alleman and Gil will certainly vigorously oppose.