Republicans Filibuster Nina Pillard Nomination, Leaving Senate Democrats With a Host of Bad Options
Republicans have now blocked three well-qualified women from serving on the nation's second highest court.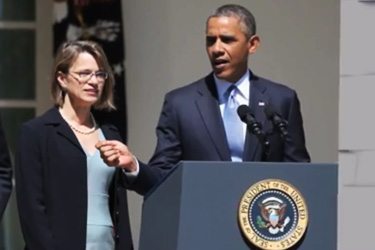 Cornelia "Nina" Pillard stands next to President Obama, as he announces her court nomination at the White House this past June. WochitGeneralNews / YouTube
By a vote of 56 to 41, Republicans in the Senate blocked yet another of President Obama's judicial nominees Tuesday. Georgetown law professor Cornelia "Nina" Pillard is the third woman nominated to the federal bench to be blocked by Republicans under accusations that President Obama is using judicial vacancies as a way to try and "pack" the U.S. Court of Appeals for the District of Columbia with judicial ideologues.
Pillard is one of three nominees to fill vacancies on the D.C. Circuit. Senate Republicans previously filibustered nominee Patricia Millett, and they have indicated that they will block the nomination of Robert Wilkins to the court as well. Sens. Lisa Murkowski (R-AK) and Susan Collins (R-ME) were the only Republicans who voted to allow Pillard's nomination to proceed to a yes-or-no vote. They were also the only two Republicans to support cloture on Millett's nomination.
Pillard's nomination was easily the most controversial for conservatives in the Senate, who voiced concerns over her "radical" views connecting reproductive rights to gender equality as well as her history working on significant cases such as United States v. Virginia, which opened the Virginia Military Institute to women, and Nevada Department of Human Resources v. Hibbs, which successfully defended the Family and Medical Leave Act against a constitutional challenge.
But if Pillard's filibuster was expected, it didn't make it any less maddening for her supporters. "First, Republicans in Congress threw a temper tantrum about health care reform that shut down the government and threatened our economic stability," Marge Baker, executive vice president of People for the American Way, said in a statement. "Now, they're threatening to keep one-third of the seats on a critical court vacant just because they don't like the president who is charged with nominating judges."
Marcia D. Greenberger, co-president of the National Women's Law Center, described the filibuster as "shameful." "Today's action means that this year, fair up-or-down floor votes on all three women nominated by President Obama to the D. C. Circuit Court of Appeals—Caitlin Halligan, Patricia Millett and now Nina Pillard—have been blocked," she said in a statement. "These filibusters deprive the court of the talents and diversity that these highly qualified individuals would bring to bear. And forcing eight judges to do the work of eleven on this critically important court slows the wheels of justice for all."
Sen. Patrick Leahy (D-VT), chairman of the Senate Judiciary Committee, hinted again at a rule change, noting that all three women who have been filibustered would have been confirmed in a straight up-and-down vote. "Rather than debate the merits of President Obama's well-qualified nominees to the D.C. Circuit, Senate Republicans have made clear that partisanship is more important to them than the Federal judiciary, the administration of justice, and the needs of the American people," Leahy said in a statement.
The GOP's obstruction of judicial nominations leaves Senate Democrats with a host of bad options. If they want Millett, Pillard, and Wilkins confirmed, they will have to use the so-called nuclear option and change Senate rules to end the filibuster. But absent invoking the nuclear option, Senate Democrats are left with the possibility of caving to Republican demands and cutting the size of the D.C. Circuit Court of Appeals, which could lead to the confirmation of two of the three nominees. The final option is to leave the vacancies open and let the court continue to operate in a near state of crisis and stalemate.
But the totality of the Republican obstruction will be felt for years to come. As it stands, women are vastly underrepresented in the federal judiciary. Some 32 percent of federal appellate court judges are women, with only 11 women of color serving as federal appellate judges. In over a dozen district courts, there has never been a female judge. Research suggests that when the federal courts are more reflective of the diversity in the United States—including gender diversity—their rulings reflect that diversity. And that is why Republicans have fought so hard to block President Obama's judicial nominations in the D.C. Circuit Court of Appeals, and in general.