Supreme Court Refuses to Hear Challenge to Decision Blocking Oklahoma Ultrasound Law
The U.S. Supreme Court turned away another challenge to an Oklahoma Supreme Court ruling in favor of abortion rights.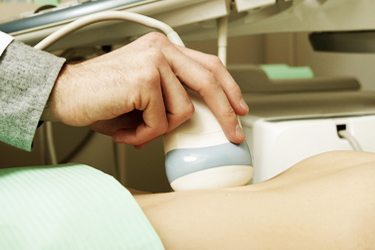 Absent from the regulations was the requirement included in the original legislation that prohibited a physician from performing an abortion if a fetal heartbeat was detected and if the fetus was at least 12 weeks' gestation. Ultrasound via Shutterstock
The Supreme Court declined Tuesday to take up Pruitt v. Nova Health Systems, a case that successfully challenged the constitutionality of Oklahoma's forced ultrasound law.
In 2010, reproductive rights groups challenged the law, which would have forced every person seeking an abortion to undergo an ultrasound, have the image placed in front of her, and hear a state-mandate script, even if the patient objected. Filed in state court, the lawsuit argued that in addition to being unconstitutional, the law violated medical ethics by requiring physicians to provide unnecessary and unwanted services to patients while ignoring a patient's ability to make her own decisions about the pregnancy. A district court judge granted a temporary restraining order in May of 2010, and then issued a permanent injunction blocking the law entirely in March of 2012.
The Oklahoma Supreme Court upheld that ruling last December in a decision issued the same day the Oklahoma Supreme Court ruled the state's medication abortion restriction was unconstitutional in Cline v. Oklahoma Coalition of Reproductive Justice. Both decisions were appealed to the U.S. Supreme Court. The Roberts Court asked for a response to the filing last May, but then took no action in the case.
"Today the U.S. Supreme Court has let stand another strong decision by the Oklahoma courts protecting a woman's constitutional right to make her own decisions about whether to continue a pregnancy from the intrusion of politicians opposed to her rights and indifferent to her health," Center for Reproductive Rights President and CEO Nancy Northup said in a statement.
The Supreme Court's decision to turn the Pruitt case away came a little over a week after the Roberts Court dismissed the Cline case, which successfully challenged the constitutionality of Oklahoma's medication abortion restrictions. The Supreme Court didn't give any explanation for its decision, but by rejecting this appeal and Cline, it does indicate the Roberts Court is willing to uphold some limits on the state's power to restrict abortion access and hyper-regulate abortion procedures. But with a possible pre-viability abortion challenge and the battle over Texas' admitting privileges law still lurking in the background, there are still plenty of ways the nation's highest court could restrict abortion rights beyond reason.