Judge Refuses to Dismiss Stalking Case Against Wichita Anti-Choice Activist
Attorneys for Mark Holick argue his "wanted" posters featuring a Wichita clinic operator were protected free speech, but a Kansas judge ruled a trial is necessary to decide.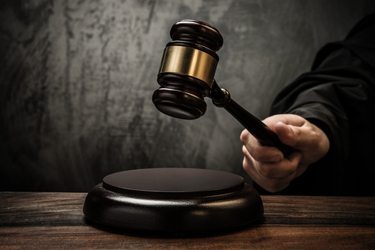 NARAL Pro-Choice America is challenging the Obama administration's nomination of Michael Boggs, who has a long history of civil rights opposition, to the federal district court in Georgia. Judge's hold hammer via Shutterstock
The stalking case against Wichita, Kansas, pastor and anti-abortion activist Mark Holick will proceed to trial, a Kansas judge ruled over the weekend.
Holick is accused of harassing South Wind Women's Center operator Julie Burkhart, who won a temporary protection against stalking order against Holick earlier this year. Burkhart's attorneys accuse Holick of a pattern of harassing and threatening actions, including making and distributing "wanted" posters of Burkhart that list her home address and pointing a sign at her house that read "Where's your church?"—an apparent reference to the 2009 murder of Dr. George Tiller, who was killed at his church. Burkhart's clinic is the first to open in Wichita since Tiller's murder.
Holick's lawyers had tried to get the case against him dismissed, arguing his statements and actions were protected political and religious speech under the First Amendment.
But Sedgwick County Judge James Beasley disagreed, citing Supreme Court precedent that protects the "well-being, tranquility and privacy" of a person's home, noting that courts are clear that individuals are not required to "welcome unwanted speech into their homes." Only a trial would sort out the real meaning of Holick's statements, including whether they amount to a "true threat" and are therefore not protected by the First Amendment, the judge ruled.
This is the latest case coming from Wichita to test the limits of anti-choice activist free-speech rights versus the legitimate safety concerns of abortion providers and patients. The Obama administration is appealing a federal court ruling that Wichita-area anti-choice extremist Angel Dillard's letter to Dr. Mila Means promising explosives under her car was protected by the First Amendment.
Judge Beasley's ruling leaves in place the temporary order while the court considers making that order permanent. A trial date has not yet been set.