Attorneys for Indiana Defend TRAP Law in Federal Court
Indiana Attorney General Greg Zoeller insists the law is necessary for patient safety, as conservatives in the state continue their attacks on Planned Parenthood.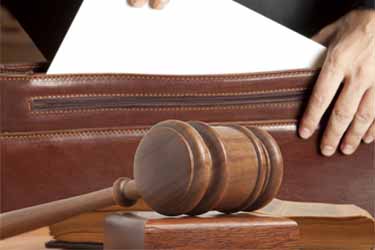 Two groups have appealed the dismissal of their challenge to an Arizona anti-choice restriction that they argue unconstitutionally relies on harmful racial stereotypes to discriminate against and shame Black and Asian American and Pacific Islander women who decide to end their pregnancies. Lawyer in court via Shutterstock
Indiana Attorney General Greg Zoeller went before a federal judge Wednesday and asked the court to uphold a new law designed to close the only abortion clinic in Lafayette and insisted efforts to curb access to abortion care in the state are necessary to protect patient safety.
The request came as attorneys for the American Civil Liberties Union asked a federal court to block the new Indiana law that mandates clinics that dispense RU-486 meet architectural requirements of stand-alone surgical clinics, including requirements that clinics prescribing medication abortions build separate recovery and surgical-procedure rooms and widen doorways to accommodate gurneys. SB 371, signed into law by Gov. Mike Pence in May, changed the definition of "abortion clinic" to include those facilities that provide only mifepristone. It applies only to the Lafayette Planned Parenthood center—not to the offices of private physicians who offer the same services. Supporters of the law argue the requirements are necessary to protect women's health from the dangers associated with medication abortions.
Indiana's efforts to limit medication abortions by targeting clinics that administer the pills is the latest in a string of legislative attacks on abortion access by conservative state lawmakers. Just last week alone, courts in Oklahoma and Texas split on state efforts to ban medication abortions, while last year a federal appeals court upheld an Ohio law that severely restricts prescribing abortion medications.
And it's the latest in a string of lawsuits between Indiana and Planned Parenthood as conservatives in the state continue to single out the reproductive health-care provider for closure. In 2011, lawmakers approved a measure denying federal funding to Planned Parenthood. But thanks to an administrative ruling earlier this year and the Roberts Court's decision not to take up the case, officials in Indiana have no means of enforcing the law.
U.S. District Judge Jane Magnus-Stinson did not immediately rule on the request to block this latest law.