Texas Abortion Clinics Cancel Dozens of Appointments as HB 2 Takes Effect
One Texas abortion provider said that she canceled 45 scheduled abortion procedures Friday morning as a result of the state's omnibus anti-abortion access law.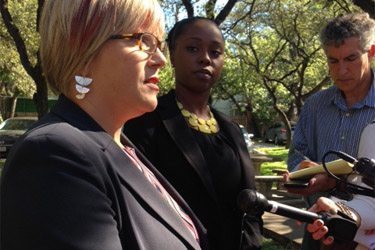 Amy Hagstrom Miller (above, at left), the CEO at Whole Woman's Health. Andrea Grimes / RH Reality Check
One Texas abortion provider said she canceled 45 scheduled abortion procedures Friday morning as a new state law, mandating that abortion-providing doctors have admitting privileges at nearby hospitals, goes into effect following a federal court of appeals ruling handed down Thursday.
Amy Hagstrom Miller is the CEO at Whole Woman's Health, a group of Texas health-care facilities that, until Friday, had been providing abortions at five locations in the state. Now, there are only two Whole Woman's clinics that staff doctors who have hospital admitting privileges, leaving their clients in Fort Worth, San Antonio, and McAllen to seek safe, legal abortion care elsewhere.
"We were unable to see any patients today," said Hagstrom Miller at a Friday press conference outside her Austin facility. She described her turned-away patients as "devastated" and angry. Hagstrom Miller said her Texas facilities are nearly overwhelmed trying to shuffle patients to other facilities and cities, and she has enlisted the help of staffers at her facility in Minnesota to help contact patients with scheduled appointments.
"They're sobbing," said Hagstrom Miller. "They get really angry, asking, 'Who decided this?'" Hagstrom Miller said she is also trying to arrange transportation in the form of gas cards, bus tickets, and perhaps even chartered private buses to help patients travel to legal abortion facilities.
Of Whole Woman's Health's 52 employees, Hagstrom Miller said about half will be furloughed or potentially laid off.
These are just the first, immediate effects of the Halloween evening ruling from a panel of three judges on the deeply conservative Fifth Circuit Court of Appeals, which overturned a three-day-old federal court decision that had found the admitting privileges provision of HB 2 to be an unconstitutional "undue burden" on abortion. The law passed this summer in a third special session called by Republican Gov. Rick Perry, who has said that he aims to "make abortion at any stage a thing of the past."
The Texas Tribune has confirmed nine clinics that have stopped providing abortions, representing about a quarter of Texas' abortion providers, in the wake of the Fifth Circuit ruling. Hagstrom Miller said at the press conference that she knew of 13 Texas clinics where doctors did not currently have admitting privileges at a hospital within 30 miles of where procedures are performed.
"We knew the Fifth Circuit was conservative, but we had no idea it was this bad," said Hagstrom Miller.
Texans who seek legal abortion care will now have to travel to Dallas, Houston, San Antonio, Austin, El Paso, or Beaumont, as many of the clinics affected by HB 2 are in rural areas, notably central-west Texas and the Rio Grande Valley.
"We're going to see sort of a black market of abortion providers popping up in the Valley," predicted Hagstrom Miller. She testified in federal court last week that because of the stigma surrounding abortion, and because hospitals often expressly bar doctors from providing abortions, abortion-providing doctors in Texas face steep challenges to obtaining admitting privileges. She said her doctors currently have 15 pending applications for admitting privileges at hospitals across the state.
"We've done everything that we can do," said Hagstrom Miller, adding that "now it's up to the hospitals" to decide which doctors can legally provide abortion care in Texas.