Pediatricians Group Advocates for Greater Condom Access for Teens
The American Academy of Pediatrics released a statement Monday arguing that all barriers to condom access for teens should be removed because increased availability increases use—but does not increase sexual activity.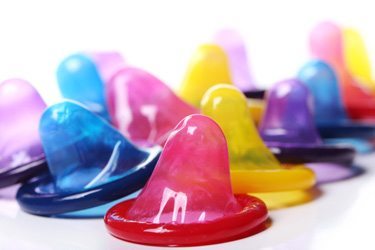 As National Condom Week (which started on Valentine's Day, of course) comes to a close, we focus on news about our prophylactic friend. Colorful condoms via Shutterstock
The American Academy of Pediatrics released a position statement Monday arguing that condom use among sexually active teens (or those who might soon be sexually active) should be encouraged and that condoms should be available in schools and other community venues. The position statement by the Committee on Adolescence, which replaces one written in 2001, begins by reviewing the research on condoms for preventing both pregnancy and sexually transmitted infections (STIs). The committee explains that since the last statement there has been new research supporting condom efficacy in preventing STIs (including viruses such as herpes and HIV), additional research showing that condom availability increases use, and support from the Centers for Disease Control and Prevention (CDC) for widespread distribution efforts.
The committee starts by suggesting that abstinence be encouraged as the best way to prevent both STIs and pregnancy. It then notes that among sexually active teens, condoms are the most popularly used method, and we've made a great deal of progress in increasing condom use over the past few decades. For example, the CDC's Youth Risk Behavior Surveillance Survey found that in 2011, 60.2 percent of sexually active high school students used condoms the last time they had intercourse, compared to just 48.2 percent in 1991. However, as relationships become more established, condom use tends to drop off, which can increase a young person's risk of pregnancy (if they haven't begun to use another method of contraception) and STIs.
The position statement explains that condoms can be very effective in preventing both STIs and pregnancy but notes that condom efficacy requires that a condom be used every time and that it be used correctly. Most issues with condoms come from user errors, such as putting them on too late, taking them off too early, or using oil-based lubricants that can break down latex. The committee believes that making condoms easily available alongside sexuality education can help young people overcome these mistakes.
Ideally, the committee believes that condoms should be used along with a long-acting method of contraception, such as an intrauterine device (IUD) or contraceptive implant in order to best protect adolescents against both pregnancy and STIs.
The committee ultimately makes nine recommendations that it believes can increase correct and consistent condom use among adolescents. First and foremost, it suggests that pediatricians should "actively support and encourage consistent and correct condom use as well as other reliable contraception as part of anticipatory guidance with adolescents who are sexually active or contemplating sexual activity." It also suggests that pediatricians work with parents to increase parent-child communication about healthy sexual development.
Some of the strongest recommendations involve adolescents' access to condoms. The committee starts by saying "restrictions and barriers to condom availability should be removed given the research that demonstrates that increased availability of condoms facilitates use." It suggests that teens should have easy access in retail establishments but also access to free and low-cost condoms wherever possible, including in schools. The committee argues, "Schools should be considered appropriate sites for availability of condoms because they contain large adolescent populations and may potentially provide a comprehensive array of related educational and health care resources."
Condom availability programs in schools have been controversial in some communities, most often because parents fear that making condoms available sends a message that sex is OK and will increase sexual activity. The research, however, shows that this fear is unfounded; making condoms available in school does not increase sexual activity but does increase condom use among sexually active teens.
Rebecca O'Brien, a committee member and lead author of the statement, told Reuter's Health, "For teens to use them, they have to have them available, and they're not going to come in necessarily asking for them. Having them available, not just in healthcare setting is really important. Have them in the mall. They should be everywhere."