Why Don't More People Care About Black Maternal Deaths?
What will it take to get people to recognize not just the racial disparity in death rates but the disparity in concern over U.S. Black women's health and lives?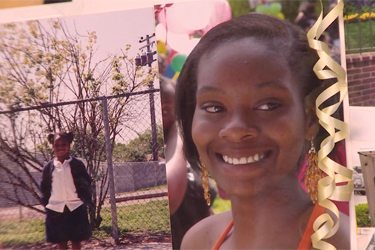 In September, 19-year-old Ayaanah Gibson (above) bled to death in her Benedict College dorm room after delivering a stillborn child. KCRA
This piece is published in collaboration with Echoing Ida, a Strong Families project.
In September, 19-year-old Ayaanah Gibson bled to death in her Benedict College dorm room after delivering a stillborn child. Gibson was within walking distance of the campus health center and a few miles from multiple health facilities in Columbia, South Carolina.
Gibson, a first-year student from Sacramento, had survived a battle with brain cancer to die alone a month into her college career. Her death is a cautionary tale about how seriously the United States needs to take its maternal mortality problem and, secondly, how barriers to adolescent sexual and reproductive health care can turn a common event—an apparent unplanned pregnancy—into a preventable tragedy.
What kept Ayaanah Gibson from getting life-saving care for herself and her child? We can only speculate. It's unclear that Gibson was aware she was pregnant, whether she was in denial or concealing her condition for some reason.
In California, Gibson may have been taught a comprehensive sex ed curricula, though districts vary when it comes to the information they offer. But for many American adolescents, abstinence-only programming means they lose a critical opportunity to hear evidence-based information about sexually transmitted diseases, pregnancy prevention, and their body's development.
We can't assume that void will be filled by accurate information, and neither can we assume that adolescents will get this information in their families. In the case of Ayaanah Gibson, her family was stunned to learn that she was 32 weeks pregnant at the time of her death. Many studies show that supportive families and frank discussions with parents or trusted adults can help delay sex, reduce risky behaviors, and increase condom use. But stigma about adolescent sexuality and pregnancy remain profound barriers to meaningful parent-child communication. While it's impossible to discern what Gibson knew about sexual health and from what source, her cross-country move for school removed her from the family and social networks that could have supported her during her pregnancy.
Transitioning from California to South Carolina, from her family home to a college campus, Gibson was likely responsible for her own medical care for the first time in her life. Adolescents often struggle to find low-cost, nonjudgmental, and confidential reproductive and sexual health services. According to its website, the Benedict College health center offers pregnancy testing, reproductive health counseling, and online resources for emergency contraception. But given the battles of Sandra Fluke and others to obtain contraception at Catholic universities (Benedict is Baptist-affiliated), it's not certain that many higher-education institutions extend the full range of reproductive health services to students in a life stage marked by change and experimentation.
With the right care, it's very possible Gibson and her infant would have survived. But without a skilled birth attendant, Gibson's delivery played out in a way that is all too common among women around the globe who give birth: death by hemorrhage.
In the United States, a nation that spends more on health care than its industrialized peers, Black women die from pregnancy-related causes at rates three to four times higher than their white counterparts. Though they generally have less access to prenatal care and health insurance, Black women also have more frequent and longer antenatal hospital stays. They are more likely to experience pregnancy loss or complications when compared with whites and Hispanics.
Safe motherhood is clearly elusive for U.S. Black women who, by virtue of their residence in the world's most developed country, have access to more medical advances than women in Bolivia or Zambia. As Amnesty International pointed out in its 2010 report Deadly Delivery, Black women's maternal death rate has been shockingly high for decades, with few voices outside public health communities calling for action. What will it take to get people to recognize not just the racial disparity in death rates but the disparity in concern over U.S. Black women's health and lives?
In the United States, we continually cycle through valuing and devaluing Black women's reproductive health. Black women are disproportionately criminalized for drug use or decisions made during pregnancy. In these cases, we see a culture that no longer commodifies Black reproduction, as in slavery, but nevertheless subjects Black female sexuality, reproduction, and mothering to harsh, public scrutiny. Yet Black women's maternal death rates garner little comment.
We have the language and political will to address global maternal deaths—defined by the World Health Organization as any fatality of a woman who's pregnant, in childbirth, or whose pregnancy ended within 42 days. Donors fund safe motherhood programs around the world, especially in sub-Saharan Africa; in July, the Bill & Melinda Gates Foundation alone gave $8 million to a University of North Carolina maternal and infant health program in Malawi. Safe motherhood kits—usually consisting of sterilized umbilical ties, gloves, soap, sheeting or a clean surface for birthing, and newborn clothing—are important staples in the public health arsenals of developing countries. And Millennium Development Goal 5 asked countries to reduce maternal deaths by 75 percent by 2015, and some countries have made considerable progress.
The United States is not one of them. In fact, its overall maternal mortality rate is rising, a distinction the world's most developed country shares with war-torn Afghanistan.
But at least Afghanistan seems to know it has a problem.