Advocacy Group Seeks Immediate Release of Involuntarily Detained Pregnant Woman
On Wednesday, National Advocates for Pregnant Women announced a lawsuit has been filed challenging a Wisconsin law that allows law enforcement to take pregnant women into custody against their will to "protect a fetus."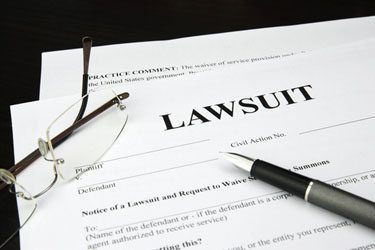 The ACLU of Colorado has filed a complaint with a state agency alleging that a rural Catholic hospital is in violation of both federal and state law by directing its doctors not to discuss abortion with patients, even when pregnancy threatens the life of the pregnant person. Lawsuit form via Shutterstock
On Wednesday, National Advocates for Pregnant Women (NAPW) announced a lawsuit has been filed in federal court seeking the immediate release from state custody of a pregnant Wisconsin woman who was involuntarily detained at a drug treatment facility despite no evidence she was using drugs while pregnant.
Alicia Beltran, a 28-year-old pregnant woman confided in health-care workers about her prior use of painkillers and her efforts to end that use on her own during an early prenatal care visit. On July 18, Wisconsin law enforcement officials arrested her under a 1997 Wisconsin law, which gives the state the power to forcibly detain any pregnant woman who "habitually lacks self-control" and poses a "substantial risk" to the health of an egg, embryo, or fetus.
As the petition explains, the law, Wisconsin Act 292, gives courts "original jurisdiction over fertilized eggs, embryos, and pregnant women at all stages of pregnancy where the pregnant woman 'habitually lacks self-control' in the use of alcohol or controlled substances 'to a severe degree' such that there is a 'substantial risk' that the health of the egg, embryo, fetus, or child upon birth will be 'seriously affected.'" It continues:
On the basis of this jurisdiction, the State is empowered under the Act to appoint a guardian ad litem to represent the best interests of the "unborn child"; arrest the pregnant woman and place her in physical custody for the length of her pregnancy; subject the woman to involuntarily medical examinations, testing, and treatment; require the woman to stand trial for negligence with possible deleterious effects to her right to parent her child once born; and all without proper procedural safeguards or a sufficient government interest under all constitutional standards of review.
NAPW notes in its announcement of the lawsuit that Beltran "was forcibly taken into custody by law enforcement when she was 15 weeks pregnant, put into handcuffs and shackles, and brought to a court hearing. Although a lawyer had already been appointed to represent her fetus, Ms. Beltran had no right to counsel—and therefore had no attorney—at the initial court appearance. Then, without testimony from a single medical expert, the court ordered her to be detained at an inpatient drug treatment program two hours from her home."
Attorney Linda Vanden Heuvel, who represents Beltran, explained in a statement that "[l]ocking up Ms. Beltran, under the Wisconsin law, does not serve the best interests of Ms. Beltran's future child and most certainly tramples the rights of Ms. Beltran, a woman who was not in fact using any controlled substances at the time of her arrest and who is committed to having a healthy pregnancy."
The petition "asserts violations of numerous constitutional rights, including the right to physical liberty, the right to due process notice, privacy in medical decision making, the right to carry a pregnancy to term, the right to have an abortion, the right to privacy in medical and personal information, the right to be free of illegal searches and cruel and unusual punishment, and the right to equal treatment under the law," NAPW explains. It is supported by sworn statements from medical experts who conclude that Beltran's arrest and detention "lacks medical justification and increases risks to the pregnancy."
Minnesota, Oklahoma, South Dakota, and Wisconsin all have laws that explicitly permit involuntarily detaining pregnant women alleged to have used alcohol or drugs, according to NAPW. Proceedings under these laws, which were all passed in the '80s and '90s with support of anti-choice organizations, are generally confidential. NAPW believes this to be the first constitutional challenge to such a law.