What Sandy Wrought, Part 1: Health-Care Crises Remain a Year After the Storm
The storm ripped the roof off the Rockaways area of New York City, literally and figuratively, and shone a light on how woefully under-resourced the community was, and is.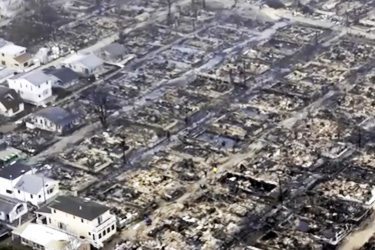 Overhead photo of the damage in the Rockaways after Superstorm Sandy. Kristin Sluyk / YouTube
This is part one of Rewire's examination of health care in New York City in the year since Superstorm Sandy. Part two will focus on reproductive health care.
The A train ride from the Rockaways at sunset is beautiful—the sun on the water and bridges, marshes, houses on stilts. The narrow peninsula at the bottom of Long Island is technically part of Queens, but it feels like its own town. Or rather, two towns: the beach community of vacation rentals and second homes, on one end, and on the other, working-class people, many of them of color, and lots of public housing, nursing homes, assisted living facilities, and halfway and three-quarter houses, concentrated in this part of town that is both beautiful and remote. It takes an hour or so to get to Manhattan on the subway, if it's running on time.
The long train ride along the water perversely highlights how precarious the community, devastated by Superstorm Sandy nearly one year ago, still is. If another storm comes in and washes completely over the peninsula like Sandy did, and those bridges and trains go out again, the Rockaways are utterly cut off.
I was in the Rockaways on August 14 for a rally to save St. John's Episcopal Hospital, the last hospital standing on that narrow strip of land. It's threatened by the same economic pressures that felled Peninsula Hospital, which closed shortly before Sandy, in April of 2012. A large number of residents rely on Medicaid, meaning the hospital doesn't make much, and when the storm hit and left residents stranded, the absence of Peninsula meant that St. John's had to treat everyone, putting additional financial strain on the safety-net facility.
I rode out to the rally with Nastaran Mohit, an organizer now with the New York State Nurses Association (NYSNA). She was deeply involved with health-care recovery work after the storm, including opening a pop-up health clinic.
"If we had two functioning hospitals and a number of clinics, we would have been in a very different position," Mohit told Rewire. "We were already crying about how inadequate health-care services were in the Rockaways, and here we are nearing the year anniversary and you have St. John's hospital, the only full service hospital on the peninsula, slowly cutting back departments. The storm ripped the roof off this community, literally and figuratively, and shone a light on the Rockaways–how woefully under-resourced this community was and is. The fact that this hospital could close is absurd. The fact that this is happening in a Sandy-ravaged community, it's just unbelievable."
At the rally, as hospital workers dressed in the purple of 1199 SEIU marched and chanted alongside community members, and political candidates made speeches, I spoke with residents about their hospital and the threats to it. Frank Menendez, a father of four and member of community group New York Communities for Change (NYCC), worried that without a hospital nearby, if anything happened while he was at work, his kids would be stranded without care.
1199 vice president and registered nurse Claire Thompson used to work at St. John's. "We should have a place where care should be accessible. It's not a privilege, it's a right," she said. While St. John's may not close, she argued that closing departments—the detox department is already gone, community health clinics are being split off, and dialysis may be next on the chopping block—leaves the community vulnerable.
"God forbid there's another hurricane or natural disaster and something happens to the bridges. We're almost isolated out here, and there's no hospital? That's a death sentence to the residents of the community," Milan Taylor of the Rockaway Youth Task Force said.
The groups rallying to save their community hospital know from experience how easily their needs can be forgotten. In the days after Sandy, while volunteers went door-to-door in neighborhoods in the dark, institutions failed many New Yorkers. Hospitals and pharmacies were closed, transportation was down, and everywhere, there was overwhelming need.
As communities struggled, volunteers stepped in to fill the gaps, providing immediate relief and care, helping to mitigate the consequences of the disaster. Nurses and doctors, organizers and neighbors banded together to care for the sick and disabled, clean up destroyed belongings and mold, and pressure the government to fix its mistakes and address its neglect. But as the acute crisis faded, the chronic crisis in health care became obvious to all, as hospitals like St. John's face cuts throughout the city.
"This Isn't Supposed To Be Happening!"
Pat Kane is an operating room nurse at Staten Island University Hospital and treasurer at NYSNA. During Sandy, she told Rewire, the hospital did not evacuate. "Those of us working were kind of held hostage to our workplaces while they were getting stabilized after the storm," she said. "You're there all night wondering, Are we going to end up evacuating in the middle of the night? Some of the nurses felt like the hospital should've been evacuated. But then what? Then all we leave on Staten Island is one hospital."
Other hospitals did, of course, wind up evacuating in the middle of the storm: NYU Langone Medical Center, where nurses carried babies down nine flights of stairs using manual respirators to keep them breathing, and Bellevue. Kane and her colleagues were lucky in that sense, but found their workplace unprepared, without enough beds for staff to sleep in or food for them. Staten Island was battered by the storm, neighborhoods flooded, homes destroyed.
In Manhattan, Stacy De-Lin was a resident physician working in primary care at Beth Israel Medical Center, the only downtown hospital that remained open while Bellevue and NYU Langone evacuated. "Most of us lived downtown, didn't have power or water, so we basically lived at the hospital for a week," she said. "Every resident in the hospital was pulled from every rotation, wherever they were, we had so many patients we just had to keep up with the volume."
When the water receded, NYSNA nurses were part of the first wave of volunteers providing relief to affected areas. Kane and others on Staten Island led the push for a door-to-door canvassing effort. Judy Sheridan-Gonzalez, an emergency room nurse at Montefiore Medical Center in the Bronx and vice-president of NYSNA, was part of the first wave of volunteers who went out to the Rockaways. The nurses found people stuck in high-rise public housing buildings with no power to run the elevators, and no lights to see their way up and down dark stairwells. "Some of them ran out of their medications or became confused about what they were supposed to take, some had chronic conditions. If they were feeling ill, they had nowhere to go, they wouldn't know what to do," Sheridan-Gonzalez said. "They couldn't even think clearly about what they needed. People were confused about the day, they were disoriented because they had no light, no electricity, it was very hard to get good histories on what people did need."
For people with disabilities, what might have been an inconvenience could quickly turn life-threatening. The loss of electrical power meant the loss of power for all sorts of equipment that helped with daily activities or even kept them breathing. The lack of public transit suddenly meant that home health-care workers couldn't get to work, leaving the people reliant on them stranded. The Rockaways have more than their share of nursing homes, halfway houses, and long-term care facilities that had to be evacuated, leaving people homeless, disoriented, and out of contact with their families.
With only one hospital in the Rockaways, the area was already underserved. Within days, respiratory infections and fevers started popping up. And then, Sheridan-Gonzalez said, the public health issues began. The air quality, which had never been great, got worse. People were still without power and water, and hygiene was becoming an issue. "The medical problems almost were overshadowed by the sort of general sanitation, nutrition needs."
Nastaran Mohit went out to the Rockaways with people she knew from Occupy Wall Street as that group began its relief efforts. She wound up at YANA (You Are Never Alone), a community center that had become a hub for relief workers. Doctors Without Borders, the international aid organization, wound up at YANA in its search for a place to set up its first domestic effort.
Mohit comes from a family of medical professionals, though her health-care experience has mainly been as an advocate for a national health-care system, and she jumped in right away, connecting the Doctors Without Borders team to the Rockaway Youth Task Force to set up a canvassing effort in the public housing buildings.
It was clear to her that more was needed, though, and with the help of Sal LoPizzo from YANA, she got access to a space across from YANA and set up a medical clinic, staffed with volunteer nurses and doctors, including NYSNA nurses and medical students from Mount Sinai. "We found out FEMA was referring people at their tents to YANA medical clinic for medical attention, and we had the Red Cross showing up saying, 'Hey, what can we do?' and we had St. John's hospital referring people to YANA medical clinic for medical care, and I'm like 'I'm a labor organizer! This isn't supposed to be happening!'"
A Volunteer-Led Effort

The story of Sandy is a story of institutional unpreparedness, of those who should know better assuming that things were under control, of everyone assuming that someone else was taking care of people, and of volunteers stepping in where the big names fell down on the job.
One year later, some of the few institutions that existed during the storm are threatened.
According to Mohit, there was constant confusion as to who was supposed to provide health care. "What is FEMA? Federal Emergency Management Agency. Aren't they supposed to manage this? No. They provide [Small Business Association] loans, they provide claim numbers, they process the appeals, what they do is very specific. They have no qualms about saying, 'This is what we do,'" she said. Yet people expect more, and find themselves disappointed. The same for the Red Cross.
"People think that Red Cross provides medical [assistance]. They don't. You would think that there would be thousands of Red Cross canvassers across these disaster areas. No, they're giving out hot meals, and they have ambulettes that work in conjunction with FEMA, but they're not doing any medical canvassing, they're not providing medical clinics, they're not providing volunteer medical professionals. They don't do any of that," she said. "Is the Department of Health supposed to do that? No, they don't do that. Is DMAT [Disaster Medical Assistance Teams] supposed to take care of this? No, DMAT doesn't take care of all of this. And then finally you come to realize, it's all volunteers that have to do this."
Out on Staten Island, Pat Kane was having the same experience. FEMA had sent ambulances, two of them, that were stationed at Miller Field, a public park near New Dorp Beach. "Every day we would more or less convince whoever those ambulance drivers were to take us out into the community," Kane said. NYSNA had an RV stationed at Miller Field in the beginning, and the National Guard began referring medical needs to the nurses. But after a couple of weeks, city officials began pushing to move from what they termed "acute response" to recovery, and moved from Miller Field to an indoor relief center. But the conditions on the ground were still bad, so Kane and the nurses connected with Occupy Sandy and with community hubs, staging at a parking lot on Cedar Grove Avenue and at Midland Beach.
To the NYSNA nurses, the people working for FEMA and the Red Cross had good intentions, but they were caught up in a system that doesn't work. "I look at it kind of like what some of the nurses go through in the institutions where they work," Kane said. "They want to help every patient and do the best job, but management isn't giving them the staffing and the other tools they need to do it." Sheridan-Gonzalez added, "What we found out was that we had to sort of say 'Hi, come with me and let's do this.' They just didn't even know what to do."
But the nurses and other volunteers could only do so much—in between their volunteer hours, they were still working full-time at the hospitals, which were stressed in turn because several facilities remained closed for months. And no matter how wonderful the volunteers were, how dedicated, Mohit noted, they couldn't personally keep track of patients, because they could only commit to a day or two at a time.
Yet the big, well-funded agencies (according to Guidestar, the Red Cross had revenues of $3.4 billion last year) were referring those in need of care to the volunteers, leaving the volunteers scrambling. "We never say no, we say yes yes yes, but it has to come to a point where this is completely unacceptable," Mohit said. "We're already trying to leverage those relationships to get funding for them because FEMA got a huge grant for case management, and the Red Cross has a ton of money. They all have a ton of money, and we're all doing this for free."
What Went Wrong?
"There was no public health infrastructure preparation at all," Sheridan-Gonzalez said. Before the storm, Mayor Michael Bloomberg gave a speech about preparedness, explaining that he had assured FEMA before the storm that New York City had "everything under control," so its help was not needed; he said the agency should "help those parts of the country that don't have all of the extensive facilities and agencies and practice that New York City does."
The volunteers on the ground, of course, told a different story. After her second trip to volunteer in the Rockaways, Sheridan-Gonzalez helped organize a meeting with Physicians for a National Health Program (PNHP) and other groups to try and coordinate the volunteer effort. PNHP, NYSNA, Occupy Sandy, volunteer doctors, EMTs, and street medics met and discussed how to work together and how to get aid from the public agencies and the Red Cross. For round two of the meeting, they invited government and non-government agencies to attend, and, Sheridan-Gonzalez said, only federal representatives from FEMA and the Department of Health and Human Services showed up—no one from New York state or the city.
"What we got out of that meeting, unofficially, is we were able to understand a little bit what the bureaucratic mechanism was to get aid, and it had to come from the mayor," she explained. The mayor needed to make requests to various state agencies, which then applied to FEMA in order to "trickle it back down again." And according to the federal representatives, those specific requests had not been made.
From there, the nurses moved to meet with the city, and finally, in frustration, organized a rally on November 16 on the steps of City Hall to protest Bloomberg's slow response to the storm. The rally brought results, of a sort. They met with a representative from the mayor's office, who, Sheridan-Gonzalez said, "started rattling off these statistics: the number of people that have been helped, the number of bottles of water they've distributed, the number of generators, the number of masks, just statistic after statistic of all the things they have done." They may well have produced that many masks or bottles, she said, but when they started to tell her that certain neighborhoods in the Rockaways had been canvassed and were OK, she said, "We've been there, and they were not."
Even when programs had been installed to deal with the health crisis after the storm, they often didn't work as they should. "Probably the biggest holdup was this issue with the pharmacies," Mohit explained. The state had created an emergency prescription assistance program, meant to help pay for medication for people in storm-affected communities who may have lost their prescriptions. But if a canvasser, trying to do the work for people stuck in their homes, had just one digit wrong in someone's Medicaid number or insurance information, they couldn't get the prescription filled. "So much of the stress of that whole operation was just trying to get these prescriptions filled and going up against these huge corporate entities," she said. "I would say every single day in the clinic, 'If this is not the strongest case for a universal health-care system I don't know what is.'"
People living in New York's outer boroughs were often not getting good health care on the best of days. "There were huge gaps in access already in the Rockaways. Peninsula Hospital, which closed in April, was the only other functioning hospital besides St. John's, so now there's just St. John's. There's just a few little providers kind of scattered around the peninsula, but none of them are comprehensive," Mohit said. The people in the Rockaways, in Coney Island, in Staten Island are working class; many of them, particularly in the Rockaways, are working poor. It's already become somewhat cliché to point out that the storm highlighted the rampant inequality in New York, but when it comes to health care, the case is particularly stark.
Ongoing Struggles
As power, medical services and a kind of stability returned to most storm-affected neighborhoods, the health hazards that remained were harder to see.
"A few days after the storm, a few weeks after the storm, it was so clear that the air quality was so horrible, you were coughing and you could see it in the air. And now that a lot of the garbage removal has tapered off, I think that people that come to the area, they think it doesn't look that bad, but a lot of those dangers still exist. It's in the air that we breathe, it's in the water that we're drinking," Mohit said. "We're on the skinny little peninsula, you had all of the flood waters come in and then recede and then dry up. And then with all of the construction, vehicles coming in, kicking up all of that material, every time a new house is demo'd, that material is kicked up, the asbestos is kicked up, the toxins, the oil, the sludge is kicked up. And then you have these huge dump trucks that are going from one end of the peninsula to the other to Jacob Riis Park to dump all of this trash, all of these trucks are uncovered, which is a whole other issue, so we're breathing in all this crap and breathing in the mold."
According to Pat Kane, from the beginning, anyone with respiratory problems was having a hard time, and they had to fight in order to get portable nebulizers to bring to people who were having trouble breathing. Mohit saw residents complaining of breathing problems, children with asthma that they've never had, people coughing up dark mucus or blood. She's also received complaints about the water quality. But according to the Department of Health, she said, the air and water were fine. "We know that's not the truth," she said. "We heard a similar story after 9/11, and we don't want this to be a repeat." (New York Congressman Jerrold Nadler echoed Mohit's concerns in March.)
According to a survey from New York Communities for Change in January, two-thirds of residents in the Rockaways had mold in their homes or paid out-of-pocket for mold remediation. The New York Times reported in March that a plan to treat 2,000 moldy homes was being funded by a public-private partnership, but estimates of how many homes might need treatment ran to more than ten times  that number. Volunteer groups like Respond and Rebuild stepped in to fill the gap, holding trainings for residents and sending volunteers into homes to fight the mold.
Linda Bowman, a resident of Far Rockaway and member of NYCC, said in August—some ten months after the storm—that she'd only recently had her basement gutted. "We got help from people, yes, but we didn't get what we need," she said. "I'm still working on it."
The mold at least got some attention, but even less acknowledged was the creeping mental health crisis among people displaced by the storm. "It's the devastation that people are showing—losing their home, losing their communities, being without services, being without heat, just people's lives torn asunder," Sheridan-Gonzalez said. "You could feel the tension in the air of people being forced into small spaces. A lot of family drama. A lot of fear. That was the thing we felt most of all, that people had no idea what was going to happen."
The city has a program, known as Project HOPE, that is funded by a FEMA grant to provide counseling in disaster-affected areas. Kane grimly joked about it: "We hope for Project HOPE." A Google search returned one date, January 11, when Staten Island residents could access trauma counseling. Ads and flyers continue to dot the subway system and grocery store windows, offering help.
People who barely stop to get care for acute medical needs take little time to care for their mental health, and every setback provides another trauma. For those who were displaced, living night after night without a home, in a hotel, or on a friend or relative's couch makes it impossible to return to "normal."
Volunteers have been trying to fill in the mental health-care gaps as well. Nastaran Mohit has been working with Mount Sinai's global health institute, which has a disaster psychiatry program. "Mental health is a long-term project," she noted.
If many New Yorkers had little access to primary health care before the storm, there's little chance that they were already getting good mental health care. Then, as noted above, the Rockaways and Coney Island, the areas hardest hit by the storm, were also home to long-term care facilities for those with mental health problems, as well as halfway and three-quarter houses for formerly incarcerated people or those exiting rehab programs. Coney Island Hospital still has not reopened its psychiatric emergency department, and with Interfaith Hospital in the Bedford-Stuyvesant neighborhood of Brooklyn threatened, the New York Times has noted the borough will face a "severe shortage" of mental health care.
Mohit said that many residents of the Rockaways already faced the day-to-day trauma of economic uncertainty and living in poverty. Then they had everything they did own wiped out in the storm, or had no power for weeks on end. "You can imagine what it does to your psyche to live in cold, night after night after night. You don't sleep, you're stressed, you get sick, you're worried about your kids, you have to get yourself to and from work, it takes hours. Mental health professionals talk about this all the time, this feeling of uncertainty, what that does to you long-term," Mohit said. "I'm surprised everyone's not sick. It's overwhelming."
Lessons, and Getting Back to "Normal"

For much of New York, life has returned to normal. Almost all subway service has been restored, the fallen trees have been cleared from the streets, and if you don't live in the handful of hardest-hit areas, you could easily forget that parts of the city are still dealing with the fallout from the storm.
Coney Island Hospital reopened most of its departments at the start of January, and Bellevue reopened in February. The Manhattan VA hospital reopened fully in May, and NYU Langone has reopened and is in the midst of a "modernization effort" that includes additional storm protections.
But the lessons of the storm—that health-care facilities are desperately needed, and need to be prepared for emergencies—seem to be lost on some. Last winter, David Sandman, senior vice president of the New York State Health Foundation and a member of the Berger Commission, a 2006 project by Republican then-governor George Pataki to "rightsize" medical care in the state, told WNYC that Sandy was "a wake-up call" about "excess inpatient hospital capacity." "When two very large hospitals—Bellevue, with 900 beds, and NYU, which has close to 900 beds—were suddenly taken out of service, we did have some backlogs and wait times at other places, but the system was able to absorb most of that capacity," he said. Translated from the bureaucrat, that means he's hoping for more downsizing.
But for residents in storm-ravaged neighborhoods like Red Hook, in Brooklyn, and the Rockaways, the loss of the closest hospital to them could be devastating, and in an emergency, backlogs and wait times can cost lives. NYSNA nurses are fighting hospital closures in multiple boroughs—Long Island College Hospital in Cobble Hill in Brooklyn, adjacent to flooded and already-underserved Red Hook, and Interfaith Hospital in Bed-Stuy, as well as St. John's out in the Rockaways and departments in the Bronx and Manhattan.
Mohit pointed out that the closure of departments has less to do with community need or some perceived lack thereof, and more to do with which departments and hospitals make money. Lower-income neighborhoods have a higher amount of uninsured patients or patients who rely on Medicaid; in the Rockaways, which have the highest number of drug-dependent patients in Queens, she said, the detox department at St. John's nevertheless closed. At St. Luke's Hospital in Harlem, the detox department and the pediatric inpatient services closed down, and Sandy was part of the excuse. "They said we need to close these departments to make way for the overflow from NYU and Bellevue. Why would patients from NYU and Bellevue come all the way to Harlem/Morningside Heights? But they closed the departments, they transferred those nurses, and they did it without any community input. Those departments still have not opened."
Stacy De-Lin noted that the coming merger of Beth Israel and Mount Sinai Medical Center also might see downsizing, possibly from 1,000 beds to 400, even though Beth Israel remained busy well after Bellevue and NYU Langone reopened. "Beth Israel is a safety-net hospital, most of the patients that go there are uninsured or on Medicaid," she said. "I think they're looking at it purely as a matter of dollars and cents. What gets missed in that picture is what the cost is to the overall system or to the state of New York when these patients lose access to care and their conditions get out of control. That's something that could've been managed, but now it's more serious. No one would argue that we don't need those beds. It's just being looked at from a purely corporate standpoint, when ultimately it's a public health issue that has economic implications for the state."
NYSNA started, along with other medical professionals, a campaign to "Build Back Better" after the storm, which then merged into the Alliance for a Just Rebuilding, a coalition of over 50 community, labor, faith, and environmental organizations. Sheridan-Gonzalez explained, "We're returning people to a system that didn't work. So our big responsibility as activists is to expose the bankruptcy of the medical care that people receive in general and the lack of disaster preparedness in the nation. We worked on the ground to try to see what people needed, and what we found, no surprise, aside from the fact that people were totally devastated, we also found that most of them weren't getting good health care anyway. With flashlights and a stethoscope we provided more information and care to people than they had probably ever gotten."
Residents express anger; Kane noted that Staten Islanders feel like the "forgotten borough" all over again, and Linda Bowman told me on August 14, "We need help out here. If we don't get help, Far Rockaway's gone. We don't exist out here."
The comparisons to Hurricane Katrina, to the people who were left out of relief and recovery efforts in New Orleans, are heard all over the city. They know, Mohit said, that poor people, people of color, immigrants, and working-class communities come last. A protest sign at one of the Build Back Better rallies called attention to the time it took to get Wall Street up and running: two days.
And yet the volunteer experience also brought positive lessons. The community medical clinic in Far Rockaway left the people who worked there wondering what it would be like to have a functioning community clinic all the time, outside of disaster relief. "It gave us kind of a glimpse into what this world could look like," Mohit said.
The nurses at NYSNA and the doctors at PNHP already advocated for a single-payer national health-care system, one in which struggling to find insurance numbers and arguing with pharmacists to honor prescription aid programs wouldn't be issues. Sheridan-Gonzalez and others see the incomplete disaster response from the government as only part of the problem; the for-profit health-care system that pushes costs down and prioritizes making money over meeting human needs, they said, is the real problem, one that's only highlighted more by the attempts to shut down hospitals that saved lives during the storm.
Residents wondered, too, where the money that was donated so generously in the immediate wake of the storm went. Celebrities like Lady Gaga opened their deep pockets, and as of December 17, according to its own website, the Red Cross had raised $202 million. It was hard to hear over and over about the money that's been given while not seeing the results on the ground. "People appreciate all the work, the not-for-profits, the groups that have helped them, but they keep asking, 'Where is all this money going that's being raised?'" Kane said. "They would just like the money."
The problems that New York is facing were, many of them, foreseeable for those who paid attention to the aftermath of Hurricane Katrina—the disparities in care and relief, the communities that can bounce back and the ones that keep struggling, the health problems mounting. And, Mohit noted, storms like this are going to continue to happen—Sandy was a first-ever crisis, warm oceans later in the year allowing a hurricane to blend with a vicious winter storm, but as those oceans get warmer, storms like Sandy will become more common. Without a plan in place to deal with them, Mohit noted, this crisis will repeat, and volunteers once again will have to fill in the gaps.
"The analogy I use is, if you're sitting at a pool and there's a lifeguard, and there's somebody drowning, if the lifeguard isn't saving the person, you're going to jump in and save them. But is the lifeguard eventually going to do his job and save people who are drowning, or are you going to be expected to constantly be jumping in and saving drowning victims?" Sheridan-Gonzalez asked. "There are taxes being paid, there's money being donated, on an ongoing basis. for organizations and structures to do this work. When they're not doing the work, or they're not doing it well, in a way that meets people's needs, you have an obligation to expose that, to say we deserve and demand something better."