Two More Texas Clinics Close, as Perot Foundation Donates $1 Million to Planned Parenthood of Greater Texas
Planned Parenthood closed two West Texas clinics within a few days of each other last week, citing its inability to sustain the rural clinics in Texas' anti-choice climate. Meanwhile, the state Planned Parenthood affiliate received a gift from the foundation of conservative former presidential candidate Ross Perot.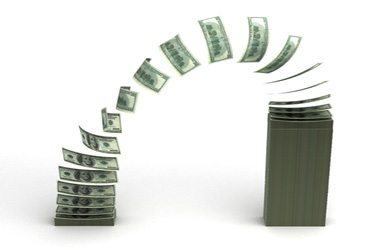 The confluence of ALEC and AUL is further evidence of a new trend on the political right. Money transfer via Shutterstock
Last week, Planned Parenthood closed two Texas clinics within a few days of each other, adding to the growing number of specialized reproductive health centers that have closed across the state after lawmakers slashed family planning funds in 2011 and ousted Planned Parenthood from participation in the now-shrinking Texas Women's Health Program.
The two clinics were located in rural West Texas' population centers of Midland and San Angelo, about a two-hour drive from each other. According to the Texas Policy Evaluation Project, which tracks the impact of family planning budget cuts in the state, the closure of the Midland Planned Parenthood clinic will leave just two reproductive health clinics in its respective county, while the closure of the San Angelo clinic leaves no dedicated reproductive health-care clinics in its county.
The Midland clinic provided surgical abortions, while the San Angelo clinic prescribed medication abortions, in addition to cancer screenings, contraceptives, and well-woman exams. According to News West 9, the clinics saw over 3,000 patients last year.
A Catholic bishop in San Angelo held a celebratory prayer session outside the shuttered Midland clinic last Friday, with Bishop Michael Pfeifer telling News West that those 3,000 Texans could go to crisis pregnancy centers for "medical help," though no location of the Life Center chain he endorsed provides medical services—only referrals for sexually transmitted infection testing.
During the 2013 legislative session, lawmakers attempted to restore some of the previous session's family planning funding cuts, but much of that money will now be directed to primary care physicians, leaving reproductive health-care professionals in the state to wonder if the differently appropriated funds will be able to serve Texans as cost efficiently, and as effectively, as dedicated family planning dollars. Going forward, the state is asking primary care doctors to provide the reproductive health-care services once provided by Planned Parenthood and other now-shuttered specialty health-care clinics.
But Planned Parenthood is seeing support from prominent Texans despite opposition from state lawmakers. The Perot Foundation—the foundation of conservative former presidential candidate Ross Perot, who ran for executive office with a pro-choice stance in 1992—donated $1 million to Planned Parenthood of Greater Texas last week just as it closed the West Texas clinics.
In a statement, Margot Perot said her family is "impressed" with the work Planned Parenthood does "providing birth control, scientifically based education, breast health exams, and basic, life-saving healthcare for women who cannot afford services otherwise."