Congressional Democrats Push for Supreme Court Ethics Act
Supreme Court justices are the only justices in the country not subject to a code of ethics. Congressional Democrats want to change that.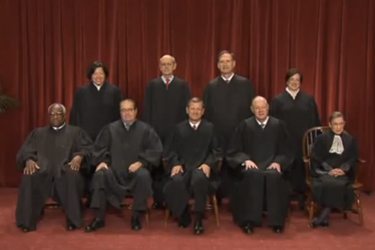 In their response to a request for emergency Supreme Court intervention, attorneys for the State of Texas told the Roberts Court there was no need to block a law designed to cut off abortion access for tens of thousands of people in the state. CNN / YouTube
Unlike every other federal judge in the United States, Supreme Court justices are exempt from the Code of Conduct for United States Judges, a binding code of ethics that ensures neutrality and transparency in our courts. On Thursday, a group of Congressional Democrats announced their plan to change that.
The Supreme Court Ethics Act of 2013, introduced by Rep. Louise Slaughter (D-NY), Sen. Richard Blumenthal (D-CT), Sen. Chris Murphy (D-CT), and Sen. Sheldon Whitehouse (D-RI) would require the Supreme Court to adopt a code of ethics within 180 days of passage. The bill is the latest effort to impose binding ethics rules on the justices, who have come under increasing scrutiny for blurring the lines between adjudicating disputes and advocating for their beliefs.
Concerns over Supreme Court impartiality are nothing new. Take Supreme Court Justice Clarence Thomas. Conflict of interest questions have dogged Justice Thomas since the days of his confirmation hearing, and they almost always center on the work of his wife, Virginia "Ginni" Thomas. During Thomas' confirmation hearing, critics argued his wife's political work for such organizations as the U.S. Chamber of Commerce, where she actively campaigned against the Family and Medical Leave Act, would compromise his objectivity should challenges to the law appear before him. During the legal battles over the constitutionality of the Affordable Care Act, Thomas' objectivity was questioned again when he failed to disclose more than $700,000 in his wife's income from the Heritage Foundation, a conservative think-tank that has spearheaded many of the legal and political challenges to the landmark legislation. More recently, Ginni Thomas' connections with Groundswell, a conservative coalition of journalists and activists that has been meeting privately to coordinate talking points and messaging on key political issues for the upcoming midterm and presidential elections, has brought the issue of judicial impartiality back into the spotlight.
It's not just Ginni Thomas' political work that's raised these questions again. Justices Scalia and Thomas have a history of attending political retreats hosted by Koch Industries, and Justices Thomas and Alito have headlined fundraisers for the Heritage Foundation as well as the conservative American Spectator magazine. Legal experts have also questioned the Scalia's and Thomas' speaking appearance at a 2011 fundraiser for the conservative Federalist Society as well as Scalia's appearance at a 2012 fundraiser for Friends of Abe, a group of Hollywood conservative activists that supports Republican causes and candidates. If the Supreme Court justices were governed by a code of ethics, many, if not all, of these activities would be prohibited.
The Judicial Conference Code of Conduct requires federal judges to recuse themselves in cases where there may be a potential or perceived conflict of interest and requires judges to "act at all times in a manner that promotes public confidence in the integrity and impartiality of the judiciary." The Code of Conduct has three canons that have direct bearing on the appropriateness of the extrajudicial activities of federal judges. Canon 2 states, "A judge should avoid impropriety and the appearance of impropriety in all activities." Canon 4 states, "A judge may engage in extrajudicial activities that are consistent with the obligations of judicial office." And canon 5 states, "A judge must refrain from all political activity."
In 2012, a group of congressional lawmakers, including Rep. Slaughter, asked Chief Justice John Roberts to voluntarily adopt the Judicial Code of Conduct for all Supreme Court justices. He declined to do so.
Currently, the Supreme Court's system for addressing conflicts of interest, or the appearance of conflicts (which the judicial cannon treats as critically as actual conflicts), is to leave it to the best judgment of each justice to determine if he or she should recuse him or herself. In the past, justices have recused themselves from cases because they held significant stock in a company that was before the court, or, like Supreme Court Justice Elena Kagan, because they had some earlier involvement in the case as an advocate. Even Justice Samuel Alito, who has deep financial ties to big pharmaceutical, oil and gas, and telecommunications companies, recused himself from several high-profile cases last term, likely based on those holdings. But it's Justices Thomas, and to some degree Scalia, who flout these lines most egregiously. Thomas took part in the Obamacare decision despite calls to recuse himself due to his wife's paid advocacy against the law, and Scalia is almost as famous for his acerbic public comments against voting rights and marriage equality while those cases were pending as for his formal judicial dissents.
The purpose of the code of conduct is to protect public confidence in the judiciary, which recent polling shows is at an all-time low. Meanwhile, the Court and Congress are increasingly entrenched in monied, partisan battles, and the likelihood is that those divisions will only get worse. However, the likelihood of the Supreme Court Ethics Act of 2013 passing Congress is slim, and even if it does there are thorny questions of how the code would be implemented by the Court itself.