North Carolina's 'Motorcycle Safety' Abortion Bill Remains Stalled
As the legislative session draws to a close, the state's motorcycle safety bill, which was amended with a number of unrelated abortion restrictions, remains stalled in committee.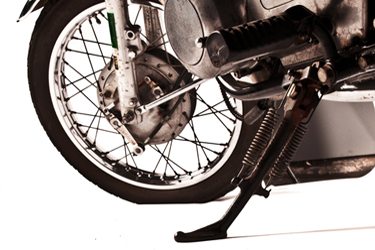 As the legislative session draws to a close, the motorcycle bill remains stalled in committee. Motorcycle viewed from the side
With only a week left in the 2013 legislative session, North Carolina lawmakers are focused on passing the state's budget. That focus has driven SB 353, the motorcycle safety bill that was amended with a number of unrelated abortion restrictions, into the ditch for now. State legislators are focused primarily on getting the budget passed by sometime this weekend, but the senate likely will have time next week to move the anti-choice bill out of committee and get it back on the road. Meanwhile, reproductive rights supporters aren't letting Republican Gov. Pat McCrory hide from his campaign promise to veto all anti-choice bills.
What started out as a quick push to pass restrictions—including medically unnecessary clinic regulations, a sex-selection abortion ban, new rules restricting medication and telemedicine abortions, and a ban on insurance coverage for abortion in the state's health insurance exchange—has slowed to a near standstill as a final governor-endorsed and house-approved version of the bill sits for days on end in the senate rules committee, awaiting a hearing. But considering the many ways anti-choice legislators have tried to pass abortion restrictions in the state this year, it would be a major surprise if the session closed, as it is expected to do next week, before such a bill was sent to the governor's desk.
Anti-choice activists, fearing that the session may end without a vote to pass either SB 353 or a nearly identical house bill, sent alerts to their supporters urging them to contact lawmakers and put pressure on them in these final days. "This pro-life bill containing multiple provisions is important, and we should hold the Governor and our legislators accountable if one version or the other is not passed," the North Carolina Values Coalition, a socially conservative action group, said in a statement. "Every abortion ends in the taking of an innocent life. We cannot wait another year for these important reforms."
While the abortion restrictions remain in limbo, Gov. McCrory is signing bills that have already passed the legislature, including one that will require health classes to teach, inaccurately, that abortion is a cause of pre-term birth in future pregnancies. When asked previously how he could justify signing such a bill in light of his campaign promise not to sign any anti-abortion bills into law, the governor argued that the bill is an education bill, rather than an abortion restriction.
At an outdoor bill signing, NARAL Pro-Choice North Carolina sent a mobile billboard to circle the event. The billboard featured a picture of the governor's face and the line "Keep your word, Gov. McCrory!"