Federal Appeals Court Reverses Block on Baltimore's CPC 'Truth-in-Advertising' Law
A federal appeals court ruled a lower court was wrong when it blocked a Baltimore law requiring crisis pregnancy centers to disclose that they are not actual medical facilities.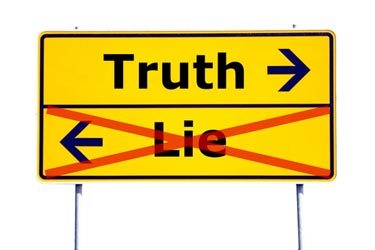 A federal appeals court ruled a lower court was wrong when it blocked a Baltimore law requiring crisis pregnancy centers to disclose that they are not actual medical facilities. Truth or lie concept via Shutterstock
Last week the Fourth Circuit Court of Appeals issued an important ruling in the battle over the business tactics used by so-called crisis pregnancy centers (CPCs) to dissuade women from accessing abortion services.
CPCs frequently advertise themselves as clinics that provide a full range of reproductive health services, but in reality many are non-medical organizations that dissuade women from obtaining abortion and birth control services.  In addition to deceptive advertising, some centers provide factually inaccurate information to patients and disregard patient confidentiality. Baltimore was the first city in the nation to pass legislation requiring these centers to disclose that they neither refer for nor offer abortion services. The ordinance was passed after NARAL Pro-Choice Maryland Fund released an extensive report documenting the harms posed by these centers, which was featured heavily in the legal defense of the city's law. The ordinance was the first of its kind in the country, and was soon followed by similar ordinances in Austin, San Francisco, New York City, and Montgomery County, Maryland.
In 2010 the ordinance was challenged by the Archbishop of Baltimore and the Greater Baltimore Center for Pregnancy Concerns, arguing the law was unconstitutional. The Center for Reproductive Rights joined the City of Baltimore to defend the ordinance. In January 2011, the district court granted summary judgment in favor of the CPC and its allies before the city was even able to submit evidence in support of its case. The city and CRR immediately appealed the ruling to the Fourth Circuit. A divided appellate panel later upheld the lower court's decision to block the ordinance in June 2012, and just a few months later, the full circuit court agreed to re-hear the case.
Recognizing the substantial evidence amassed by the Baltimore City Council that crisis pregnancy centers often engage in deceptive business practices to dissuade women from obtaining contraception and abortion services, the full Fourth Circuit held that a lower court's decision blocking the city's truth-in-advertising ordinance for CPCs was inappropriate. The decision from the full appellate court remands the case back to Senior U.S. District Judge Marvin J. Garbis for further legal proceedings and discovery.
"We welcome the opportunity to further expose the deceptive business practices of these crisis pregnancy centers and will continue to work alongside the City of Baltimore to ensure women seeking contraception and abortion have timely access to those services so they can make the best health care decisions for themselves and their families," said Stephanie Toti, senior staff attorney at the Center for Reproductive Rights and co-counsel to the Baltimore City Law Department.
Jodi Finkelstein, executive director of NARAL Pro-Choice Maryland, praised the decision in a statement. "We support improving services for women who choose to continue their pregnancies, but a line is crossed when CPCs lie to women looking for comprehensive pregnancy-related information," Finkelstein said.
The decision is significant as more and more state legislatures pass abortion restrictions that require providers to tell their patients deceptive and misleading information—about a link between abortion and breast cancer, for instance. While the Fourth Circuit's decision does not affect those laws specifically, it does send a signal that lying to women to prevent them from accessing reproductive health care they need will not stand.