Ohio Governor Signs 2014 Budget With 5 Radical Amendments
The governor had little problem using his veto pen on the state budget, but wouldn't cross of any one of five anti-women, anti-health amendments.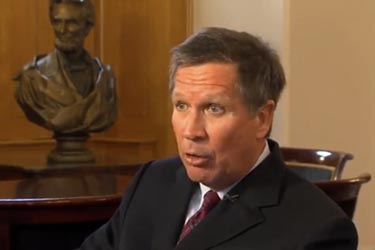 The governor had little problem using his veto pen on the state budget, but wouldn't cross of any one of 5 anti-women, anti-health amendments. WEWSTV / YouTube
Republican Governor John Kasich spilled a great deal of red ink on the 2014 Ohio state budget, vetoing 22 different amendments, but leaving in place all of the five anti-health, anti-women amendments tucked into the massive bill. The amendments include those to de-fund Planned Parenthood and other family planning clinics; block and restrict transfer agreements and variances necessary for abortion providers to operate legally; gag rape crisis centers to block them from mentioning abortion to women who have been raped; and to shift tax payer dollars from Temporary Aid for Needy Families (TANF) to medically inaccurate faith-based crisis pregnancy centers. Also included was an amendment requiring forced ultrasounds as a condition of obtaining an abortion.
Kasich, an anti-choice Republican, had said repeatedly that reporters should "keep in mind he's pro-life," when asking which way he was likely to fall when it came to the final line item vetoes. Still, some activists thought there may be a moment of hope when, in an interview just one day before the final signature, the Governor made a statement that could have been seen as considering a veto despite pressure from the far right. " [M]y personal faith in God, the creator, has grown enormously over the last two and a half years, and what it does, it allows you to be free. It allows you to do things a lot of people might not think you would do," he told NBC4i. "I mean, a lot of people thought, 'Oh my goodness, how could he do Medicaid expansion?' I'm comfortable with myself." Unfortunately, the statement turned out not to apply to any of the anti-choice provisions put before him.
Reproductive health groups and advocates see little light in the tunnel now that their only hope of stopping the laws from being signed is over. Even worse, groups see them as a continuing and even growing disregard for health and welfare of women in Ohio—especially those with the least means.
"These provisions in the Ohio state budget are part of an orchestrated effort to roll back women's rights and access to health care in Ohio—and the budget is only the latest in a series of restrictive laws signed by John Kasich that have hurt the women in our state who need more access to health care, not less," said Stephanie Kight, President of Planned Parenthood Advocates of Ohio in a  statement.
As long as politicians continue to introduce out-of -touch bills that further restrict women's health care in Ohio, we will be back to fight for Ohio women. Ohioans want doctors and medical experts to make medical decisions and set health regulations, not unqualified, intrusive 'gynoticians' like John Kasich.
For NARAL Pro-Choice Ohio, however, this is just the beginning of a new battle, and it's one they hope will end at the ballot box in November of 2014. "Elected officials are supposed to protect the health and safety of the people they serve, not impose their personal beliefs on them. Today Governor Kasich enacted measures that prescribe medically unnecessary procedures, force doctors to mislead their patients and will force quality medical centers to close," said Kellie Copeland, executive director of NARAL Pro-Choice Ohio in a statement. "Kasich's agenda is clear—to put politicians in charge of women's personal, private medical decisions—even in cases of rape or incest, or when a woman is faced with serious threats to her health."
"This extreme political agenda is not what Ohioans want and they will hold him accountable when they vote on November 4, 2014," continued Copeland.