Center for Reproductive Rights Joins Fight Against Kansas Anti-Abortion Super Bill
The state of Kansas must now defend two lawsuits challenging the constitutionality of HB 2253.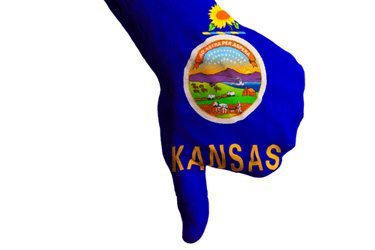 The state of Kansas must now defend two lawsuits challenging the constitutionality of HB 2253. Hand in thumbs down gesture via Shutterstock
The Center for Reproductive Rights (CRR) has joined the fight against a massive new anti-abortion bill in Kansas. The group filed suit in state court last week to block HB 2253, arguing the over 40 pages of new abortion restrictions are unconstitutional. The lawsuit follows a separate lawsuit also filed in state court by Planned Parenthood attacking the same law.
CRR has asked the court to block the law in its entirety before it takes effect on July 1.
HB 2253, which was signed into law by Republican Kansas Gov. Sam Brownback on April 19, includes more than a dozen harmful and unconstitutional measures. Among the most concerning provisions in HB 2253 is one that eliminates any meaningful exception for medical emergencies from the restrictions on access to abortion imposed by Kansas law. HB 2253 redefines the term "medical emergency" to exclude situations in which a physician has time to determine the gestational age of the pregnancy, a process that only takes a matter of minutes with an ultrasound or by simply asking the patient, before being able to legally perform an abortion. This change, should it take effect, would have devastating consequences for women who would now be forced to comply with the state's 24-hour waiting period and other time-consuming restrictions on access to abortion even if her life is in imminent danger. This includes women who are hemorrhaging, suffering from a serious infection, or facing an ectopic pregnancy about to rupture.
The law also forces doctors to provide medically inaccurate information drafted by anti-abortion legislators to their patients seeking an abortion and to vouch for its accuracy against their own personal beliefs and the standards set within the medical community. The law also imposes discriminatory tax penalties on abortion patients, abortion providers, and others who facilitate access to abortion services. The law even goes so far as to ban abortion providers from chaperoning their school children's field trips or otherwise acting as a school district representative in violation of those providers' First Amendment rights.
There's more. The law also denies abortion providers protection against discrimination by state agencies that is afforded to other health-care providers; bans University of Kansas Medical School faculty members from teaching medical students and residents how to perform abortions, even when on property not owned by the state; and eliminates coverage of medically necessary abortion services from public health insurance plans.
The lawsuit was filed on behalf of Dr. Herbert Hodes and Dr. Traci Nauser, a father-daughter medical team that provides a full range of OB-GYN services in Overland Park, Kansas. Drs. Hodes and Nauser are both board certified OB-GYNs who have been providing a full range of reproductive health care, including annual exams, childbirth, contraception, fertility treatments, and abortion services, to their patients for more than 40 years, collectively. "As board-certified physicians, my father and I are deeply committed to providing our patients with the very best medical care available and with accurate and truthful information about their health—this law would force us to violate that commitment to the women we serve," said Dr. Nauser in a statement. "This law is a severe intrusion into the doctor-patient relationship and will place the health and lives of pregnant women in Kansas at risk."
Stephanie Toti, senior staff attorney at CRR and lead counsel for the lawsuit, said she believes the court will block the law. "These unconstitutional measures place women's lives at unnecessary risk, while seeking to deceive them with false and misleading information," she said. "We are confident the court will see the clear intention behind this monstrous law is to restrict women's health care in an unconstitutional way."
CRR is also currently litigating a 2011 Kansas law on behalf of Drs. Hodes and Nauser that would impose unreasonable and unnecessary licensing regulations aimed at shuttering most, if not all, Kansas abortion providers. That law has been blocked by a state judge since the lawsuit was filed in November 2011.