No, Texas Law Does Not Say You Can Shoot an Escort Who Refuses to Have Sex
A misreading of the verdict in an upsetting Texas case has gone viral, since Gawker claimed: "Texas Says It's OK to Shoot an Escort If She Won't Have Sex With You." Texas law does not say that, and the jury didn't either. This story looks very different depending on if you are looking at the law or the reporting.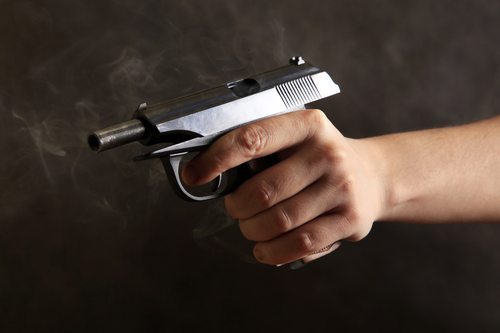 The jury did not "rule" (Time) that the killing of Leonora Frago was "justified" (Vanity Fair) under the Texas law that allows the use of deadly force to defend property. smoking pistol in man's hand via Shutterstock
A misreading of the verdict in a strange and upsetting Texas case has gone viral, since Gawker claimed: "Texas Says It's OK to Shoot an Escort If She Won't Have Sex With You." Texas law does not say that, and the jury didn't say that either. Pushing the idea that an "Insane Texas Law Made it Legal for a Man to Kill a Prostitute" is irresponsible; it misinforms the public and sends a terrible message to violent misogynists.
It is not in dispute that the defendant, Ezekiel Gilbert, paid the victim, Lenora Frago, $150 for 30 minutes of escort services advertised on Craigslist. After Frago refused to have sex with him, the defendant shot her. Frago was paralyzed and the defendant was charged with aggravated assault.  When she died seven months later Gilbert was indicted for murder instead.
At trial, defense attorneys made the shocking argument that Gilbert was justified in shooting Frago because she had stolen from him and Texas law permits the use of deadly force to defend one's property at night. That a defense was raised in this case based on Texas' awful defense of property law is certainly newsworthy and even more reason to reform that law. But there is no evidence that the jury acquitted based on the defense of property law in the first place.
The much more plausible reason for the verdict is that the jury believed the defendant's claim that he didn't intend to shoot the victim. Per Texas' homicide statute, the prosecution needed to prove that Gilbert "intentionally or knowingly" killed Frago or intended to cause her "serious bodily injury." The defense argued that Gilbert lacked the requisite intent for murder because when he shot at the car as Frago and the owner of the escort service drove away, he was aiming for the tire. The bullet hit the tire and a fragment, "literally the size of your fingernail," according to Defense Attorney Bobby Barrera, hit Frago. Barrera does not believe the jury acquitted because of the defense of property law. He believes they acquitted because they believed Gilbert didn't mean to shoot her.
Unless someone has interviewed a juror or can read minds, they cannot claim the jury agreed the killing was justified. And the juries do not "cite" laws. They find facts and decide "guilty" or "not guilty." And it isn't accurate to call Frago a "prostitute." Witnesses for the prosecution testified she was an escort who never agreed to have sex. Rather than siding with the killer's characterization, writers should at least say "alleged."
One would expect the jury to find that shooting at a car with an AK-47 is at least "reckless," in which case he could have been convicted of manslaughter. But the prosecution didn't charge him with manslaughter, only murder. Manslaughter is a "lesser included offense" of murder and the judge is entitled to instruct the jury if the evidence supports that charge, but it appears she did not. The jury can't convict on a charge that isn't before them.
I think Texas's defense of property law is abhorrent and my gut reaction was that it was a reprehensible defense. This reaction suggests, that you should think twice before hiring me as your defense attorney, sadly. As Professor Michael W. Martin of Fordham Law's Federal Litigation Clinic reminded me: "If the law allows the defense, the lawyer must use it, if it is viable, unless there is a good strategic reason not to. Otherwise, it is ineffective assistance of counsel. If the lawyer feels like he is ethically barred from using a legal, viable defense, he should ask to be relieved."
This story looks very different depending on whether you are looking at the law or at the reporting. Remember reporting? People used to get paid to go find facts and tell the public about them. That happens a lot less now. With many commentators and too few reporters, an alarmist story can have a long life in the echo chamber. But there are still some reporters, and a number of them, though probably stretched pretty thin, have engaged in that old-fashioned practice of going to court, making phone calls, interviewing people and checking facts for this very case. The San Antonio Express-News did not just start covering this case last week, that's where to start if you want to follow this story as it develops.
This is a terrible story, a woman was killed and no one is going to prison. It is reasonable to be suspicious that prejudice based on her gender, race, or occupation led to that injustice. But all we know thus far is that the defendant received due process and a zealous defense. We don't know that Texas's terrible defense of property law had anything to do with him getting off. The vilification of this jury isn't justified—we should give them the benefit of the doubt that they spent those 11 hours deliberating in good faith and did what they thought the law required. And in our concern for women and victims of violence, we must remember that even admitted killers still have rights.