Sexual Health Roundup: Condoms as Evidence, Lies About Sexual History, and Sex Toys at Elite Schools
This week, the Brooklyn DA told cops to stop collecting condoms as evidence of prostitution, studies found that college kids lie about their sexual behavior and students at elite British schools buy a lot of sex toys, and the U.S. cities that have the most same-sex couples raising kids may surprise you.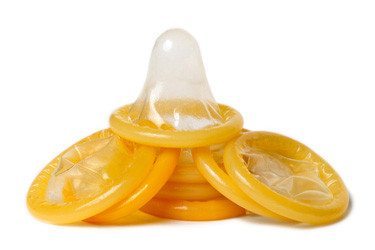 The Brooklyn DA told cops to stop collecting condoms as evidence of prostitution. Condoms via Shutterstock
Sexual Health Roundup is a weekly summary of news and research related to sexual behavior, sexuality education, contraception, STIs, and more.
Brooklyn DA to Police: Stop Seizing Condoms as Evidence of Prostitution
As Rewire has reported in the past, New York City police officers have historically used possession of condoms—especially a large number of condoms—as proof of prostitution. Officers have even confiscated some condoms to use as evidence. Such a policy clearly conflicts with public health goals of preventing STDs and HIV, yet efforts to overturn it have failed.
In a step toward ending the practice, Brooklyn District Attorney Charles J. Hynes sent a letter to Police Commissioner Ray Kelly explaining that his office would no longer use the possession of condoms as evidence of prostitution or "loitering for the purpose of prostitution." The letter went on to say: "Accordingly, the collection and vouchering of condoms as evidence by members of your department [in cases in Brooklyn] should immediately cease."
According to the New York Times, prosecutors in Manhattan, Queens, and the Bronx do not have official policies on this topic but say they rarely use condoms as evidence. Still, there are questions as to whether large quantities of condoms indicate sex trafficking, and some sex workers still wonder how many condoms is too many.
Surprise! Men and Women Lie about Their Sexual Histories
A new study finds that heterosexual college students are more likely to lie about sex than other gender stereotypical behavior. Researchers at Ohio State University gave 293 heterosexual students an anonymous questionnaire that asked about their sexual history as well as other activities that are often seen as gender-specific (such as driving fast or dressing up in the clothes typical of another gender). Then they attached the students to a fake polygraph machine and asked the questions again to see if the answers were different when students were under perceived pressure to be more truthful.
It turns out that students were most likely to have lied about sex than other topics, and the lies they told seemed designed to put their personal history more in line with what was expected of them as a man or woman. On the anonymous paper survey, male students reported having had sex at an earlier age and with more people than the female students. When students were hooked up to a fake polygraph machine, however, the female students were more likely to report that they had more partners than the male students.
Does Smart Equal Sexy?
A much less academic study was conducted by the British sex toy retailer Lovehoney, which analyzed its sales over the last few years and found that students at the most elite schools in Britain spent much more money on sex toys than their peers at less exclusive institutions of learning. Students at Cambridge, for example, spent the equivalent of $14,700 on sex toys last year, followed closely but their Oxford pals, who spent $14,550.
Of course, such an informal survey can't tell us why these students are more likely to buy a Hitachi Magic Wand than their less academically minded friends. Could it be that they are having less sex and therefore are more in need of tools to, well, help themselves? Could it be that they have more expendable income than students at other schools and feel freer to spend it on luxury items like the Jessica Rabbit 2.0? Or is it really that smart people have higher sex drives as so many of the headlines announced?
It turns out this last one is the least likely explanation. Previous research has found intelligence is actually correlated with less frequent sex. A 2007 study of students at top U.S. colleges found that they were far less likely to have had sex than others in their age group. In fact, that study found that only 65 percent of MIT graduate students had ever had sex (nationally, 80 percent of men and 75 percent of women have sex by age 19).
The Places With the Highest Percentage of Same-Sex Couples Raising Kids May Surprise You
When most people think of Salt Lake City, Utah, the first thing that comes to mind is probably not a same-sex family. And it's unlikely that the word Mississippi conjures up images of gay pride parades brimming with kids. Yet these two disparate areas made the list of places that have the highest percentage of same-sex couples raising children.
The Williams Institute at UCLA's School of Law conducted an analysis of 2010 census data. They found that among metropolitan areas with more than one million residents, the highest percentage of same-sex couples raising kids can be found in Salt Lake City (26 percent), Detroit (22 percent), Memphis (22 percent), Columbus, Ohio (19 percent), and Oklahoma City (19 percent). The states with the highest percentage of same-sex couples raising kids are also surprising: Mississippi (26 percent), Wyoming (25 percent), and Arkansas (24 percent).
To be clear, this means, for example, that 22 percent of all same-sex couples who reside in Memphis are raising kids. It does not mean that these areas have more same-couples than in other places, more families headed by same-sex couples, or even a higher percentage of same-sex couples with kids when compared to the total population.
Still, it is interesting that these metropolitan areas with the highest percentages of same-sex couples raising children are all in states that have a constitutional ban on same-sex marriage. Williams Institute Public Policy Research Fellow Angeliki Kastanis said in a press release, "Research consistently shows that same-sex couples raise children all across the country. This analysis underscores the fact that recognition of LGBT families is a consequential policy question in every state."