ACLU Challenges Arizona's Race and Sex Selection Abortion Ban
A lawsuit filed Wednesday claims Arizona's HB 2443 is racially motivated and based on improper racial stereotypes.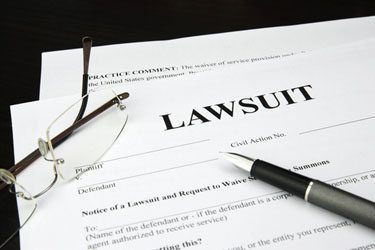 The ACLU of Colorado has filed a complaint with a state agency alleging that a rural Catholic hospital is in violation of both federal and state law by directing its doctors not to discuss abortion with patients, even when pregnancy threatens the life of the pregnant person. Lawsuit form via Shutterstock
On Wednesday the American Civil Liberties Union and the ACLU of Arizona filed a lawsuit on behalf of the NAACP of Maricopa County and the National Asian Pacific American Women's Forum (NAPAWF) challenging a state anti-abortion law that they allege relies on harmful racial stereotypes to shame and discriminate against Black women and Asian and Pacific Islander (API) women who decide to end their pregnancies.
According to the complaint, HB 2443 is premised on improper and illegal stereotypes that Black and API women cannot be trusted to make personal health-care decisions without scrutiny by the state and therefore violates the equal protection clause of the 14th Amendment. HB 2443 prohibits abortions based on the race or sex of the fetus. In the materials submitted in support of the complaint, during the law's passage, supporters cited higher rates of abortion among Black women as evidence that Black women either were motivated by a discriminatory intent to prevent the birth of Black children, or were being duped into having abortions as part of a racist plot. Both claims, the plaintiffs allege, are baseless and offensive.
Supporters also cited reports of sex selection abortions in parts of Asia as reason for including that provision in the law. Even though the state's own statistics show no difference in birth ratio of boys and girls to Asian women as compared to other women, supporters of the law repeatedly made the claim that API women could not be trusted and would engage in these practices simply by virtue of their race.
"Far from preventing bias against women and girls, this law serves only to fuel suspicion and stereotypes about Asian women, their communities, and their culture," Miriam Yeung, executive director of NAPAWF, said in a statement. "The politicians behind this law do not care about gender justice here or abroad, and are instead using a racist and anti-immigrant law to demean women making serious medical decisions for themselves and their families."
The law, which contains criminal penalties, requires every physician providing abortion care to certify that the reason the woman is seeking that care has nothing to do with the race or sex of the embryo or fetus.
"Recent court decisions in ACLU cases have found that the sheriff of Maricopa County engaged in systematic racial profiling, and that state legislators and the governor have supported a law that resulted in widespread constitutional harms to Latinos in Arizona," said Dan Pochoda, legal director of the ACLU of Arizona, in a call with reporters. "It is thus not surprising that the Arizona legislature and governor passed this law based on personal and inaccurate racial stereotypes that demonize women of color."
The lawsuit seeks to permanently block the law, which was passed two years ago. When asked why the groups waited so long to challenge the law, Prochodo explained in a call with reporters that given the sheer volume of anti-abortion and anti-immigrant legislation coming through the state the resources simply were not available to do so until now. One of those laws, Arizona's 20-week abortion ban, was just permanently blocked by a panel of judges on the U.S. Ninth Circuit Court of Appeals.
Despite the fact that HB 2443 is an anti-abortion measure, attorneys representing the plaintiffs were clear this case is about more than abortion. "This law takes the personal and private health care decisions of women of color and exploits them for political gain," said Alexa Kolbi-Molinas, staff attorney with the ACLU Reproductive Freedom Project and lead counsel in the lawsuit. "But our Constitution flatly prohibits states from passing laws based on racist stereotypes."
"Every woman, regardless of her race, should be able to make the best decision for her circumstances, whether that decision is to continue the pregnancy and parent, place the child for adoption, or terminate the pregnancy," said the Rev. Oscar Tillman, president of the NAACP of Maricopa County in a statement. "We trust Black women to make important health care decisions for themselves and their families and vigorously object to the idea that they do not do so thoughtfully, or that they do so out of animus to their own communities."
The lawsuit, filed in federal court, names Arizona Attorney General Tom Horne, the state's medical board, and Lisa Wynn, executive director of the Arizona Medical Board, as defendants.