Lawsuit Filed to Challenge North Dakota TRAP Law
Reproductive rights activists filed a lawsuit Wednesday to try and keep the state's only abortion clinic open.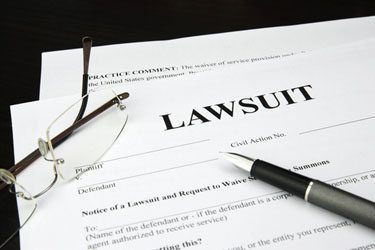 The ACLU of Colorado has filed a complaint with a state agency alleging that a rural Catholic hospital is in violation of both federal and state law by directing its doctors not to discuss abortion with patients, even when pregnancy threatens the life of the pregnant person. Lawsuit form via Shutterstock
The Center for Reproductive Rights (CRR) took legal action Wednesday on behalf of North Dakota's only abortion clinic and its doctors to block a state law designed to shut down the Red River Women's Clinic and effectively end safe, legal abortion access in the state.
Signed into law on March 26, North Dakota's targeted regulation of abortion provider (TRAP) law, SB 2305, imposes medically unwarranted requirements that any physician performing abortions at a clinic in the state must have admitting privileges at a hospital within 30 miles of that clinic. A nearly identical measure in Mississippi was signed into law last year and has been temporarily blocked by a federal judge after CRR challenged the law on behalf of the state's last remaining  abortion clinic and its doctors.
Nancy Northup, president and CEO of the Center for Reproductive Rights, said in a statement:
With their relentless campaign to end safe and legal abortion in North Dakota, lawmakers have effectively told the women of their state, "We don't care about your health, we don't care about your safety, and we sure don't care about your constitutional and human rights."

Our message back to politicians hostile to reproductive rights in North Dakota and nationwide is crystal clear: We are going to fight back relentlessly against your attacks on the women of your state.

We are not going to let you hijack women's decisions about their families, health, and future. We are going to ensure that women's rights are protected with the full force of the law. And we are going to keep the full range of reproductive health care safe, legal, and accessible to all women.
Today's legal action supplements CRR's 2011 lawsuit challenging a North Dakota law that imposes onerous restrictions on medication abortion and requires the clinic to have a medically unnecessary written backup agreement to handle emergencies at a local hospital. Last month, following a three-day trial, a state judge announced he would permanently strike the 2011 restrictions as unconstitutional. CRR is asking he do the same and include SB 2305 in the case.
"No politician or hospital administrator has the authority to decide if women in North Dakota can exercise their constitutionally protected right to an abortion," Autumn Katz, CRR staff attorney and lead counsel on the case, said in a statement. "We are confident that the courts will agree and ultimately strike down this harmful and unnecessary requirement."
Red River Women's Clinic is the only abortion provider in North Dakota and provides a range of reproductive health services to women in the state, as well as women who travel from neighboring states like South Dakota and Minnesota. Once SB 2305 was signed into law, the physicians at the clinic immediately began the process of complying with the new rules. However, as was the case in Mississippi, the clinic has already received indications from each of three area hospitals within 30 miles that the clinic's physicians would not be granted privileges for reasons such as hospital policies on abortion care and the minimum number of patients doctors must admit per year.
"Our clinic has been providing safe abortion care and other essential reproductive health-care services to North Dakota women for nearly 15 years and we have never been more committed to staying open for our patients than we are today," said Tammi Kromenaker, director of the Red River Women's Clinic. "Without our clinic, women in North Dakota and many surrounding states would be forced to travel hundreds of miles to other states just to get a legal medical procedure."
SB 2305 wasn't the only abortion restriction North Dakota passed this year. North Dakota Gov. Jack Dalrymple also signed into law HB 1456, the earliest and most extreme abortion ban in the country, which would make virtually all abortions in the state illegal after the point at which a fetal heartbeat can be detected, or about six weeks of pregnancy. Gov. Dalrymple also signed HB 1305, an unconstitutional bill banning abortions for reasons of sex-selection or genetic fetal anomaly. According to CRR, it will also soon file a lawsuit challenging both HB 1456 and HB 1305 on behalf the Red River Women's Clinic before they are scheduled to take effect on August 1.
Defending these blatantly unconstitutional laws will be expensive, and unlike many other states, North Dakota is awash in cash as the oil boom has produced budget surpluses in the state.