Judge Rules Anti-Choice Terrorist Can Claim Religious Protection for Conversations with Tiller Murderer
A ruling Friday finds conversations between Angel Dillard and Scott Roeder are confidential because Dillard was acting as a minister to Roeder in prison.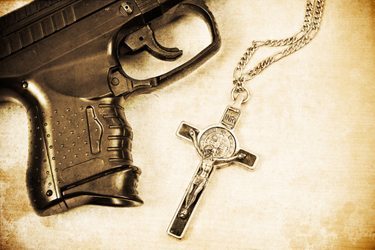 A ruling Friday finds conversations between Angel Dillard and Scott Roeder are confidential because Dillard was acting as a minister to Roeder in prison. The Assassin via Shutterstock
On Friday U.S. District Judge J. Thomas Marten handed anti-choice terrorist Angel Dillard a win, ruling Dillard doesn't have to disclose "ministerial discussions" she had with Scott Roeder, the man convicted of murdering abortion provider Dr. George Tiller.
As reported in the Topeka Capital-Journal, Marten's ruling reversed an earlier decision that Dillard's communications with Roeder were not protected by the ministerial exception because Dillard is not an ordained minister. But Marten held that Dillard was acting as a lay minister and was therefore entitled to the protection. It's an incredible expansion of the privilege and one which the radical anti-choice community is no doubt taking notice.
Dillard is accused of sending a threatening letter to Dr. Mila Means who was training to provide abortion services after Tiller's murder. According to the Department of Justice complaint against Dillard, the letter to Means mentioned Tiller's assassination and warned Means against providing abortion services in Wichita.
In the same ruling Marten said Dillard must disclose communications she had with another inmate, Robert Campbell. Campbell claims Dillard hired him to stalk Means, while Dillard denies this and claims Campbell is trying to blackmail her.
But just because those communications must be disclosed does not guarantee they will make it into evidence in the trial, currently slated for October. At the time of trial they can be excluded from evidence if a judge decides the statements are too unreliable, a fact judge Marten made clear in his ruling. At issue in the case is whether the letter Dillard wrote to Means was a "true threat" in violation of the federal law designed to protect access to abortion clinics. In the letter, Dillard allegedly wrote that thousands of people from across the nation were scrutinizing Means' background and would know "your habits and routines."
The letter is chilling. In it Dillard writes, "They know where you shop, who your friends are, what you drive, where you live," the letter said. "You will be checking under your car every day — because maybe today is the day someone places an explosive under it."
The Dillard trial has shed light on the violent underworld of radical anti-abortion activists and the last thing this community needs is any additional enabling by the federal courts. But that's exactly what this ruling does. If someone like Dillard can claim to be a minister so as to shield communications with convicted assassins like Scott Roeder who have admitted to wanting to instigate more deadly violence against clinic workers, then we can expect to see a lot more ministers among the most violent actors in the anti-abortion movement.