What's Really Behind the Oklahoma AG's Request for SCOTUS Review of RU-486 Restrictions?
The chances of U.S. Supreme Court intervention are so slim that something else has to be behind the petition for review.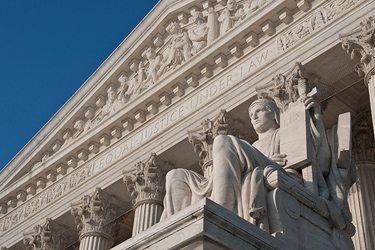 Even with a packed docket, the Roberts Court could find room to take up important cases on pregnant workers' rights as well as a direct challenge to Roe v. Wade. Mark Fischer / flickr
Oklahoma Attorney General Scott Pruitt announced Wednesday that he's asked the United States Supreme Court to step in and review a unanimous state supreme court decision that overturned an Oklahoma law banning the off-label use of RU-486.
First passed in 2011 and immediately challenged by the Center for Reproductive Rights, the law would have banned any off-label use of medications for abortion or treatment of ectopic pregnancy while explicitly allowing off-label use of the same medications for other purposes. According to the lawsuit filed in Oklahoma state court, the law not only jeopardizes women's health by preventing providers from using safe, effective methods available for performing medication abortions, but also undermines women's ability to exercise the full range of their constitutionally-protected reproductive rights.
 
The law was temporarily blocked in October 2011 and then permanently struck down by a district court judge in May 2012. A unanimous decision from the Oklahoma Supreme Court in December 2012 upheld the lower court's decision to strike the law as unconstitutional under the U.S. Constitution.
"Both a state district judge and all nine justices on the Oklahoma Supreme Court have previously affirmed what has been the established law of the land for more than 40 years: that the right to reproductive choice is fundamental and protected under the United States Constitution," said Nancy Northup, president and CEO at the Center for Reproductive Rights, in an email release. "We're confident, despite state officials' relentless hostility toward women's rights and health and their refusal to heed the well-founded judgments of these courts, that this campaign to deny women access to essential reproductive health care will fail at this stage as well."
Filing for review of the decision is no guarantee the U.S. Supreme Court will take up the case. Typically only about 1 to 2 percent of such petitions are granted, but apparently those odds haven't deterred Pruitt, who told the Tulsa World it was his duty to file the appeal to protect the health of Oklahoma's women. "There is strong evidence that the off-label use of abortion-inducing drugs leads to serious infections and death for many healthy, unsuspecting women," Pruitt said. "This is not OK. Our job is to protect the citizens of Oklahoma and defend the state constitution, which does not provide the right to abortion."
Given that the decision is unanimous and issued by a state supreme court interpreting a matter of state law, it is unlikely that the U.S. Supreme Court will step in and review, let alone overturn the previous decisions. Pruitt, a prominent and accomplished conservative attorney must know this. But he's also up for re-election in 2014, which means now is the time to shore up his donor base. Could that explain the plea to the U.S. Supreme Court here?