California Judge Reprimanded for Rape Comment Has History of Doubting Victims
Judge said the 2008 case "trivialized rape," and was an "insult to victims of rape."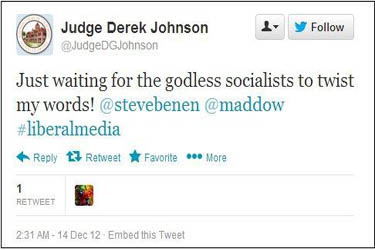 Image: Maddow Blog.
A California judicial performance committee is publicly admonishing Judge Derek Johnson for his comments in a 2008 sexual assault case, where Judge Johnson claimed the victim must not have been truly raped since her uterus wasn't "shredded." Most disturbing about Johnson's comments is his legal background — Johnson used to be a prosecutor for sexual assault crimes.
Via Yahoo News:
Johnson, a former prosecutor in the Orange County district attorney's sex crimes unit, said during the man's 2008 sentencing that he had seen violent cases on that unit in which women's vaginas were "shredded" by rape.

"I'm not a gynecologist, but I can tell you something: If someone doesn't want to have sexual intercourse, the body shuts down. The body will not permit that to happen unless a lot of damage is inflicted, and we heard nothing about that in this case," Johnson said.

The commission found that Johnson's view that a victim must resist to be a real victim of sexual assault was his opinion, not the law. Since 1980, California law doesn't require rape victims to prove they resisted or were prevented from resisting because of threats.
Even more offensive, Johnson not only doubted the victim's story due to the lack of enough evidence of brutal force, he also shamed the victim by claiming her story insulted "real" rape victims. According to the OC Weekly, writing about the case in 2008:
After the verdicts, Superior Court Judge Derek G. Johnson not only dismissed the sentencing request by prosecutors, but he also mocked the crime in open court by calling it "a technical rape."

"To treat this case like the rape cases that we hear about is an insult to victims of rape," Johnson said moments after declining to punish Gurel on six of the seven guilty verdicts. "I think it trivializes rape."
The alternative news source also reported that this was not Johnson's only instance or victim shaming or picking light sentences for sexual assailants. Johnson also openly ridiculed a second victim of a different attacker in court, and reduced another perpetrator's felony to a misdemeanor so he would not be subject to the state's "Three Strikes" law.