Amash Ditched By Michigan Right To Life
The anti-choice group has released this year's round of endorsments, and Amash's name is missing.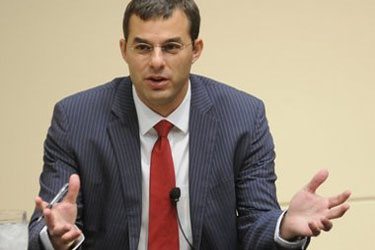 Rep. Justin Amash. [img src]
Michigan Right to Life has unveiled its 2012 endorsement list, and, as promised, Republican Rep. Justin Amash's name is conspicuously absent. The group has no endorsement for the 3rd District, providing the payback they promised when Amash refused to vote for the Prenatal Discrimination Act (PRENDA) in early June.
When asked about the lack of endorsement, David Malone, PAC Director, Right to Life of Michigan said the following via email statement:
"Right to Life of Michigan PAC has chosen not to endorse the candidacy of Representative Amash in the 2012 primary election. While he was previously endorsed in the 2010 general election and during his time in the state legislature, his voting record in Congress led the state board of the Right to Life of Michigan PAC to decide to not endorse his candidacy in the upcoming election. In his first term in Congress, Representative Amash voted "present" twice on legislation to defund Planned Parenthood (America's leading abortion provider) and voted "no" on legislation to outlaw sex-selection abortions."
National Right To Life Committee legislative director Douglas Johnson had remarked that the national group was unlikely to renew their endorsement, and speculated that the state based organization would do the same. "I cannot speak for Right to Life of Michigan on this matter, but in view of Amash's votes against cutting federal funding for Planned Parenthood and against the ban on sex-selection abortions, I would be astonished if he was again endorsed by that formidable state organization," Johnson told the Christian Post.
Michigan Right to Life has not endorsed a different candidate for the seat, however, leaving the race overall unchanged. But the lack of anti-choice endorsements could mean Amash has a harder time fundraising for his campaign, which received over $15,000 in donations from NRL in 2010.
Although Amash announced via Facebook on May 31st that he would introduce the "District of Columbia Respect for Life and Conscience Act of 2012," a massive anti-choice House bill limiting abortions in D.C., no such bill has since been proposed by him.
Note: This piece was edited at 7:00 A.M. 6/28/2012 to clarify that the donations came from the NRL PAC rather than NRLC.