Arizona Governor Jan Brewer Signs Country's First 20-Week Gestational Ban Into Law
The new extreme bill outlaws abortions before most women will even do anomaly screenings.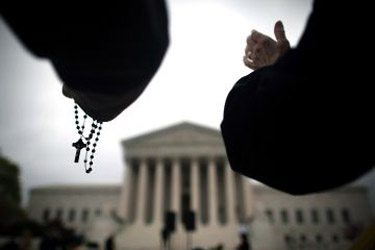 [img src]
Arizona Governor Jan Brewer has just signed into law an omnibus package of abortion restrictions passed by the state legislature, which includes a so called "fetal pain" ban that makes it illegal to have an abortion after 20 weeks gestation, or 18 weeks post-fertilization.
Unlike other "20-week" bans passed by the states, this ban actually outlaws the procedure two weeks earlier, as other bans are written to cut off legal abortion at 20 weeks post-fertilization. By rolling back the cutoff by two weeks, the state is the first to cut into the time frame where most women are likely to begin screening for fetal anomalies, meaning more women will be forced to carry all pregnancies to term regardless of any issues with the fetus.
The only exception to this new rule is if continuing the pregnancy will "create serious risk of substantial and irreversible impairment of a major bodily function."