Advocates: #WeObject to Judge Neil Gorsuch's Supreme Court Nomination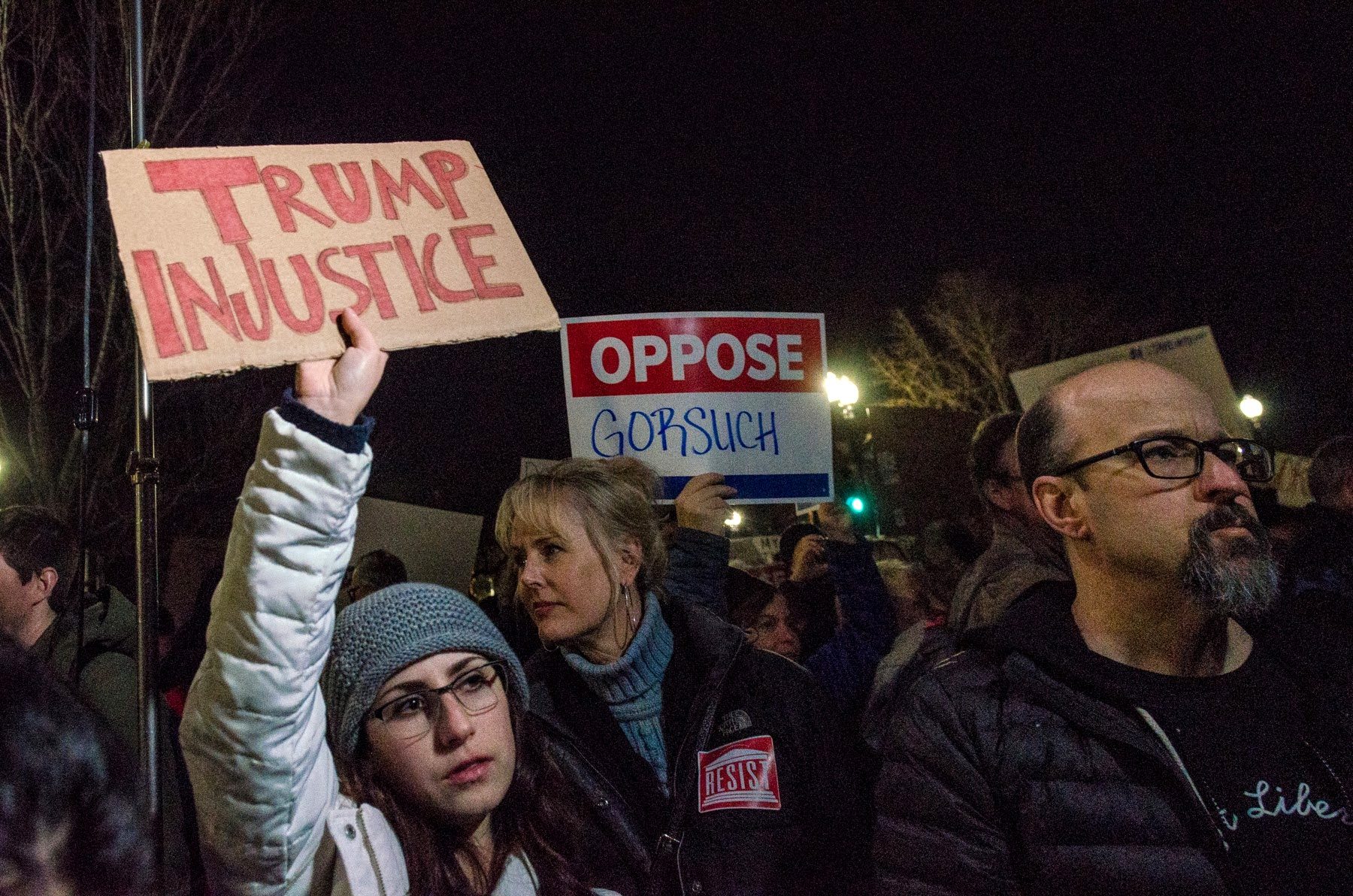 "We're in troubling times .... The people are standing up, letting our Congress know, and our senators know, that we are planning on fighting for the American way. We will not let judicial extremism take over our [Supreme] Court," said Diallo Brooks (not pictured) of People for the American Way during a rally on January 31 to oppose President Donald Trump's nomination of Neil Gorsuch to the Supreme Court.
Lauryn Gutierrez/Rewire
President Trump has vowed to appoint Supreme Court justices who will overturn Roe v. Wade, which guarantees the constitutional right to abortion. Lauryn Gutierrez/Rewire
Gorsuch has been described as a "solid vote against gay rights on the court."

"If Judge Gorsuch's views should become the majority opinion of the Court, women's and LGBT rights would be in jeopardy," said Eleanor Smeal (not pictured), president of the Feminist Majority Foundation, in a statement following his nomination. Lauryn Gutierrez/Rewire
Candace Bond-Theriault represented the National LGBTQ Task Force to officially state the group's opposition to the nomination of Neil Gorsuch: "His records reveals a juror who believes bosses should control their employee's private health-care decisions, who supports the misuse of religion in order to discriminate against others. And he also holds LGBTQ equality with disdain. We are here tonight to join against this nomination because we are here, queer, and we are everywhere—and we will not be silenced."
Lauryn Gutierrez/Rewire
A protester displayed his concerns about Gorsuch on a handmade sign. Lauryn Gutierrez/Rewire
"This nominee to the Supreme Court is the worst nightmare for feminists and women everywhere and for civil rights and human rights advocates," said Smeal in her remarks to those gathered at the Supreme Court on January 31. "This is an extremist that will take away women's rights, not only to abortion but our rights to birth control," she continued. "And we will not go back! We have fought too hard."

"No Roe, no go!" chanted the crowd. Lauryn Gutierrez/Rewire
On February 11, activists gathered outside the Supreme Court to "Stand With Planned Parenthood", displaying their support for pro-choice policies and access to reproductive health care.

As a member of the Tenth Circuit Court of Appeals, Neil Gorsuch wrote an opinion in the Hobby Lobby v. Sebelius case in favor of the home goods store's argument that the birth control benefit violated the Religious Freedom Restoration Act. Lauryn Gutierrez/Rewire
A representative of the People's Coalition protected the boxes of petitions bound for the offices of senators—including that of Senate Majority Leader Mitch McConnell (R-KY)—from the fierce wind the morning of March 15.

"We cannot trust Judge Gorsuch with the future of women's health in our country," said Sen. Edward J. Markey (D-MA) to a group supporting the People's Defense. That coalition worked to gather more than one million signatures to deliver to senators of all 50 states urging them to oppose Gorsuch. Lauryn Gutierrez/Rewire
"Gorusch ruled that corporations are people whose religious beliefs are more important than the reproductive rights and health of women," Sen. Edward J. Markey (D-MA) continued. "President Trump repeatedly promised to appoint a Supreme Court justice that would overturn Roe v. Wade, and he has found an ally in Judge Gorsuch."

Markey went on: "Judge Gorsuch's record gives every woman here good reason to be scared that her basic human rights will be at risk if he is appointed to the highest court of the land. We cannot let Judge Gorsuch become the critical ninth vote on this Supreme Court ... [as] one judge's vote can forever alter history."

Lauryn Gutierrez/Rewire
"We need to fight back against corporate control over the Supreme Court. We're here to fight for a Court that believes that the rights of live human beings matter—that women matter, that employees matter, that consumers matter. We're here to fight for a court that is about equal justice for all of us," said Sen. Elizabeth Warren (D-MA). Lauryn Gutierrez/Rewire
"You've probably heard about the case in which Neil Gorsuch decided that a worker who tried to save his own life after his truck broke down, [who] left freezing cold to try to find some warmth [and who] was sued by his employer for 'abandoning the corporate asset' in order to protect his own life. In that case, Neil Gorsuch ruled that he should have stayed in the cold, and possibly frozen to death, instead of saving his own life," recounted Ben Wikler, Washington director of MoveOn.org.

"So we are out in the cold to make sure American workers are not left in the cold. We are out here in the cold to make sure that American women are not left out in the cold!"

Lauryn Gutierrez/Rewire
"This decision about the Supreme Court justice will affect so many issues we care about," said Sen. Jeff Merkley (D-OR). "The issue of whether corporations are people. Whether employers can control the healthcare of employees. Reproductive rights. Women's rights. Are we going to allow this 'we the privileged and powerful' mentality [of the Trump administration] to succeed?" Lauryn Gutierrez/Rewire
Leslie M., 28, is a NARAL member from Ohio who is facing a terminal illness. In her last months, Leslie has increased her efforts to protect reproductive rights.

"I think every woman wants to feel pride for taking care of their reproductive and sexual health, not shame," she said. "Their motto should be 'access without apology'. Everyone deserves access to safe, legal abortion. Literal access, not just theoretical access. It is a medical procedure that is decided between a person and their doctor. Politics have no place in health care."
Lauryn Gutierrez/Rewire
"Millions of people—the millions of people represented by the petition signatures—are calling on every Democrat to put their country before politics and oppose Neil Gorsuch," said Wilker in his remarks. Lauryn Gutierrez/Rewire
NARAL members of the People's Defense gather before leaving for the Senate offices on Capitol Hill to deliver the petition signatures from constituents urging opposition to Gorsuch. Lauryn Gutierrez/Rewire
This week, U.S. Supreme Court confirmation hearings for Judge Neil Gorsuch began in Washington, D.C. Gorsuch was nominated by President Donald Trump on January 31.
Judge Gorsuch has a reputation of conservatism on the bench, equal to or perhaps even greater than the late Justice Antonin Scalia he was nominated to replace. According to Rewire's Jessica Mason Pieklo, there is also "nothing in Gorsuch's record as a judge that suggests he would push back on [Trump's executive] overreach," leaving advocates concerned he would act as a "rubber stamp" for the Trump administration's looming discriminatory policies. "Trump's team," wrote Pieklo, "is counting on Democrats and the public to be overwhelmed and unable to resist each executive overreach and crony cabinet choice."
However, since the night Gorsuch was nominated for a seat on the United States' highest court of law, citizens, advocates, and politicians have put forth a sustained resistance—often on the very steps of Gorsuch's potential new office. The People's Defense, a coalition including NARAL Pro-Choice America, End Citizens United, and MoveOn.org, delivered more than one million petition letters to U.S. senators this Wednesday urging them to vote "no" on Gorsuch's nomination. Rewire was there to document the coalition's efforts.