#INeedIX: Survivors of Sexual Assault on Campus Want DeVos' Time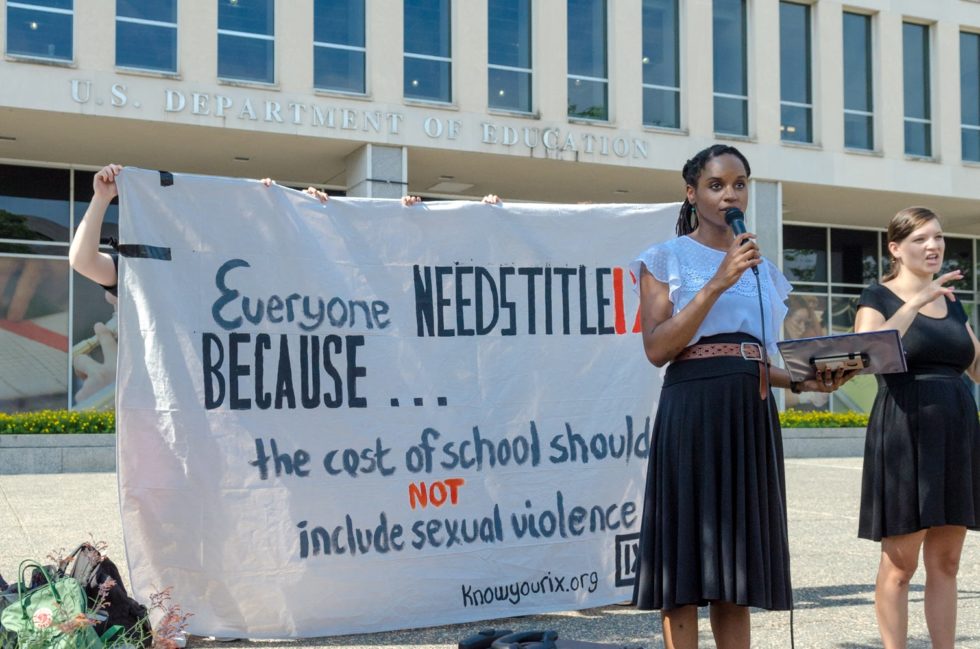 Last Thursday, more than 100 survivors of campus sexual assault and their supporters, including Sen. Kirsten Gillibrand (D-NY) and Rep. Jackie Speier (D-CA), gathered with advocacy groups such as Know Your IX, End Rape on Campus, UltraViolet, and the National Women's Law Center outside the Department of Education. Inside, Secretary of Education Betsy DeVos held a meeting with a "men's rights group" whose members claim their rights are unjustly restricted in college sexual assault investigations in favor of accusers. A group of advocates for survivors were allotted just 90 minutes of DeVos' time, leading some to question her priorities regarding the protections of Title IX of the Education Amendments Act of 1972 and its enforcement.
According to activist Sabrina Stevens, officials have not taken the time to listen to sexual assault survivors "nearly enough since this administration took office." The "Survivor Speak-Out" featured personal stories from survivors that highlighted the importance of Title IX protections in the fight against gender-based violence.
Standing before the doors of the Department of Education, Sejal Singh, policy and advocacy coordinator at Know Your IX, said, "We won't be silent while our peers are harassed, raped, and pushed out of school."