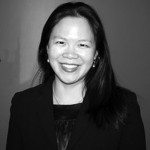 Ellen Liu
Ms. Foundation for Women
Ellen Liu brings over ten years of experience in grantmaking, organizational development, policy advocacy and capacity building with health and social justice organizations. As the Ms. Foundation's Director of Women's Health, Ellen manages grantmaking and programmatic activities in the areas of reproductive and sexual health, rights and justice, and women and HIV/AIDS policy.
Prior to joining the Foundation, Ellen was Program Officer for the Open Society Foundation's Public Health Program, where she worked with health and human rights organizations in Central and Eastern Europe, Central Asia, and East and Southern Africa to strengthen national accountability mechanisms and advance policies and protections for people living with HIV/AIDS and TB, people with mental disabilities, ethnic minorities, and people in need of palliative care. While at OSF, Ellen helped launch new initiatives in monitoring health budgets to empower communities to hold governments accountable for their spending and supported activists to use innovative social media tools and strengthen their voices in shaping the policies that most affect them. Prior to OSF, Ellen worked as a consultant for a number of organizations including the UN World Food Program, Mount Sinai Medical Center and the Carnegie Council on Ethics and International Affairs. She currently serves on the steering committee of the Asian Women Giving Circle.
Ellen holds an M.A. in International Relations and Economics from Johns Hopkins University and graduated from Georgetown University with a B.A. in History.