Meet the 21-Year-Old College Student Fighting Period Poverty
"I was taking for granted the fact that I was able to afford period products. I didn't realize there's so many people going without them."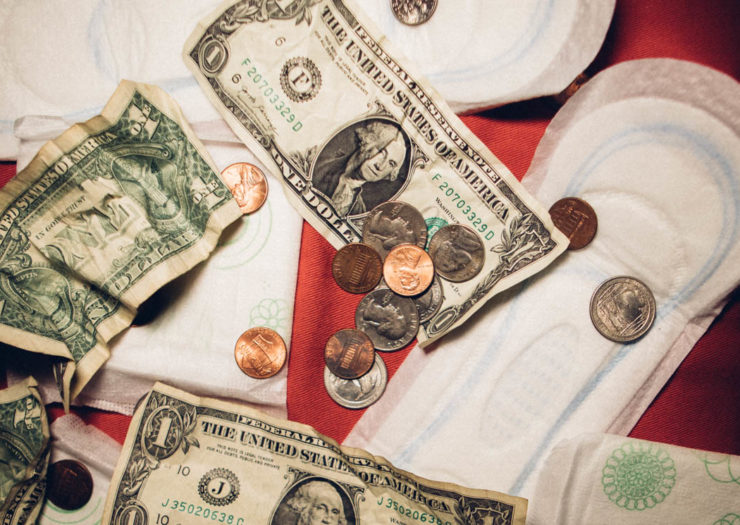 When 21-year-old Carrington Baker watched the Bustle documentary short How Do Homeless Women Cope With Their Periods? in March 2021, she was volunteering at a food pantry and seeing firsthand the lack of period resources for unhoused people. She decided, "This is absolutely ridiculous."
The documentary opened the St. John's University student's eyes to the issue of period poverty, or the lack of access not only to menstrual products and facilities but also education for many menstruating individuals.
"I was taking for granted the fact that I was able to afford period products," Baker said about For Women by Women, Period, the nonprofit she founded with the aim of combating period poverty. "I didn't realize there's so many people going without them."
The World Bank estimates that at least 500 million people globally experience period poverty. A study published in BMC Women's Health found that 14.2 percent of the college-aged people surveyed had experienced period poverty over the past year, and women of color were more likely to report dealing with period poverty.
Roe is gone. The chaos is just beginning.
Follow Rewire News Group on Twitter to stay on top of every breaking moment.
People with no period protection may resort to creating their own, using materials like toilet paper, fabric, or cardboard, which can lead to short-term health risks like bacterial vaginosis and urinary tract infections. Period poverty can also create longer-term health risks, including depression—the study in BMC Women's Health showed that among the study's participants who experienced period poverty monthly, 68.1 percent reported symptoms consistent with moderate or severe depression.
People who menstruate not only struggle to afford period products, which are not exempt from sales taxes in many states, but may also lack access to safe locations, like bathrooms, in which to change or clean their menstrual products and clothing, said Caitlin Gruer, a program manager for the Gender, Adolescent Transitions, and Environment Program at Columbia University's Mailman School of Public Health. Another aspect of combatting period poverty is providing education and resources to young people. Many even struggle in school due to a fear of menstrual leaks.
"Young girls have very little access to education around menstruation," Gruer said.
After learning about period poverty, Baker decided to take action. She shared her knowledge of the issue with friends. To Baker's surprise, many were willing to support her efforts. She decided to start For Women by Women, Period to provide period care packages and education about period poverty.
"We want to do more than just end period poverty. We want to educate young menstruators about their bodies properly."


-Carrington Baker, founder of For Women by Women, Period
In its care packages, the organization has made it a point to include not only pads and tampons, but also underwear, pH friendly wipes, and a heating pad. They call them "Moon PACS," short for "period and care supplies." The name was inspired by the moon's 27-day orbit around the Earth, similar to a menstruation cycle.
"We want to create a holistic care package that includes every possible thing you could need for your cycle," Baker said.
For Women by Women, Period has raised a little over $6,000 in donations from friends, family, and supporters through the organization's Donorbox. This funding is being used to create their Moon PACS and to pay for administrative expenses. The organization continues to use its Donorbox fundraising campaign and an Amazon storefront where supporters can purchase products to be donated.
Baker has said the organization struggled with outreach and was initially worried about getting people to care about menstrual inequity. But when for Women by Women, Period started tabling in Washington Square Park in New York City to showcase its work, it drew vital attention.
"It really is nice to see people wanting to support us, that don't even necessarily understand how big of an issue period poverty is," she said.
For Women By Women, Period has gained some traction in New York City, partially thanks to recent policies surrounding period products. In 2016, then-Mayor Bill de Blasio signed legislation increasing access to menstrual products by requiring shelters, schools, and jails to provide free period products, a huge step.
Baker's organization also works with Asiyah Women's Center, a shelter in Brooklyn's Sunset Park neighborhood, to provide Moon PACS to its residents monthly.
"In the future, when COVID is not plaguing the world, we'll be able to go to the shelters and deliver them, and get to know the women and get to know what they would like to see in our care packages," Baker said.
For Women By Women, Period currently has an all-volunteer team of 20 women. Baker juggles being a full-time student and working over 20 hours a week on her organization.
"When I first started this I was like, 'Let me hurry to get my homework done, the faster I can work on the organization stuff,'" she said.
Baker, who's Black, has prioritized cultivating a team of people from all cultures and backgrounds.
"It's important to acknowledge that different cultures treat periods differently," she said.
Baker is passionate about closing the inequity gap in medical care, and in fact, plans on going to medical school to become an OB-GYN. In 2019, the Centers for Disease Control and Prevention found that "Black, American Indian, and Alaska Native (AI/AN) women are two to three times more likely to die from pregnancy-related causes than white women."
"I noticed that the mortality rate among women of color was extremely high," Baker said. "Hopefully I can fix that one day."
Baker is now launching two youth programs—one in upstate New York and the other in California—to get high school students involved in For Women By Women, Period's mission and to provide them menstruation education.
"We want to do more than just end period poverty," Baker said. "We want to educate young menstruators about their bodies properly."