Culture & Conversation Violence
How I Channeled Anger From My Rape to Help Push for Survivor-Led Legislation
I'm working with other survivors and New York City Council in the hopes of empowering sexual assault survivors with information about their rights.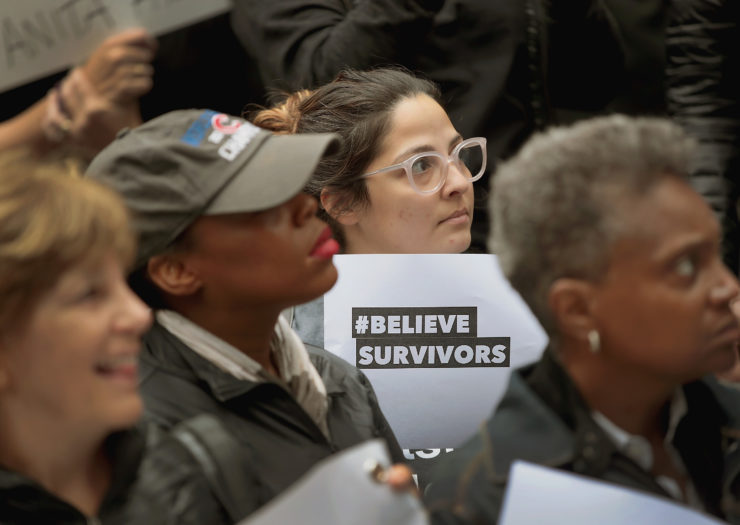 In New York City, hospitals are not required to report on sexual assaults. The city solely relies on police to keep track of how many people are sexually assaulted, which means a vast number of assaults can go unreported.
As a sexual assault survivor, I'm working with two other women, Alison Turkos and Deborah Spiroff, on legislation to change that. With the help of Nicole Hunt, legislative director in the office of City Council Member Stephen Levin, we're working to find ways to improve how sexual assault victim-survivors receive care in the five New York City boroughs.
Bill Int 2406-2021, introduced Thursday at the City Council's stated meeting, would amend the city's administrative code and require all city hospitals to report on the number of sexual assaults they treat and to report on what programs they offer sexual assault survivors. We're also working on legislation that would make it mandatory for all sexual assault survivors to be fully informed of all their rights when getting medically treated for sexual assault.
"The theme for both these bills is to empower people with information," Hunt said. "I see both these bills as an initial step to create a system for survivors that grants them more agency, grants them more power."
I didn't know I had rights
When I was in the hospital to report that I had been raped, everything was kind of a blur. It was 2010, seven years before the #MeToo movement went viral. I was reluctant to report the sexual assault at all, fearing that I would be treated poorly for not being an "ideal victim."
Roe has collapsed in Texas, and that's just the beginning.
Stay up to date with The Fallout, a newsletter from our expert journalists.
At the hospital, I could barely process anything—the pile of pills I had to take as a precaution, some then, some in the near future; the piles of forms to fill out.
When officers of the Special Victims Unit came into the hospital room to interview me, it was even worse than I expected—the way they disparaged me was your classic, cliche lifestyle shaming and victim-blaming. I didn't have a victim's advocate with me. I didn't know that I could.
In fact, I didn't know what my rights were at all.
Dealing with the trauma and its aftermath was already overwhelming. Trying to maneuver through the criminal system was even more daunting. I wasn't educated about the judicial process in the slightest, and during this time in my life I didn't have much interest in living, let alone the interest to educate myself about the complicated system. I have since learned quite a bit—I became a reporter following that incident—but at the time, I didn't even know what a grand jury was. If I knew what I know now, I would have been requesting copies of everything along the way. In 2019 I learned that I could not access any of the legal documents pertaining to this case because they had been sealed to protect the defendant.
I slowly learned how these things work through some pretty painful trial and error. I wish there had been an easier way—but now I can at least help others.
Turkos, Spiroff, and I have been helping to craft these pieces of legislation since May. The work has been a way for me to channel some of the anger I harbor from reporting my sexual assault into creating a better environment for others to do so. Working alongside other sexual assault survivors on these bills made me realize how shared our negative experiences are, and it helped us identify what needs upgrading.
"I keep thinking about the consistencies of the experiences, despite how different their experiences are," Hunt said. "The ultimate complaints about the way each was treated by the medical system and by the legal system have these common threads, and I think that's why survivor-focused advocacy and legislature are so meaningful. This will put more information and power into people going through this."
Two bills to empower survivors with information
The legislation introduced this week would require hospitals to report on how many sexual assault survivors received services from a program, what those programs were, and how many of those programs followed up with survivors afterword. Not only would it be a way of keeping track of how people are getting care, it could help identify problem areas that need improvement, like hospitals that do not do much follow-up care.
This bill has been sponsored by Levin (primary sponsor) and Council Members Laurie Cumbo and Helen Rosenthal, former chair of the council's Women and Gender Equity Committee.
Currently, the city relies on the police alone to report on how many sexual assaults occur in the city and they have been accused of underreporting that number. If someone is treated in a hospital for sexual assault but does not give consent for the hospital to notify the NYPD, then that incident is not included in city statistics of sexual assault. If the police are called and they choose not to press charges, that is also not included in the stats.
The bill would require all hospitals in New York City to create an annual report—which will then be posted online for the public to see—of the number of sexual assaults that occur each year, month by month.
The second bill would ensure that any and all individuals who report a sexual assault at a New York City hospital are dutifully informed about all their rights and all the services they are legally entitled to. We know from experience how overwhelming the post-assault experience is. Just giving a survivor a stack of papers with information on it isn't enough. The information should be easily processable and accessible for anyone and everyone. This is an update to Int 0753-2018, sponsored by Cumbo and co-sponsored by Rosenthal, which was introduced in 2018.
"Even with this information the numbers will still be underreported as many individuals do not seek out treatment or report the crime," Spiroff said. "At least now we will have a better, broader understanding of how extensive this problem is and better be able to connect victims/survivors with resources and treatment."
We are hoping to create a law that would require sexual assault survivors have some of their most vital rights recited to them verbally: a human being telling them how they can get assistance while talking to law enforcement and the district attorney's office, and what their rights are regarding their rape kit. We are also looking into creating something eye-catching that will lay out all of a victim-survivor's rights and options for the care they are entitled to in a simple and accessible way. Ideally, it would be great for this information to be in a form that can be easily carried around and distributed.
Our ultimate goal is to get a hearing on both bills. While we can't completely fix what happened to us, we hope to help future victim-survivors going forward. I know I, for one, would have loved to have been better equipped.
Spiroff shares that sentiment.
"Having these rights and access to mental health treatments can have a dramatic impact on how well they may be able to recover from a horrible act of violence," she said. "As a survivor myself, if I would have had access to a victims' advocate and trauma-informed counseling my recovery would have been much less painful and traumatic. Perhaps I would suffer from fewer long-term effects."
"This is a huge step forward for survivors of sexual assault and violence."
You can show your support for Int 2406-2021, the hospital reporting bill, by contacting Council Member Carlina Rivera's office at (212) 677-1077. For Int 0753-2018, you can contact Council Member Mark Levine's office.
UPDATE, September 24: This piece was updated to reflect the current name of the hospital reporting bill.