What It Means to Celebrate Trans Folks on Father's Day
Fatherhood is behind a structural barrier for some of us. For me, Father's Day is a reminder that cycles can be broken.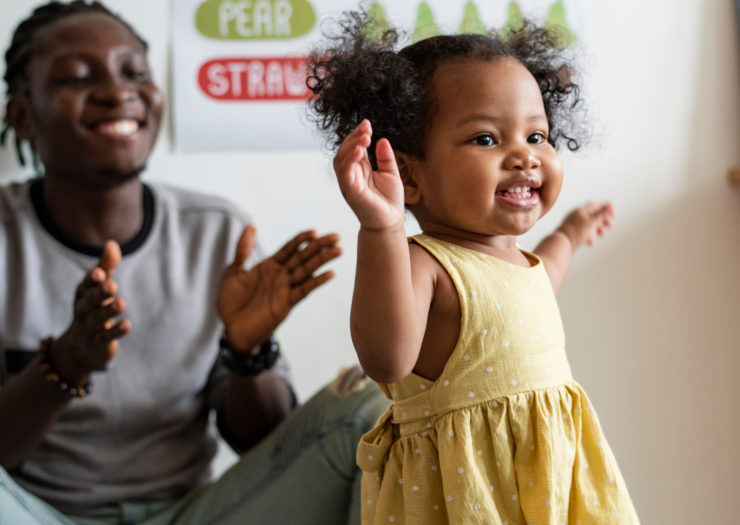 Celebrating Father's Day can be a tricky thing.
It can be a day to celebrate all of the great fathers out there who deserve to be honored for raising and supporting the young people in our families and communities. And it can be a day to grieve the losses in our families, the pain we've experienced from our fathers, and the fatherhood we can't or don't yet have.
Like so many of you, Father's Day is a bit complicated for me. I don't have a relationship with my own father, so I usually don't celebrate it. For a lot of queer and trans people, it's a hard reminder that they were kicked out of their blood families or aren't able to become fathers. It's not a happy day for everyone. But seeing it pop up on the calendar every year does make me want to honor the vision of what it could be, particularly for trans men and nonbinary fathers.
There are so many good fathers in my life: fathers of our movements, fathers of friends, family members who are fathers. Fathers who respect me, like my partner's father does, who really show me examples of what fatherhood can be and why they deserve to be celebrated. But still, the day is not without its complications.
Roe has collapsed and Texas is in chaos.
Stay up to date with The Fallout, a newsletter from our expert journalists.
There's a trickiness for trans and nonbinary people trying to fit into Father's Day (which is also why we should create a Nonbinary Parents' Day if one hasn't been made already). Too many people don't see trans and nonbinary people as legitimate parents, men, or even humans. Black and brown trans people are violently disrespected daily by our communities, police, doctors, families, and the law. It's hard to think about how to go about building a family when the statistics of trans people clock us as dying an early death. That's one of the most depressing statistics to read as a trans person and is never far from mind when thinking about creating a family.
For me, celebrating Father's Day isn't just about the basic act of reproducing a human. It should also celebrate what it means to be a father and what it takes for some of us to get there. And, systemically, we should begin to look at the ways our society doesn't make becoming a father easy.
I would like to become a father. I am a proud dog dad, a partner in a committed relationship, and potentially one day I will be the dad of a human. My partner and I are still trying to figure out what that process will look like. Because of my health issues, it probably won't be me that carries. But I'll still be a parent at some point.
Parenthood for queer and trans people is revolutionary. Our methods go outside of the system that oppresses queer and trans people on what should be a joyful journey.
I'm a bit lucky—my situation is different than most queer and trans people in that my health insurance and benefits from my job covers the various reproductive technologies. But that's not the case for most LGBTQ folks.
People are being creative and revolutionary and going around the medical field to get pregnant simply because it's hard to find trans friendly care. Many providers are homophobic and transphobic, or just don't understand what our lives are like, and we just don't want to deal with that.
Trans and queer folks—particularly folks of color—getting pregnant and having kids have to use creative methods because we've always been excluded from the fertility treatments and support systems that white, wealthy, and cisgender people enjoy. We can't rely on the medical field to get us pregnant.
Many of my friends know somebody who knows somebody who has sperm or eggs they're willing to share or willing to carry a pregnancy. Even in our own journey, my partner and I never thought about using in vitro fertilization (IVF). We always considered talking to friends as sperm donors to become pregnant. To be honest, only rich queer and trans people think about getting pregnant with IVF, because they're the only ones who can afford it.
Not to mention, trans people date each other and get pregnant just like everybody else. Like straight cis people who end up pregnant for one reason or another, some trans people want abortions but can't afford it, andthat's how they end up pregnant and with a kid. I'm thankful I was able to get my abortion, but it wasn't without challenges.
Inclusive health-care policies mean nothing if people can't afford it.
This is what attracted me to reproductive justice—the recognition that all of these other boxes have to be checked in order to be able to have a family. Yes, we need access to health care, but health insurance is largely attached to employment, and it's hard for trans people to get jobs. The feminist movement has been working to push for parental leave, which is great, but it means nothing for a pregnant trans person who doesn't have a job guarantee, food, or housing to begin with.
We say all of these things are human rights, but right now trans people don't have them and it's hard to separate them from a pregnancy and fatherhood journey. Those things have to be fulfilled first in order to become a parent.
Of course pregnancy isn't the only way to become a father, but it is one that trans men should have equitable access to, if that's what we want for our lives.
For many, options like formalized adoption are even harder and more expensive. With this week's Supreme Court decision allowing a Catholic adoption agency to discriminate against queer and trans couples under the agency's first amendment rights, it will only become harder. So pro-life.
It's just another reminder that the ability to celebrate Father's Day isn't something that is guaranteed to all of us. In fact, our current systems can remove it or deny it to some of us—and some of us never really had access to it to begin with.
Fatherhood is behind a structural barrier for some of us.
Parenthood for queer and trans people is revolutionary. Our methods go outside of the system that oppresses queer and trans people on what should be a joyful journey. We seek out what we need and go around the medical industrial system to make our families happen. As a community, we show up for each other to make fatherhood and parenthood happen.
For me, Father's Day is a reminder that cycles can be broken. It's a reminder that you don't necessarily become a father one way, and we have to keep revolutionizing our society to make it a day of possibility for all of us. It's a reminder that there are multiple ways to become a father and multiple reasons to celebrate Father's Day.
Trans people are some of those folks I'll be celebrating this Father's Day, and celebrating all that it took for them to get there.