Culture & Conversation Sexuality
Everything You Need to Know About Ethical Porn
Yes, there's plenty of free porn online. But if you pay for your porn, it's much more likely to be ethically produced and to be more representative.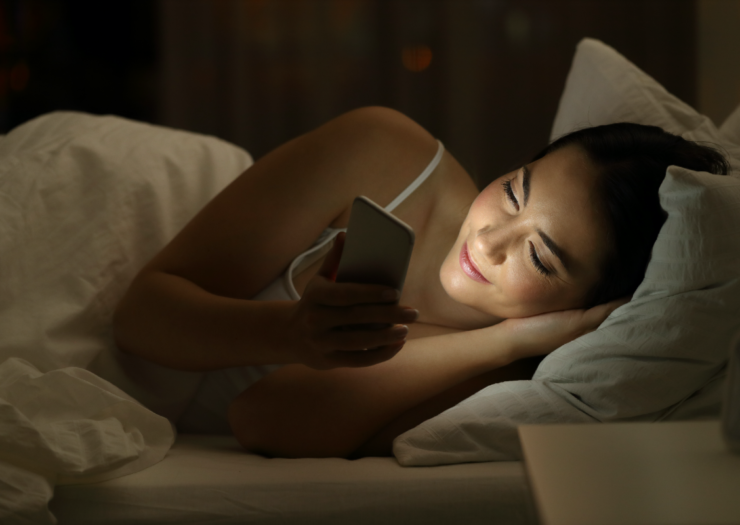 People watch porn for all sorts of reasons. But is the porn you're consuming ethical?
Many of us might be turned on by seeing, hearing, or reading steamy scenes, but be decidedly turned off by the porn industry. Or we might feel like our bodies, sexualities, and desires aren't appropriately represented in the porn we see. Mainstream porn has a (fairly well deserved) bad reputation: From personal videos being stolen and put onto free sites to performers and workers being abused on set, problems in the mainstream porn industry abound.
That all starts to shift when you make one critical change: If you pay for your porn, it's much more likely to be ethically produced and to be more representative.
Yes, plenty of free porn is available online. But if you're concerned about sex worker safety and economic justice, or if you want to see porn in which orgasms aren't faked and consent is foundational, you need to shell out the cash. That's partially because sex workers across the adult industry—not just porn—face social stigma and ongoing difficulties generating and maintaining income.
For example, when Bella Thorne made $1 million on her first day on OnlyFans, the content-sharing site widely used by sex workers, the service immediately instated a cap on what creators could charge and be tipped, plus changed its payment policy. That made it harder for creators to access their funds and to make as much money as before.
Laws like FOSTA-SESTA led to social media sites cracking down on perceived adult content (even sex ed content) and to Craigslist shutting down its Personals section, where sex workers could advertise their services.
"Ethical production" means something different to everyone, because our personal ethics are, well, personal. When it comes to evaluating the porn you consume, here are a few things to consider:
Prompt and fair payment of performers
Performer autonomy and consent
On-set health and safety practices
Authenticity of pleasure
Diversity of performers, including body type, ability, gender, race, sexuality, and more
Understanding where your porn falls for each of those categories takes a little bit more work than just typing your latest fantasy into Google, but it also helps you be a more conscious consumer—and that's never a bad thing. Plus, it helps you put your money where your values are! And if you've ever said that you care about sex workers and want to help keep them safe, then you need to evaluate the ethics of the porn you consume.
From audio erotica to long films, there's a porn option for (almost) everyone. These six companies are working to put porn production back into the actors' and creators' hands, center pleasure and consent, and showcase a wide variety of bodies and experiences.
Pink & White Productions
Founded by Shine Louise Houston in 2005, Pink & White Productions is an entire production company, not just a porn site. They produce CrashPad Series, a queer-as-heck serialized work that centers on one San Francisco apartment. They're also behind PinkLabel.tv, a subscription-based platform with $10 monthly memberships that focuses on indie-style porn.
Pink & White Productions is a powerhouse of ethically produced porn, and they've got the accolades to prove it. They also publicly share things like pay rates for CrashPad Series and the health and safety precautions they take on set, which makes being a conscious consumer much simpler. They have great diversity in their performers, and as a queer woman, the porn they produce actually feels like it's designed for people like me.
Dipsea
If you've tried to watch porn but just can't make eye contact with the screen, consider trying the audio erotica offered by Dipsea. Thanks to podcasting and audiobooks, audio erotica is becoming a more prominent genre, and Dipsea is a big player here. They run on a subscription-based model, and you can sign up for a year's membership for $48 or keep it monthly at $8.
Using an app like Dipsea can be especially useful for folks who have kids and don't particularly want them to find paperback erotica laying around the house, or open a laptop to some paused porn. You can bury it deep in your app folders and feel a little bit more secure. Plus, it might make a commute or long wait a little more fun.
Joybear Studios
If you're someone who can almost sometimes sort of enjoy mainstream porn, Joybear could be a good fit for you. (Their founder, Justin Santos, won a Playboy competition for erotic filmmakers.) Just like every other option on this list, if you want to watch Joybear's content, you'll have to pay. Subscriptions range from two days to two years, which allow you to explore full movies or short chapters. FYI—if you go to their main site, it's immediately NSFW (but the one we linked you to is image-free).
Bellesa
Bellesa is like that one person you know who is always just doing the most. If you go to their main site, you'll find premium porn, cam performers, erotica, sex toys to purchase, and some educational articles. Bellesa is another option that I'd probably define as feminist-ish and mainstream-ish. The real strength here is it's versatility.
If you want reality TV-style porn, you can access that. If you want to pay cam performers, you can do that. If you want to read erotica, you can do that. The link for "read erotica" is relatively safe, but across Bellesa's website you can expect to see stills from their videos (and even clips that autoplay). So approach their site with abundant awareness of who else is in the room with you.
Indie Porn Revolution
Over the past few years, more porn sites have been setting up virtual shop. Indie Porn Revolution has been in this space since 2002, making it the longest-running indie porn site on the internet. You'll need a membership to watch any clips, and options range from 10 days to six months. Like some other sites on this list, the homepage is immediately NSFW—but their mission page is relatively safe.
&Jane
&Jane, which launched September, caters exclusively to women's stories; with each audio erotica story you play, you'll hear a woman's voice. They work under a subscription model, and with each sign-up, they make a donation to the Woodhull Freedom Foundation, which advocates for sexual rights in the United States.
You are in no way obligated to watch or listen to porn, but if you're going to, make sure you're finding content that's both sexy and ethical. It'll feel even better, I promise.