Culture & Conversation Human Rights
Amy Coney Barrett Isn't a 'Pro-Life' Vote for Patients Like Me
The Affordable Care Act saved my life—Amy Coney Barrett is committed to overturning it if she becomes a Supreme Court justice.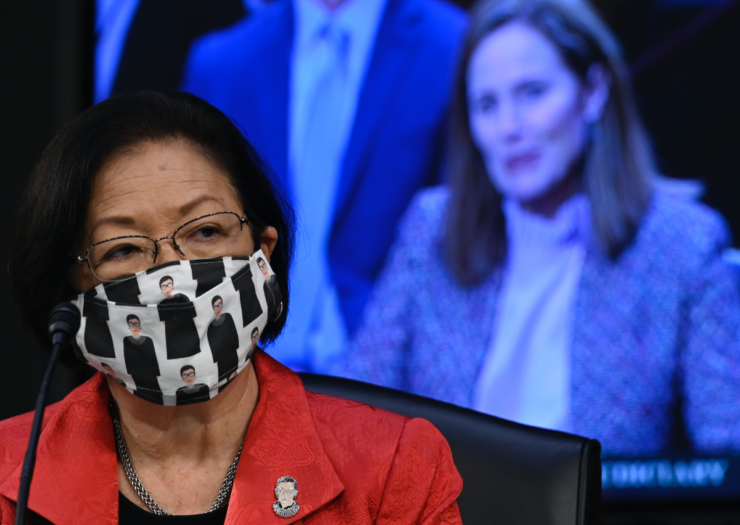 Last week, my senator, North Carolina's Thom Tillis, took part in the Supreme Court nomination hearing for Judge Amy Coney Barrett. My picture was pasted on a poster board at the Senate Judiciary Committee hearing where Sen. Mazie Hirono (D-HI) shared my story: how the Affordable Care Act (ACA) covered first the diagnosis of, and then life-saving treatment for, my breast cancer. Tillis heard my story, but appeared unmoved.
The ACA bars insurance companies from discriminating against people with preexisting conditions, like me. If it's repealed, those protections go away as well. One week after the election, the Supreme Court will hear a Trump administration-backed lawsuit attempting to overturn the ACA. This would eliminate health insurance for more than 20 million people across the country, and threaten the coverage of over 4.2 million North Carolinians with preexisting conditions. People just like me.
During Barrett's confirmation hearing, Tillis said Democrat senators were "falsely claiming Judge Barrett's nomination would bring an end to protections for preexisting conditions." Yet President Trump pledged to appoint a Supreme Court nominee to eliminate the ACA.
Barrett is committed to overturning the ACA. Her record clearly shows she has sided with both previous lawsuits to end it, and that she is prepared to dismantle it at the first opportunity, which could come as soon as one week after the election if she is confirmed.
Roe is gone. The chaos is just beginning.
Follow Rewire News Group on Twitter to stay on top of every breaking moment.
The ACA saved my life. In 2014, I lost my job, and thus lost my health insurance. I was able to find a temporary job while searching for full-time work, but like most temporary work, it didn't offer health insurance. The most affordable and accessible plan I could find was through the ACA, so I enrolled.
I was finally able to go to the doctor for a regular checkup. They discovered that I had cancer in my left breast. Being diagnosed with breast cancer was a total surprise. If not for the Affordable Care Act, I would never have had that mammogram. I could in no way have afforded that double mastectomy. I would still be paying the debt to this day.
Once you have cancer, even after you recover, you never stop thinking about it. I've had a couple of scares since my recovery. It scares me to think how far the cancer would have advanced if I didn't have insurance. If I lose my insurance now, what will I do if the cancer comes back?
Tillis recently contracted COVID-19 from a reckless and maskless event at the White House. He now has a preexisting condition, like I do. But unlike me, Tillis doesn't have to worry about being denied care in his future. Like Trump, he has access to top-notch care if he were to fall ill in the future, or if his COVID-19 symptoms relapse. That's not the case for the millions of other people like me, whose fate hangs in the balance with the Barrett nomination and the upcoming Supreme Court case.