One of These Cases Could Be the Next Big Fight for Abortion Rights
On Monday the Supreme Court delivered a win for abortion rights. On Thursday they could roll that win right back.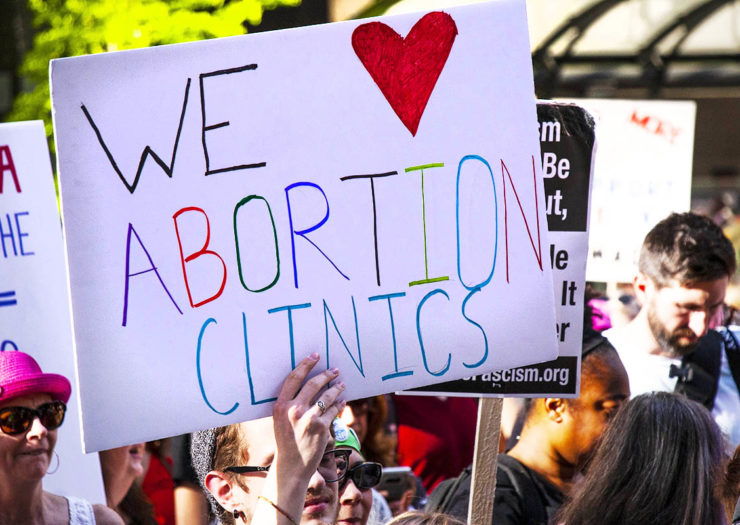 UPDATE, July 2, 10:15 a.m.: On Thursday the Supreme Court refused to take Price v. City of Chicago and Hill v. Whole Woman's Health Alliance. The Court also sent both Box v. Planned Parenthood of Indiana and Kentucky cases back to the Seventh Circuit Court of Appeals for further consideration following the Court's June Medical Services v. Russo decision.
Here's the thing about anti-choice activists: They just don't stop.
On Monday, Chief Justice John Roberts delivered a clear message to conservatives that, while he might not be a fan of abortion rights, it is his job as chief justice to keep up appearances for the U.S. Supreme Court. And that means he will not simply rubber-stamp any old appellate decision rolling back abortion rights like Louisiana had asked. He's going to need a proper case, developed along the proper channels, if conservatives think he's going to deliver them the golden egg of reversing Roe v. Wade.
Lucky for the chief, conservatives already have a handful of cases waiting in the wings. And anti-choice activists have channeled their initial ire at Roberts for voting to uphold the law into calls for action, both on the front lines—protesting clinics and threatening patients and staff—and in the judicial system, pushing Republicans to fast-track even more conservative ideologues to the federal bench.
Roe has collapsed in Texas, and that's just the beginning.
Stay up to date with The Fallout, a newsletter from our expert journalists.
"To all those disappointed by today's ruling, I say, 'Join us on the front lines. Don't wait for the next big court case,'" Eric Scheidler, executive director of the anti-choice advocacy group Pro-Life Action League, said in a statement following Monday's decision.
Scheidler and his supporters may not have long to wait for that next big court case, though. Here are four cases we're keeping a close eye on as the justices decide right now what to add to their agenda for next term.
Price v. City of Chicago
On Wednesday, the justices will consider a request from attorneys representing Scheidler's Pro-Life Action League to declare Chicago's abortion clinic "bubble zone" ordinance unconstitutional.
The law prohibits a speaker from approaching within eight feet of another person "for the purpose of passing a leaflet or handbill, displaying a sign to, or engaging in oral protest, education, or counseling," without express consent of the person the speaker wishes to approach. This "bubble zone" ordinance applies within 50 feet of the entrance to an abortion clinic or other medical facility.
The Supreme Court upheld bubble zones like Chicago's in a 2000 decision called Hill v. Colorado that was left hanging by a thread 14 years later in McCullen v. Coakley, in which the Court unanimously struck down a Massachusetts buffer zone law. Scheidler's group wants the Roberts Court to overturn Hill v. Colorado, strike down bubble zone protections for abortion clinics, and open the floodgates to even more terror and harassment of abortion providers and patients by anti-choice activists.
Hill v. Whole Woman's Health Alliance
There's also Hill v. Whole Woman's Health Alliance, a case involving a licensing fight over an abortion clinic in South Bend, Indiana. The clinic had twice been denied a license by the Indiana State Department of Health, after the agency said the clinic failed to provide adequate safety documentation.
Advocates sued, and a federal court granted an injunction and eventually allowed the clinic to open without the required license. The Seventh Circuit Court of Appeals affirmed that decision. Attorneys for the state of Indiana have asked the Roberts Court to intervene.
On Wednesday, the justices will consider doing just that.
Box v. Planned Parenthood of Indiana and Kentucky
Hill isn't the only case out of Indiana the Court will consider taking up on Wednesday. Box v. Planned Parenthood of Indiana and Kentucky involves a challenge to Indiana's mandatory ultrasound and delay law, which requires an abortion patient to have an ultrasound at least 18 hours before their scheduled abortion.
The requirement dates back to then-Gov. Mike Pence (R) and his crusade to enact House Enrolled Act 1337, a monster of an omnibus abortion restriction bill that also included a fetal disposal requirement and a "reason" ban. Last year the Court, without oral argument, issued an opinion upholding the fetal disposal rule but striking down the law's ban on abortions based on the race, sex, or apparent disability of the fetus.
Box v. Planned Parenthood of Indiana and Kentucky
We're not done with Indiana just yet! The Court will also conference on Wednesday on another case called Box v. Planned Parenthood of Indiana and Kentucky (because of course it is), and the issue in this Box should sound veeeerrry familiar.
In addition to asking the justices to uphold an onerous parental notification process for minors accessing abortions, attorneys for the state of Indiana are challenging the third-party standing of abortion providers to sue on behalf of their minor patients. On Monday, the Court affirmed the third-party standing of abortion providers in June Medical Services v. Russo, in part because the majority of justices said the state of Louisiana had waited too long during the litigation to challenge standing now. Roberts joined with his liberal colleagues in determining that Louisiana couldn't now challenge abortion provider standing. But his concurring opinion doesn't make clear whether he'd turn away a standing challenge that was raised in a timely fashion—as Indiana did in Box.
The ink is barely dry on June Medical Services, yet we could know as soon as Thursday if Roberts' conservative colleagues plan on immediately testing his signal that he's willing to uphold future abortion restrictions by taking any, or all, of these cases. After all, it only takes four votes to grant certiorari and have the Court hear arguments in a case. Monday's decision in June Medical Services proves there are four solid votes against abortion rights, no matter the case or the issue, and one fifth vote to strike against abortion rights should conservatives deliver the right case.
Is one of these four the right case? By Thursday, we may know.