How to Find a Gender-Affirming Doctor
For transgender and nonbinary people, a gender-affirming doctor—a patient-centered provider who is aware, sensitive, and educated on the needs of the transgender community—can be crucial to our survival.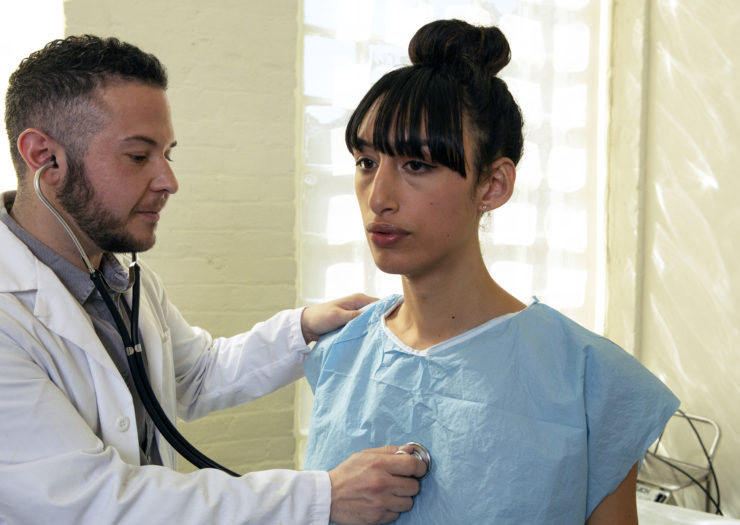 This Pride Month, Rewire.News recognizes that celebrating during the pandemic will look very different for many of us, which is why we're putting together tools of resistance and hope to help us all survive (and even thrive) Pride 2020.
When it comes to receiving adequate health care in the United States, transgender and nonbinary people like me face inordinate barriers. Seemingly simple tasks like finding a doctor can stand in the way of gender nonconforming people's ability to access adequate health care.
These obstacles are exacerbated by a recent Trump administration ruling that removes nondiscrimination protections for trans people when it comes to health care.
A 2015 survey conducted by the National Center for Transgender Equality found that 1 in 4 respondents experienced issues with insurance coverage in the past year due to being transgender, such as being denied coverage for gender-affirming care or for routine procedures because of their gender identity. A third of trans respondents said they'd had at least one negative experience with a health-care provider in the last year, like misgendering, verbal harassment, or denial of care. Unsurprisingly, the very real threat of stigma and discrimination in health-care settings often causes trans people to avoid them altogether.
Roe is gone. The chaos is just beginning.
Follow Rewire News Group on Twitter to stay on top of every breaking moment.
As a population, trans people are at a higher risk of health issues like depression, anxiety, suicide, sexually transmitted infections (STIs), cancer, heart diseases, and more. Getting affirming and dignified health care is of paramount importance.
For transgender and nonbinary people, a gender-affirming doctor—a patient-centered provider who is aware, sensitive, and educated on the needs of the transgender community—can be crucial to our health, well-being, and survival.
I'm here to help.
Starting your search for a gender-affirming doctor
Having spent two years navigating our traumatizing health-care system as a nonbinary person, I have undergone the search for inclusive doctors many times. I learned that googling keywords like "LGBTQ doctor" or "queer doctor" with your city or zip code can be a great launching-off point. Using my own research, I compiled some resources to help folks begin their search for a gender-affirming doctor—but not without the help of Dr. Zil Goldstein, the associate director of transgender medicine at Callen-Lorde, an LGBTQ community health center in New York City.
Seek out online directories. Goldstein recommends using resources like the online directories of the World Professional Association for Transgender Health (WPATH) and the Gay and Lesbian Medical Association (GLMA). GLMA's directory includes advanced search options, which can help narrow down the results to providers with competency with specific specific gender identities and gender transition services. LGBTQ health centers, like Callen-Lorde or the Mazzoni Center in Philadelphia, also provide essential health services, resources, and community for trans patients.
There are also several independent projects, like Outcare Health, Rad Remedy, and MyTransHealth, where doctors can add themselves to a public, searchable web database.
Ask your peers. Try to find Facebook groups or other online forums for LGBTQ folks in your specific city or neighborhood. These can be great places to find or solicit recommendations from queer and trans peers—as well as find out who to avoid—and you'll often get anecdotes from their experiences. It can be helpful to search the group for "doctor" or "doctor recommendations," and pull up other people's posts to find resources in the comments.
"Reproductive health services can be hard for transgender people," Goldstein said. She advises getting a recommendation from a gender-affirming primary care provider or hormone prescriber in your area, as "they will know who has and has not worked with transgender people before."
Planned Parenthood is also dedicated to providing reproductive and sexual health care for people of all genders. Most centers offer gender-affirming care and strive to be inclusive. However, not all Planned Parenthood physicians and staff members have the same training, experience, or values—as is true with any doctor listed in a directory or recommended by a peer. You should always do your own research, be diligent, and decide what is best for you.
How to tell if a doctor is gender-affirming
Doctors can list themselves on these databases or claim to be a trans-friendly doctor or facility without any sort of vetting process or formal training on the care of trans people. But there are a couple of ways to recognize whether or not a doctor is going to meet your needs.
Look out for inclusive language. Does the doctor or facility have gender-inclusive language on their website? Do they list their pronouns? Do they address their competence in working with transgender people? Does the staff not assume your gender and pronouns? You can also try to see if the website or provider profile mentions any formal training on trans-related care.
Goldstein says one of the best ways to tell is by looking at the language on the intake form. An affirming provider should have inclusive gender options. "Is there a place for someone to put the right name and pronouns they should use? Are there only boxes to check for male and female, or is there a way to indicate more of a breadth of options for gender and gender identity? These are signs that someone has put the work into their practice to make it accommodating of transgender people," she said.
Since the intake form is completed in the waiting room at the start of the visit, before you ever meet the doctor, it's easy to leave if you find the language to be non-inclusive.
Ask them questions. Calling the provider is an easy way to save time and energy in your search. Administrative staff or nurses may be able to answer your questions, giving you an opportunity to see how trans-competent the staff is, or they may put you in touch with the doctor.
Some questions you might ask:
What training does the doctor have in transgender medicine?
What training does the staff have in trans-competent care?
How many transgender patients have you worked with? Transmasculine? Transfeminine? Nonbinary?
What literature have you consumed on transgender health care?
Do you have any patient testimonials?
What, if any, kind of gender-transition care (like hormones, or providing physician letters for name changes) do you offer?
If they are unable to answer most of these questions then you should keep looking.

Advocating for yourself as a patient
Bring a buddy. If possible, bring a friend or family member you trust, who can advocate for you in the doctor's office. This can reduce nerves and provide comfort should you ever feel uncomfortable or experience harmful behavior.
Speak up. "It is okay to say that you're uncomfortable in the visit and ask for specific things to make yourself more comfortable," Goldstein said, "like using certain language for your body, or making sure the provider uses the right name and pronouns."
You can also ask if you can do things for yourself during the visit—like Pap smears— so you have more bodily autonomy.
Trans people have a right to compassionate health care
We deserve gender-affirming care, and we deserve not to settle for less.
"Go with your gut! If you don't like a doctor or they don't treat you well, you don't have to stay with them." Goldstein said. "Find someone who respects you and gives you the care that you need."
Medical care for transgender people is just as necessary as medical care for anyone else, and your medical provider should see things the same way."