Explaining Black Motherhood to a White Mom—and to Myself
A casual conversation at a food bank turned into something frustrating—and fruitful.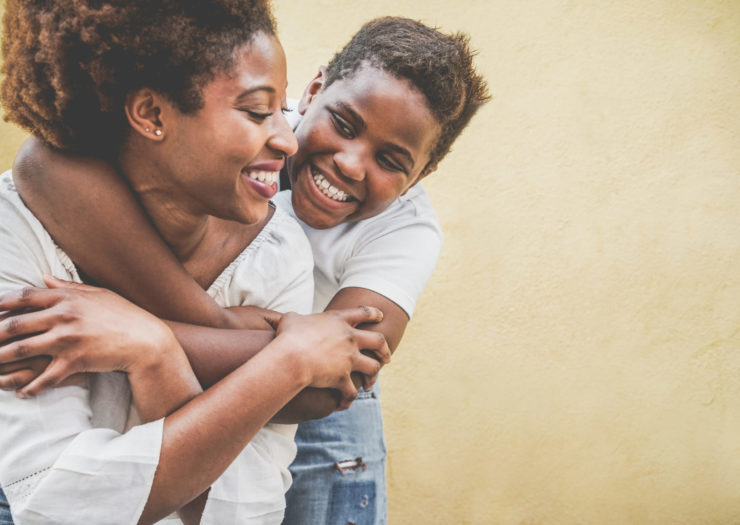 For more anti-racism resources, check out our guide, Racial Justice Is Reproductive Justice.
For the last seven weeks, I've spent two hours on Saturday afternoons volunteering at the largest food bank in South Florida. Hold your applause; we do this because my teenage son is required to complete community service hours before graduation. Since he is under the age of 16, most organizations require a parent to be present.
Our shift is spent breaking down boxes so they can be repurposed, packing backpacks with food for local children, and preparing boxes filled with fresh fruit, vegetables, and canned goods for families. It's been a great way to educate him about "food deserts" and what it means to suffer from food insecurity. He is learning firsthand how economic and racial disparities hit all aspects of life.
We are masked up and socially distant, but we still manage to bond with other volunteers. My son befriended a fellow teen on the first day, so his mom and I became friendly, too. After each shift we stand outside and chitchat while the boys kick their soccer ball around the parking lot. We understand they are tired of being confined and starved for non-virtual connections. While our kids play, we discuss future SAT prep and the dreadful rain we've been having. We share tempered relief that stores are reopened and exchange recipes that are gluten-free. We wave farewell and shout, "Have a good week, see you next Saturday!"
They are white. We are Black.
Roe is gone. The chaos is just beginning.
Follow Rewire News Group on Twitter to stay on top of every breaking moment.
This past Saturday after our shift, while the boys played, she mentioned a protest that forced her to take an alternate route. "Tensions are so high right now, makes me very uneasy," she said. "I don't see color; we all bleed red." I took a deep sigh and prepared to hear, "I mean we had a Black president," or "I had a Black friend in high school." Thankfully, she didn't bust out her repertoire of why she is not racist on me.
For the past few weeks, I've been overwhelmed by the magnitude of the marches, the tear-gassing of peaceful protesters to create a photo-op for the resident of the White House, the updated numbers showing that COVID-19 cases continue to rise in certain states, including mine, and the impact of all of this on my teen. A conversation about injustice with my casual mom-friend outside a food bank was not on my to-do list.
I asked her if she has ever wondered if her white son would make it home alive due to an encounter with police. I also asked if she has any Black friends—not coworkers, not the lady you wave to at the grocery store, but a true Black friend. Her sheepish wince gave me the answer. I am by no means the authority on Black history in America; I am, however, a Black mom who decided to use this opportunity to share my family's truth.
I explained to her that Black people are fatigued, depleted, and downright frightened. We are terrified for our sons and daughters. We discussed the murder of Rayshard Brooks, a Black man shot and killed by police officers in the parking lot of an Atlanta fast-food restaurant. I pointed out that Brooks' death would have been unlikely if he was a white man. She nodded in agreement.
The boys walked over, and we continued the dialogue. They caught the end of my explanation of why the history of the United States is so dark for Black people. I wanted her to understand the impact of Jim Crow laws, and what it feels like to tremble when a cop car pulls up behind you and flashes lights. I asked her to think about the pain she would feel if her son was publicly lynched by law enforcement and the murderers were never arrested—and if arrested, then never convicted.
How do you sum up the unspeakable trauma of an entire race? You don't. You can't.
There have been numerous articles written, interviews conducted, and opinions spewed over the importance of this current moment in history. But standing here in front of a white woman and her son, people I only met a few weeks ago, I felt it necessary to share my pain. How do you sum up the unspeakable trauma of an entire race? You don't. You can't. So I didn't try. Instead, I tried to expand her lens while adjusting mine.
I explained that if she was sincere in her desire to learn why "Blacks are so upset," then she needed to do a deep dive into history. I told her to look up the Tulsa race massacre and read about the murder of a boy the same age as her son named Emmett Till. I shared that, in my view, what's needed are white people who are willing to practice anti-racism and to call out friends and family for their normalized covert racist actions. I told her if she wants to be a true advocate for change to look in the mirror and examine her own implicit bias.
I was expecting our conversation to be fruitless, but it was rife with sincerity. I hope that moving forward she acknowledges that she sees color. If she never sees our color, she won't understand the indignities perpetuated by those who would never allow their son to play with mine because color is all they choose to see.
On the ride home, I let my son listen to music and waited until he was ready to speak. Surprisingly, we didn't spend much time discussing my well-meaning, casual mom-friend. He's been a bit overwhelmed as he tries to understand why he must navigate life as a Black teen and not just a teen. So I give him space: space to share and space to just be.
He turned down the music and announced that he wants to start a free soccer clinic for Black kids who can't afford to join a youth team. The food bank has opened his mind to service, while the realities of his melanin have expanded his heart to find ways to share his passion with those who have his skin color but don't have the same access.
I asked him, why soccer? "Because on the pitch you either suck or you don't," he said. "You get chosen off your talent, but if you never learn how to play, you won't know if you suck."
I gave him more space to savor some Black boy joy, while planning out his newfound contribution.
His role as a global citizen will always be as a Black man first, but watching him brainstorm reminded me that it doesn't always have to be an insurmountable weight to carry. My prayer is that his moments of bliss will outweigh the inevitable dark days. I have chosen to believe that as members of my son's generation watch the manifestation of their collective ancestral dreams unfold, they will heal from wounds they didn't deserve to bear.