Congress Can Knock Down Reproductive Health-Care Barriers for Immigrants. Here's How.
The HEAL Act would eliminate unnecessary restrictions that keep immigrant communities from accessing reproductive health care.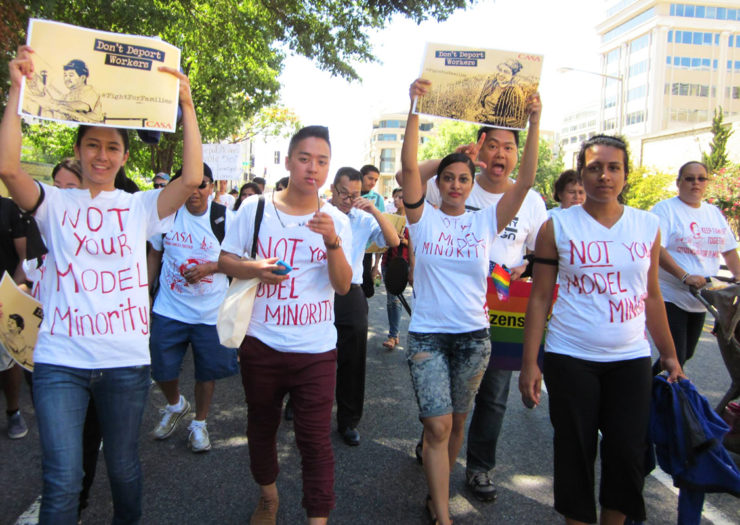 This Asian Pacific American Heritage Month (APAHM), Rewire.News is highlighting the ways Asian and Pacific Islander American communities have been at the forefront of the reproductive justice movement throughout its formation and today.
The right to get an abortion has always been more tangible for some people than others. 
Ever since Roe v. Wade legalized abortion across the United States in 1973, that right has been eroding, and was never fully recognized for many communities. By 1976, the passage of the Hyde Amendment set the harmful precedent of banning Medicaid coverage of abortion, delaying or pushing care out of reach entirely for people struggling to make ends meet. 
Without insurance, health care is unaffordable for many people. And if it isn't affordable, it isn't accessible. Bans on abortion coverage disproportionately harm those of us who already face barriers to getting health care, namely people of color, young people, and LGBTQ people. That is why Congress must lift these bans and cover abortion in all health plans by supporting the EACH Woman Act, which counters the Hyde Amendment. Yet, even when we win that critical fight, abortion access will still be out of reach for many immigrants because of policy barriers that keep them from getting insured at all. 
Roe has collapsed in Texas, and that's just the beginning.
Stay up to date with The Fallout, a newsletter from our expert journalists.
Right now, even after immigrants obtain lawful permanent resident (LPR) or green card status, they are forced to wait five years before they can enroll in Medicaid, even if they are otherwise eligible. Undocumented immigrants are completely excluded from Medicaid and even barred from purchasing insurance from the Affordable Care Act's online marketplace. But there is a path forward.
Today, Sen. Cory Booker (D-NJ) introduced the Health Equity and Access Under the Law for Immigrant Women and Families Act (HEAL Act), which would eliminate those unnecessary restrictions. Last fall, U.S. Reps. Pramila Jayapal (D-WA) and Deb Haaland (D-NM) introduced the bill in the House, calling on Congress to address the barriers that immigrants face when trying to access health care.
Among the nonelderly, 23 percent of lawfully present immigrants and 45 percent of undocumented immigrants don't have health insurance. According to the Guttmacher Institute, nearly half of noncitizen immigrant women of reproductive age who would otherwise qualify for Medicaid are uninsured. We know insurance coverage often means the difference between getting health care and going without. 
Research shows that health insurance is a key factor in whether someone uses contraception and highly effective contraception like the pill or an intrauterine device (IUD) that requires going to the doctor, in particular. Women without insurance also receive far fewer prenatal care services and have a harder time getting the care they need. Without insurance coverage, the average out-of-pocket cost for an abortion in the United States—ranging from $397 for a first-trimester abortion to $854 for a second-trimester abortion—is out of reach for the average person.
The HEAL Act would open up access to health care, including reproductive health care, by eliminating the five-year waiting period on enrolling in Medicaid and allowing undocumented immigrants to purchase health coverage through the online marketplace.
The immigrant community gets left behind too often. Many immigrants have long been denied medical care by the labyrinth of restrictions, and xenophobic policies like the "public charge" rule that forces people to choose between getting care and their immigration status have instilled fear in our communities. The recent CARES Act passed by Congress that provided resources to many working families fell short for immigrant communities by failing to provide no-cost testing and treatment for COVID-19 regardless of immigration status.
The unprecedented public health crisis our nation is facing has shone a harsh light on the inequities in our health system and the way that those in power have divided us into groups that they then pick and choose who deserves health care. Whatever our immigration status, wherever we live, and however much money we make, we should all be able to get insurance coverage for the full range of reproductive health care, including abortion.