Analysis Maternity and Birthing
In Georgia, Black Women Lead the Fight Against High Maternal Mortality Rates and Anti-Choice Legislation
"Doing this work can weigh heavy—we know that even with all of the work that is being done to uplift issues around Black maternal health, Black mamas are still bearing the brunt of this crisis."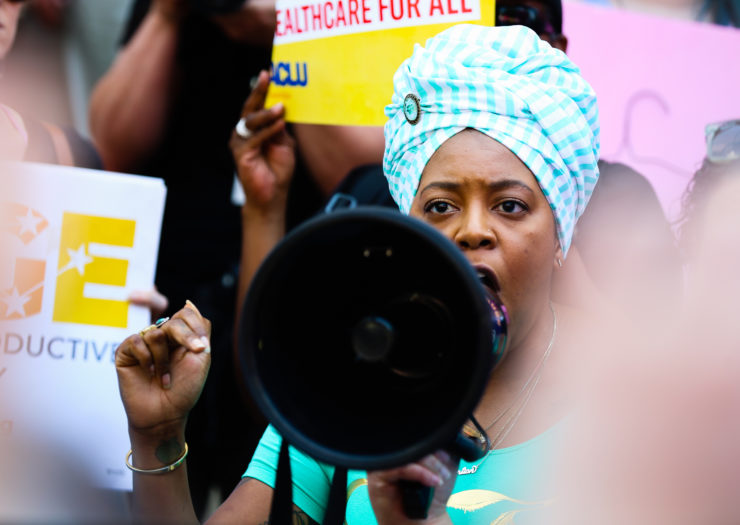 For more anti-racism resources, check out our guide, Racial Justice Is Reproductive Justice.

During Black Maternal Health Week, Rewire.News is joining the national conversation on Black maternal health and sharing stories from the frontlines of the reproductive justice movement.
With COVID-19 disproportionately impacting Black people in the United States, the pandemic will weaken the already fraught infrastructure of reproductive and maternal health care for Black communities. But Black women have always led the fight for reproductive justice—centering the needs of society's most marginalized people.
Advocacy for Black women's reproductive health is essential, especially in Georgia. It's one of many Southern states attempting to roll back abortion access, and it has one of the highest Black maternal mortality rates in the country (95.6 per 100,000 live births compared to 59.7 for white women, according to the latest data from America's Health Rankings). Organizations such as SisterLove, SisterSong, and the Black Mamas Matter Alliance (BMMA) work independently and in coalition to address attacks on reproductive rights and sexual health.
Roe is gone. The chaos is just beginning.
Follow Rewire News Group on Twitter to stay on top of every breaking moment.
"It's Black women fighting, and Black women being affected," said Danielle Rodriguez, SisterSong's Georgia coordinator. "What we're noticing is that the same amount of people aren't showing up for this," referring to the larger backlash seen against Georgia's blocked abortion ban last year versus the state's current attempt to ban community midwives.
The reproductive justice movement was founded in the early 1990s when a group of 12 Black women, including SisterSong co-founder Loretta Ross, gathered to create a framework at the intersection of reproductive rights and social justice. The movement focuses on the right to bodily autonomy and centers the needs of Black women, queer and trans people, and other members of marginalized communities. Reproductive justice reimagines the arena of abortion rights to address how access is made more difficult by systematic barriers like classism, homophobia, and other structures.
Today, reproductive justice organizations in Georgia work on a variety of issues affecting Black communities including maternal and postpartum health; HIV testing, counseling, and destigmatization; supporting community midwives; and more.
The fight to protect the reproductive rights and maternal health of Black people in Georgia is a constant battle. Issues of access to resources and income also affect reproductive health. According to a report from the Georgia Board of Health Care Workforce, 76 counties in the state have no OB-GYN or psychologist. And in the state's biggest city, Atlanta, there is extreme income inequality, which is often played out across racial lines. 
"We have rampant eviction rates in Georgia," said Sequoia Ayala, the director of policy and advocacy at SisterLove. "We are not a renter-friendly state. … We are in a housing crisis throughout much of the central areas." Higher eviction rates, housing instability, and a lack of state protection against pregnancy discrimination inevitably affect Black maternal health and birthing outcomes.
"People are interested in entertaining conversations about maternal health outcomes as long as [the] onus is placed on the individual, but as soon as there is a conversation around investigating systems, that's where we had the hardest fight with our representatives," Ayala said.
The COVID-19 pandemic has presented additional obstacles for Black maternal health, as hospitals focus their energies and resources on battling the virus. And as more hospitals bar supporters from being present, the difficulties around giving birth increase. This is especially dangerous for Black women who are at higher risk of dying from birth-related complications.
For Angela Aina, the interim executive director of BMMA, the strains related to COVID-19 further demonstrate the "weaknesses in the overall health system, while also highlighting the very real ways systems of oppression, like racism, impact Black people in general and Black mamas in particular."
Amid the current public health crisis, reproductive justice organizations have adapted, providing resources for pregnant people and midwives being kept from their patients. For example, SisterSong is leading a Birth Justice Task Force to assist people expecting to give birth during the pandemic. The group is also collecting information from doulas and birth workers who may be banned from delivery rooms, so that it can figure out how to better help the community.
In order to fight all of the unique challenges in Georgia, organizers work on the local, state, and federal levels to protect reproductive rights—using every tool in their tool belts to combat anti-choice laws and provide alternative services to underserved communities. One common strategy is public education, teaching community members about the consequences of complicated legislation.
"We basically take all the information we have and involve the community and stakeholders on what strategies we should use so that the community is aware of what's happening," Rodriguez said. SisterSong also provides support for pro-choice legislation. "We have a number of proactive bills to produce better health outcomes for our community. … [State] Representative Renitta Shannon introduced a bill to expand postpartum Medicaid for people who have been out of work for six months compared to 30 days."
Other groups help shape policy by gathering and disseminating information on reproductive health in the state. "BMMA does not lobby but educates policy decision-makers and legislators on issues impacting Black maternal and reproductive health," Aina said.
These Black women-led organizations are working to solve structural failures in maternal, reproductive, and sexual health that disproportionately affect us. And their efforts are strengthened through the collaborations and coalitions they have developed with one another.
"This is really a movement that is made up across all walks of life and academic disciplines, and I really appreciate being able to bring my full self at a place of thinking and strategizing," Ayala said.
But the work can take an emotional and mental toll. "Doing this work can weigh heavy—we know that even with all of the work that is being done to uplift issues around Black maternal health, Black mamas are still bearing the brunt of this crisis in the U.S.," Aina said.
In the fight for better health care and reproductive rights in the United States, Black women often bear the brunt of harmful legislation and racial inequity, while also working on the frontlines of the reproductive justice movement. And so organizers are purposeful about self-care, to keep the movement forward-moving and to keep themselves safe.
"Reproductive justice is really doing a lot of work to make sure that not only are we advocating for our community but we're advocating for each other as well," Rodriguez said.