Texas Race Shows Democratic Party's Unwavering Loyalty to Incumbents—Even If They're Anti-Choice
"The Democratic establishment needs to ask itself why it's constantly willing to compromise on abortion rights and further harm communities that are most impacted by restrictions."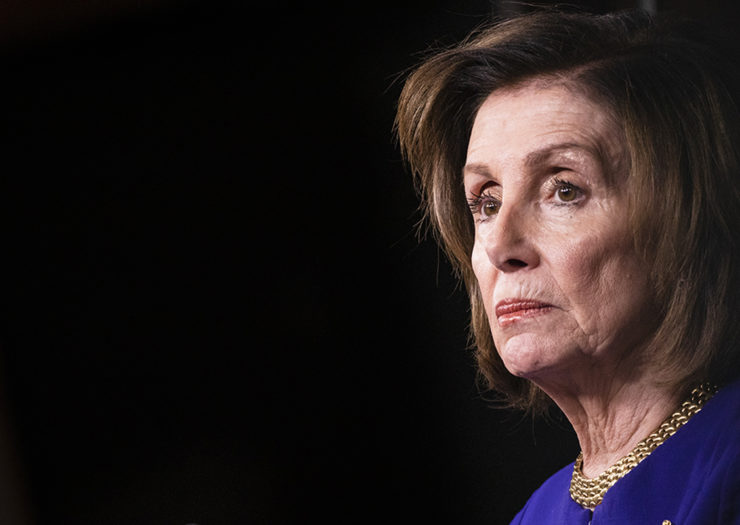 Abortion rights advocates in Texas are not only disheartened that a progressive challenger fell short of unseating one of the last anti-choice congressional Democrats, but that Democratic Party leaders also offered unwavering support for the incumbent.
It was a clear message to advocates that incumbency trumps reproductive rights in the Democratic Party.
The Democratic establishment backed Rep. Henry Cuellar (D-TX) in his primary race against immigration and human rights lawyer Jessica Cisneros, who lost by fewer than 3,000 votes on Super Tuesday earlier this month. Cuellar received party support even though he has voted in line with President Donald Trump almost half the time. The Democratic Congressional Campaign Committee (DCCC) announced last year that it would blacklist any vendors who helped insurgent campaigns take on incumbent House Democrats, no matter their stance on major issues. Cuellar's race in Texas' 28th Congressional District proved the party's loyalty to incumbents.
"I completely support him," DCCC Chair Cheri Bustos (D-IL) said of Cuellar in September, the Texas Tribune reported. "He has very good relationships with the vast majority of his colleagues—who are supportive of him—and I think he'll be fine."
Roe is gone. The chaos is just beginning.
Follow Rewire News Group on Twitter to stay on top of every breaking moment.
House Speaker Nancy Pelosi (D-CA) endorsed Cuellar—one of the few congressional Democrats still taking campaign contributions from the private prison industry—and traveled to his campaign headquarters in Laredo ten days before the primary.
"We want this to be not only a victory, but a resounding victory for Henry Cuellar," Pelosi said, according to Tribune.
Reproductive rights advocates saw the establishment's support for Cuellar as a betrayal. Cuellar voted for a 20-week abortion ban in 2017, and in 2019 co-sponsored the "Born-Alive Abortion Survivors Protection," legislation based on the anti-choice myth that doctors routinely commit infanticide after so-called failed abortions. When Republicans and the few anti-choice Democrats petitioned to force a House vote on the latter bill, Cuellar told Roll Call that he wasn't on board because he didn't want to change legislative procedures.
Cisneros, on the other hand, told Rewire.News last year that abortion access is "super important" to her and that she would be "on the side of people that know that that choice is important." Rather than letting the Democratic primary play out and then backing whoever the nominee happened to be in the general election, national Democratic leaders swiftly endorsed an anti-choice incumbent over a pro-choice candidate in a state with some of the country's most severe abortion restrictions.
"The Democratic establishment needs to ask itself why it's constantly willing to compromise on abortion rights and further harm communities that are most impacted by restrictions," Delma Catalina Limones, communications manager for NARAL Pro-Choice Texas, told Rewire.News. "We see time and time again that lawmakers who are willing to compromise on abortion rights … are also willing to compromise LGBT and immigrant rights. That's not bipartisanship—that's cowardice that has gotten us nowhere."
Texas has long been an abortion rights battleground, with the state's Republican-controlled legislature passing onerous and medically unnecessary restrictions over the past decade. The number of abortion clinics in the state has dropped from more than 40 in 2013 to 22 since 2019; there are no abortion clinics in the 28th District. In 2017, more than 52,000 abortions were performed throughout Texas, according to Texas Health and Human Service's data. But only a small percentage of those were in the southern part of the state, home to the 28th District. Whole Woman's Health clinic in McAllen, one of the only abortion providers in South Texas, performs about 1,500 abortions each year, according to Kandice Miller, Texas communications manager for Whole Woman's Health Alliance.
In her concession speech, Cisneros said her campaign fought an uphill battle, that "the establishment machine and corporate money on the other side fought back for the incumbent this time." "They saw us coming," she said. "They saw the hope that was starting to brew here in South Texas."
Cisneros did not touch on abortion access in her speech. But Becca Rose, communications associate for the Justice Democrats political action committee that helped elect Rep. Alexandria Ocasio-Cortez (D-NY) in 2018 and backed Cisneros' 2020 campaign, told Rewire.News there's "no excuse for prioritizing an anti-choice incumbent over a progressive challenger who believes in the party's core principles and fights for what's best for her community."
While Cisneros has not said whether she plans to challenge Cuellar again in 2022, she said she would "keep fighting." Cisneros' campaign did not return Rewire.News' request for comment.
"This fight was an opportunity to prove that a brown girl from the border with her whole community behind her could take on the machine and bring hope to South Texas," Cisneros said in her concession speech. "We accomplished that."
Although Cisneros was ultimately unsuccessful in ousting Cuellar, challenging anti-choice Democrats gives abortion advocates "the opportunity to have a conversation about our values as a party and hold leaders accountable," Limones said.
The race in Texas' 28th District showed activists how far Democratic leaders are from adopting an abortion litmus test.
"There are a number of issues in which progressive groups and activists are working tirelessly to challenge the Democratic establishment to stand up against corporate PACs and lobbyists and do what's right," Rose said. "Apparently abortion access is now an issue we need to add to that list."