The Harassment We Face as Abortion Storytellers
In a recent study, 60 percent of abortion storytellers reported experiencing harassment and other negative incidents after sharing their stories.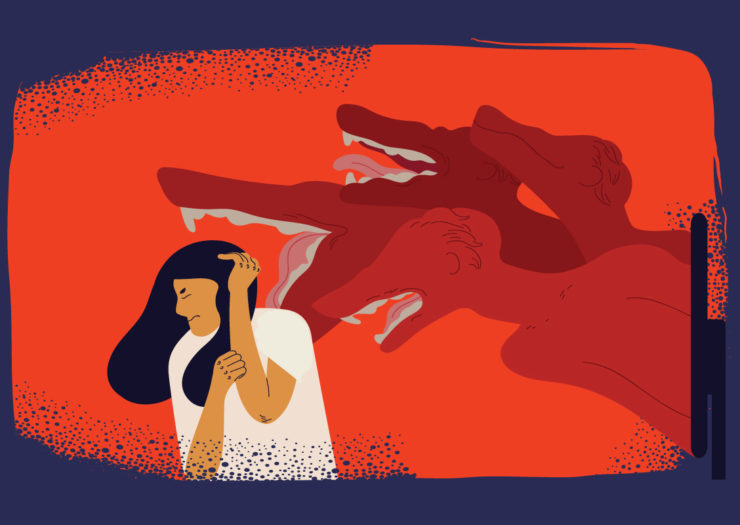 I had an abortion five years ago when I was 18. Ever since I began sharing my story publicly, I've received online harassment and death threats—and I know I'm not the only one who has experienced this.
My name is Jordyn Close, and I'm an abortion storyteller.
I've been sharing my abortion story publicly for about two years as a storyteller with We Testify, a program dedicated to the leadership and representation of people who have abortions. Through the program, I recently participated in a study by Advancing New Standards in Reproductive Health (ANSIRH), which is part of the University of California, San Francisco's Bixby Center for Global Reproductive Health, exploring the experiences of those who shared their abortions stories publicly. We learned that 60 percent of us from two abortion-storytelling campaigns reported experiencing harassment and other negative incidents after sharing our stories.
After navigating various political obstacles to access abortion in the first place, the decision to share our stories should be our choice, on our terms, and when we feel ready. While abortion storytelling can be an empowering experience, if it leads to harassment, including death threats and sexual harassment, like the study found—even when the storyteller uses a pseudonym or alias—then there is clearly always risk involved.
Roe is gone. The chaos is just beginning.
Follow Rewire News Group on Twitter to stay on top of every breaking moment.
I was driven to share my story to dispel stigma. Prior to having an abortion and getting involved in this work, most of the things I heard about abortion were negative. I felt it was necessary to talk about my experience in order to show that abortion isn't always sad. I also felt comfortable to do so because my experience was positive, and I had the support of We Testify. I'm now 23, and I've spoken publicly about my abortion many times at rallies, on the steps of Capitol Hill, in the media, and through testimony opposing Ohio state legislation that would not only make abortion more difficult to access but outright ban the procedure.
I've always been proud to talk about my abortion. And I know I'm not the only person who celebrates their experience. Uplifting, positive stories are critical to combat the stigma surrounding abortions and the myth that we will regret them.
Most of the harassment I receive comes from strangers on the internet. I've received death threats from people who claim to be "pro-life," and anti-abortion websites have posted my personal information, which led to hate mail being sent to my home, and right-wing Facebook groups have made memes about me.
As a result, I stopped sharing my story in the media for a while. I also had to make all of my social media accounts private and tell some of my friends and family about my abortion, because they were also being targeted by the harassment.
But abortion storytellers have also received love and support. The study found that 53 respondents had both positive and negative experiences after publicly sharing their abortion stories, while 29 percent reported only positive experiences.
"I've received loads of positive feedback both sharing my abortion story and working at an abortion clinic over the years. But, like many people would probably agree, the harassment definitely tends to stick with you more," Holly Bland, 25, another We Testify abortion storyteller who also participated in the study, told Rewire.News. When she shared her abortion experience with Cosmopolitan in 2016, photos of her that labeled her a "murderer" started circulating, and she lost "numerous lifelong best friends."
Bland said she started sharing her abortion story after seeing anti-choice activists harassing people in her college courtyard. "They had large fake pictures of 'what an abortion looks like' and cameras around their necks as they bombarded students trying to get to their next class with questions like, 'This is what an abortion looks like. How do you feel?'" Bland said. She said that up until that point, she hadn't thought about sharing her abortion story.
The kind of hate and harassment people face after publicly sharing their abortion stories can be difficult to handle and can even be life-threatening. In the June Medical Services v. Russo U.S. Supreme Court case, the state of Louisiana argued that abortion providers don't have their patients' best interests in mind, so they shouldn't be able to advocate for them in court. Instead, the state wants to place undue burden on people who have abortions by requiring us to go to court to defend our constitutional right to health care. Many people elect to keep their stories private out of fear of retaliation and stigma around the procedure, so forcing abortion patients to bring suit on their own behalf lowers the likelihood that anyone will go to court.
When sharing our abortion stories, it's important to have support, which is something the state of Louisiana is ill-equipped to provide the people they want to force into court.
Abortion should already be considered a normal part of health care, but instead, it's more regulated than any other type of medical procedure. For decades, our right to safe abortion has been repeatedly chipped away, with the thread it holds onto becoming thinner. And under the Trump administration—which has upheld their promise to elect anti-choice justices to the Supreme Court—the threat against our right to choose feels more real now than ever.
Despite the stigma that I, and millions of others like me, experience every day, my abortion was absolutely the right choice, and I'll continue to celebrate it every day. I'll also continue to tell my story.
Correction: This story has been updated with information that We Testify is no longer part of the National Network of Abortion Funds.