United States Drops to an 'F' in Reproductive Rights Report Card
The Population Institute attributes the country's first failing grade to Title X restrictions, the appointment of federal judges, and cutting evidence-based sexuality education.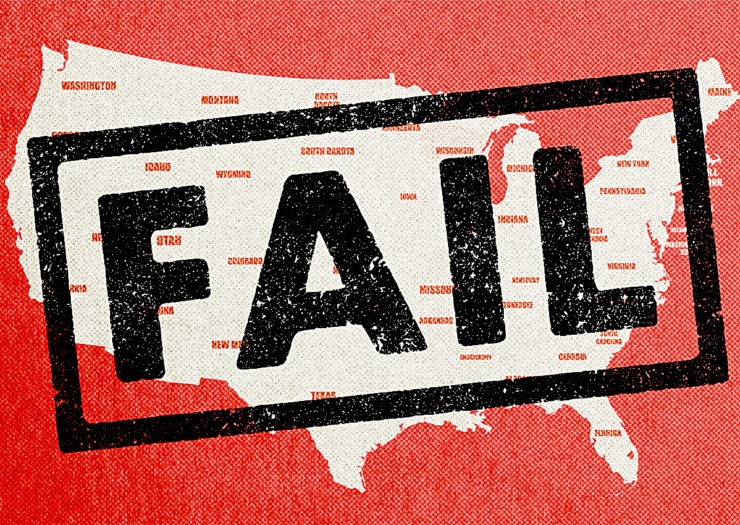 The steady erosion of access to family planning services and abortion care across the United States has earned the country its first failing grade in the Population Institute's eighth annual report card on reproductive health and rights.
The Population Institute, a nonprofit advocating for universal access to sexual and reproductive health services, issued an F to the United States for 2019; last year the country received a D- grade in "The State of Reproductive Health and Rights: A 50-State Report Card." An outsized factor in the failing grade: the Trump administration's draconian family planning restrictions, also known as the Title X domestic "gag rule."
The anti-choice rule bars Title X funding recipients from referring patients for abortion care and could eventually force clinics to financially separate abortion services from Title X-funded services, a pricey proposition that could shutter clinics. The domestic gag rule, long favored by Republican administrations, forced Planned Parenthood out of the family planning program that serves more than 4 million people with low incomes. 
The Population Institute named two other primary reasons for the failing grade: Trump-appointed judges to both the U.S. Supreme Court and federal courts of appeals; and the Trump administration's efforts to gut "federal support for comprehensive—and evidence-based—sexuality education curricula that reduce the rate of teen pregnancy" and replace it with abstinence-based education favored by anti-choice activists and lawmakers.
Roe has collapsed and Texas is in chaos.
Stay up to date with The Fallout, a newsletter from our expert journalists.
Jennie Wetter, the Population Institute's director of public policy, said the country's failing grade should serve as a wakeup call for people who support comprehensive reproductive health policy.
"Many people of color and low-income individuals are already struggling to access affordable reproductive health care," Wetter said in a statement. "This report card is a call to action."
Planned Parenthood Federation of America President Alexis McGill Johnson said the upcoming Supreme Court case, June Medical Services LLC v. Russo, could further destroy access to reproductive health care for millions across the country if conservative justices side with the state. The case challenges the medically unnecessary admitting privileges requirement in Louisiana and the ability of providers to challenge certain types of abortion restrictions on behalf of their patients.
"Politicians across this country have eroded abortion access one medically unnecessary law at a time—essentially making abortion inaccessible for too many. This is by design," McGill Johnson said in a statement. "The Supreme Court is poised to open the floodgates to even more harmful laws in state after state. Louisiana serves as a warning to us all: Our rights and freedoms to control our bodies are on the line." 
The Population Institute's state-based grades showed failures in the Midwest and South to provide adequate reproductive health care in a year when many Republican-majority state legislatures passed near-total abortion bans. Twenty-one states were given an F or F- on reproductive health and rights in 2019, while seven states got an A+, A, or A- grade. Nebraska received the lowest grade, with a score of 31.5 out of 100, due in part to the state's lack of mandated sex education and ban on telemedicine. California had the highest grade at 98.
The Population Institute's grading methodology accounted for the affordability of reproductive health-care services, access to contraception, teenage and unplanned pregnancy rates, and access to abortion care.
"The political war over reproductive health rights is far from over, but the legal and regulatory battle lines have been drawn, and the stakes could not be higher," Robert Walker, president of the Population Institute, said in a statement.