Klobuchar: Democrats Should Be a 'Big Tent' With Abortion Rights Foes
In an exchange on The View, Amy Klobuchar said the Democratic Party shouldn't shut out those who oppose abortion rights.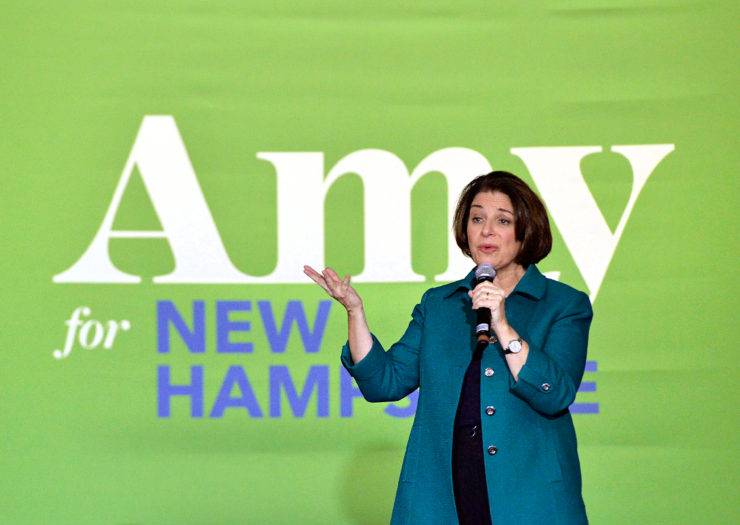 U.S. Sen. Amy Klobuchar (D-MN), battling to become the centrist alternative to Sen. Bernie Sanders in the race for the Democratic presidential nomination, said Tuesday that while she is pro-choice, the party should open itself to anti-choice voters.
A week after talk show host Meghan McCain tried to bait Democratic presidential candidate Pete Buttigieg into naming abortion restrictions he'd support, she asked Klobuchar in an interview on ABC's The View, "Do you think there's room for pro-life Democrats to vote for you?"
Klobuchar, who finished third in Tuesday's New Hampshire primary after coming in fifth in the Iowa caucuses a week prior, said the Democratic Party is a "big tent party, and there are pro-life Democrats, and they are part of our party. … I think we need to bring people in instead of shutting them out." Democrats, she said, should appeal to independents and "moderate" Republicans, as well as fellow Democrats.
Sanders won the New Hampshire primary with 26 percent, while Buttigieg, Klobuchar, and former Vice President Joe Biden split over half of the votes, with more than 91 percent of precincts reporting.
Roe is gone. The chaos is just beginning.
Follow Rewire News Group on Twitter to stay on top of every breaking moment.
Klobuchar supports abortion access, according to her campaign website, naming last year's spate of near-total abortion bans on the state level as "dangerous" and "unconstitutional."
Embracing Democrats who oppose abortion rights has proven fraught at the state level. Democrats in the Louisiana legislature have made it possible for Republicans to push through a range of anti-choice laws; Louisiana Gov. John Bel Edwards (D) last year signed a near-total abortion ban. Anti-choice Democrats in Rhode Island's legislature for years stalled pro-choice legislation. In New Mexico's legislature last year, a group of Democrats sided with Republicans to defeat a bill that would have eliminated a pre-Roe ban on abortion. And just this month, Democrats in Florida's house refused to take a stand against anti-choice legislation that could open the door to a cascade of restrictions.
Some presidential candidates tread carefully when asked about fellow Democrats who don't support reproductive rights. Asked during a November debate whether the party had room for a politician like Bel Edwards, Sen. Elizabeth Warren (D-MA) said, "I'm not here to try to drive anyone out of this party. I'm not here to try to build fences."
Eighty-two percent of Democrats support abortion rights in most or all circumstances, according to 2019 Pew Research Center polling. In June, amid Republican-held state legislatures passing near-total bans, more Democratic voters chose abortion rights as a presidential nominee "must-have" than any other issue.