Kansas Republicans Scramble to Override 'Fundamental' Right to Abortion: Spotlight on the States (Updated)
Anti-choice lawmakers in Kansas push a constitutional amendment to ensure abortion restrictions stay in place.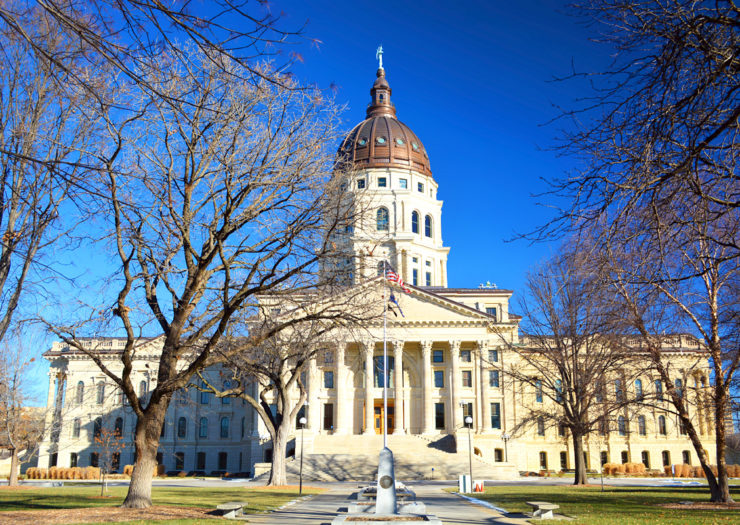 UPDATE, February 7, 2020, 5:34 p.m.: The Kansas House on Friday voted against the constitutional amendment that would have reversed the Kansas Supreme Court's landmark abortion rights ruling. Republicans were four votes shy of approving the measure, the Topeka Capital-Journal reports.
Every week, Rewire.News will highlight trends in abortion-related legislation moving through the states, and how those bills might affect abortion access. This week, we take a look at anti-choice efforts to invalidate abortion rights, add to mandatory biased counseling, and apply a fetal burial law to medication abortions.
Kansas
Less than a year after the Kansas Supreme Court declared access to abortion a "fundamental right," the state's Republican lawmakers are advancing a constitutional amendment to reverse the ruling and ensure they can continue to restrict that right.
Roe is gone. The chaos is just beginning.
Follow Rewire News Group on Twitter to stay on top of every breaking moment.
In a 28-12 vote last Wednesday evening, the Kansas State Senate approved a constitutional amendment that would give the legislature the power to regulate abortion access. If the ballot measure passes the house with a two-thirds majority, the amendment will go before voters in August. Without the constitutional amendment, state Republican lawmakers fear decades of anti-choice restrictions could be invalidated, along with future efforts to make abortion care inaccessible, the Topeka Capital-Journal reports.
Reproductive rights advocates are urging members of the Kansas House to reject the anti-choice amendment. The house has 84 Republican members, which is the exact number of votes needed for a two-thirds majority: the amendment would need the support of every single Republican, unless it wins over any anti-choice Democrats.
The amendment would not need to be approved by the state's Democratic governor. Still, Kansas Gov. Laura Kelly, an abortion rights supporter, came out against it in a Thursday press conference, saying the anti-choice amendment would "throw the state back into the Dark Ages," the Associated Press reported. "I fear for a future in which the legislature chooses to stand between a woman and her doctor," Kelly said.
The Kansas proposal is modeled on an anti-choice constitutional amendment approved by Tennessee voters in 2014 that opened the floodgates for anti-choice legislation. Five years later, the Tennessee legislature is considering a near-total abortion ban.
"The constitutional amendment to ban abortion approved by the Senate tonight is a vehicle to take away the rights of Kansas women and would put their health and safety in harm's way," Julie Burkhart said in a statement Wednesday. Burkhart is founder and CEO of Trust Women Foundation, which operates a clinic in Wichita. "Shame on the Kansas legislators who proposed and supported this flawed and dangerous constitutional amendment."
Utah
Utah's Republican-controlled legislature could soon consider a so-called trigger law that would outlaw abortion if conservative justices on the U.S. Supreme Court strike down Roe v. Wade.
State Sen. Dan McCay (R-Riverton) told KUTV that he plans to introduce an anti-choice bill that would ban abortion, except for rare circumstances, and automatically go into effect if the Court overturns Roe. "It will basically say, if the Supreme Court upholds that abortions can be banned at the state level, then we will ban them," McCay said.
With a state government entirely in the hands of Republicans, Utah could join eight states with "trigger" bans. (Nine additional states have unenforceable pre-Roe abortion bans on the books, according to the Guttmacher Institute.)
Indiana  
An Indiana State Senate committee approved a bill last Wednesday to require medication abortion patients be told they can bring their fetal tissue to a local hospital or clinic for disposal. The bill, SB 299, received the support of every Republican and two of three Democrats on the committee, according to the Times of Northwest Indiana.
A 2016 Indiana law, upheld by the Supreme Court last year, already requires abortion providers to either bury or cremate fetal tissue, instead of treating it like other medical waste. SB 299  would go farther, forcing providers to inform patients receiving a medication abortion that they have the option to collect the tissue they expel and bring it back to the clinic to be buried or cremated. Around 40 percent of Indiana abortions in 2018 were medication abortions, the Times reported.
"I opposed this bill because it is unreasonable to think that women are going to collect the remains from an early-term abortion and bring them back to the clinic. Transporting bodily remains in improper ways is a biohazard," said state Sen. Jean Breaux (D-Indianapolis), the only committee member to vote against the bill, in a Thursday tweet.
Fetal burial laws stigmatize abortion care and impose medically unnecessary regulations, reproductive rights advocates say. Such legislation can increase costs for abortion care providers, according to an Associated Press report.
South Dakota
In a grim new proposal, South Dakota lawmakers want to give abortion patients the chance to see their aborted fetus. A dozen Republicans introduced the measure, SB 87, last Tuesday. The bill says abortion patients must be informed beforehand that they "may request to view the aborted fetus after the abortion is performed up until the time the hospital, clinic, or medical facility disposes of the aborted fetus."
The measure would add to the biased counseling that patients in South Dakota are forced to undergo before receiving abortion care.