Trump's Attack on Abortion Coverage in California Puts Politics Over Health
Withholding federal funding from the state because it requires private insurers to cover abortion care will only put patients' well-being at risk.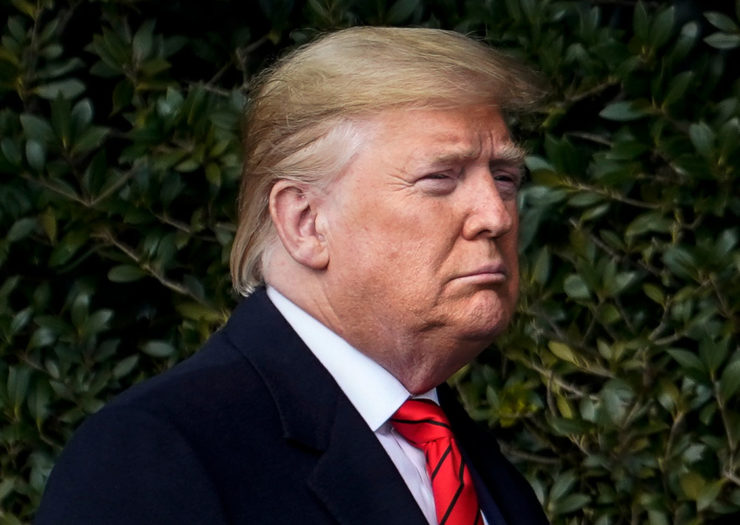 On January 24, President Donald Trump became the first U.S. president to attend the annual March for Life rally. On the same day, his administration announced its intention to withhold federal funding from California because the state has a law that requires private insurers include abortion coverage, including in plans available through the Affordable Care Act's individual marketplace. Abortion restrictions, like this new threat from the Trump administration to limit insurance coverage, are not patient-centered; they serve to limit access to basic health care.
The Trump administration's latest move is another example of how the government will support anti-abortion regulations at the expense of patients' safety and well-being. As a primary care physician in California, I treat patients who rely on public and private insurance coverage for all of their health-care needs, including abortion care. Because they have access to insurance coverage for abortion care, the choice to have a desired abortion does not rest on their ability to afford it. Insurance coverage allows patients to have more means—to be able to take care of the families they already have, make tuition payments, pay rent, and get food on the table.
In treating hundreds of patients over my eight years practicing medicine, I know that reproductive health is intricately tied to the core of health care. Reproductive health, and abortion care, are common services that all people in our country may need. Nearly one in four women will have an abortion by the age of 45, and yet 90 percent of counties in the United States do not have an abortion clinic.
And the landscape of abortion continues to shift under our feet. Many states and legislators are actively working to protect an individual's right to abortion care and ensure the health and well-being of their constituents. California's laws that ensure coverage for abortion are just one example of the ways in which local and state governments seek to protect patients and allow them to exercise their right and freedom to make decisions about their health.
Roe is gone. The chaos is just beginning.
Follow Rewire News Group on Twitter to stay on top of every breaking moment.
If the Trump administration withholds federal funding from California in an attempt to bar abortion coverage, patients will face increased barriers to accessing abortion care, such as increased distances, greater costs, and longer wait times. Insurance coverage restrictions may delay the time until a person can have an abortion, putting them at risk of increasing medical complications. And research has shown that people unable to obtain a desired abortion are more likely to live below the federal poverty level, be unemployed, and stay connected to abusive partners months and years later, creating further risks to their long-term emotional and physical safety.
Learning about my patients' lives and supporting them as they manage their health conditions is a privilege. I've learned that when barriers lead to delays in care, individuals and families are affected. It's clear to me that anti-abortion politicians have not taken the time to see the real human impact of their decisions; I know that not just because of listening to my patients, but based on my own experiences.
Growing up, my family received care at a Federally Qualified Health Center (FQHC), where doctors and nurses were committed to providing care to all people, regardless of their ability to pay, because the centers received federal funding to serve underserved communities. We would wait hours to be seen, but we knew that once we were in the exam room our doctor would make us feel welcome and heard. When I received primary care, I was made to feel that I had value and worth. In my current practice, I strive to treat my patients equitably, with the same dignity that I received, because I understand that we live in a country where employment (or lack thereof), economic means, immigration status, gender, and geographical location affect where, how, and when people receive health care.
States including mine are fighting back to protect patients' access. California is joined by Illinois, Maine, Oregon, New York, and Washington in protecting private insurance coverage, too. While California is the first state the Trump administration has targeted in this way, I would not be surprised if he threatens more, soon.
This is why we must urge our senators and members of Congress to support bills like the EACH Woman Act. This is a federal bill that would ensure coverage for pregnancy and abortion care for each and every person, regardless of their current insurance coverage or ability to pay. It's one concrete way that we can demonstrate the importance of giving all people the opportunity to make their own choices.
Restrictions such as the one proposed by the Trump administration are marketed as trying to ensure patient safety. Paired with the stigmatizing, misinformed, unscientific information Trump and other anti-abortion politicians spread about providers and those who receive abortions, they paint an incredibly hateful and inaccurate picture of abortion. But as a caregiver and a scientist, I know the real evidence.
More than 30 years of research, summarized in a landmark report by the National Academies of Sciences, Engineering, and Medicine in 2018, confirm that abortion is a safe procedure that can be safely performed in outpatient or clinic settings. The overwhelming majority of patients who have had abortions affirm that it was the right decision for them. We should trust individuals to make the decision that is best for them, as we do for most other health conditions.
Access to abortion should not be determined by where we happen to live, how much money we make, or how far we can travel. People should have access to caring providers who will treat them equitably when they come for primary care and abortion care. Abortion is health care, and health care is a human right.